ABERDEEN, Md. -- Bill Minarik was sitting with his friends in the Camden Yards bleachers one day when they got to talking about Cal Ripken Jr.'s induction into the Hall of Fame and what they should do to mark the occasion. Knowing that the Susquehanna River starts just outside the Hall of Fame in Cooperstown, N.Y., and ends in Ripken's birthplace of Havre de Grace, Md., they decided the best way to honor Ripken would be to kayak the entire 444-mile length of the river.
"The genesis was we didn't just want to show up for his induction," Minarik said. "Cal did more than just show up. We wanted to do something worthy of the Iron Man."
Mind you, they decided to do this eight or nine years ago (Minarik can't remember the exact season), back when Ripken's streak either still was intact or had just ended. Orioles fans tend to plan things early, which is why the closest hotel vacancy for the estimated 75,000 fans at this past weekend's Hall of Fame induction was roughly at the Mason-Dixon Line.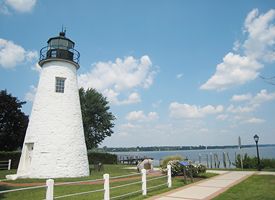 Jim Caple/ESPN.com
Bill Minarik and company will be very happy when they see this lighthouse, signaling the end of their journey.
Orioles fans also are determined, which is why Minarik and half a dozen other Ripken fans scouted the river out this week at Cooperstown to make sure it was navigable. It is, or at least they're pretty sure it is. So Saturday, they will dip their seven kayaks into the waters of the Susquehanna and begin a 14-day row down the river, past 15 dams, arriving just in time for the championship game at the Cal Ripken World Series.
"It will be really hard," said Minarik, the senior director of visitor operations at the esteemed National Aquarium in Baltimore. "We're really backpackers by nature. We're not experienced kayakers at all, but we've been building up to this, and I think we're ready."
I don't know whether Minarik is the most passionate Ripken fan in the world or just the craziest, but I do know this: He has set the bar really, really high for Ichiro fans when their guy goes into the Hall of Fame. (Minarik and his kayak will be mounted with a tracking device, so you can follow their journey at aqua.org.)
After four days and many, many Diet Pepsis, my comparatively meager driving tour of the Susquehanna drew to a close when I arrived in Havre de Grace, where the river flows into the Chesapeake Bay and where Calvin Edwin Ripken Jr. was born on Aug. 24, 1960. I grabbed a quick crab cake for lunch; drove by Harford Memorial Hospital, where Cal was born; and quickly headed over to nearby Aberdeen to catch the final practice of the day at the Ripken Youth Baseball Academy.
Ripken was born in Havre de Grace but grew up in Aberdeen, where his father, Cal Sr., taught him and brother Billy how to play baseball. Aberdeen is now where Cal Jr. helps teach thousands of players how to play the game.
That was one of the best things about Sunday's inductions: Neither Ripken nor Tony Gwynn really retired from baseball in 2001. In Ripken's words, they simply stopped playing. Gwynn has been the baseball coach at his alma mater, San Diego State, for five years. Ripken, meanwhile, has been president and CEO of a virtual baseball empire which includes two minor league teams; a division of Babe Ruth baseball leagues that bear his name; and the Ripken Youth Baseball Academy, a camp program that brings in 2,000 kids a summer from as far away as Japan and Belgium.
Yes, Belgium. Even now, some kid over there might be telling his friends the proper way to execute a 3-6-3 double play.
BELGIUM PLAYER: And after firing the ball to the shortstop covering second, he goes back to first base for the return throw.
BELGIUM FRIEND: Who's on first?
The academy is across the road from Ripken Stadium, where Cal's IronBirds of the New York-Penn League have sold out every game since they started play in 2002. At first glance, you might mistake the academy for a major league spring training facility, albeit one sized more for David Eckstein than Derrek Lee. There are eight youth baseball and softball fields, batting cages, bullpen mounds, a synthetic infield training area, plus plans for more. Cal Sr.'s Yard, where the Ripken World Series will be played, is a gorgeous youth-scale replica of Camden Yards, complete with a duplicate of the brick B&O Warehouse beyond right field (it houses a brand-new hotel decorated with historic baseball photos). More than 700 teams play in various tournaments here from mid-March to October.
Youth baseball definitely has come a long way since Walter Matthau taught Tatum O'Neal how to throw a spitball.
(Ripken Stadium, by the way, is also available for bar mitzvahs and high school proms.)
When I arrived at the academy, Chris and Maureen McManus were watching their 10-year-old son, Timmy, pitch on one of the fields. They paid $850 for the five-day, four-night baseball camp, which begins daily at 7 a.m. with breakfast, followed by baseball instruction from 9 a.m. to 4 p.m., then swimming, miniature golf, scrimages and the occasional IronBirds game. (Camp rates range from $575 to $1,295.)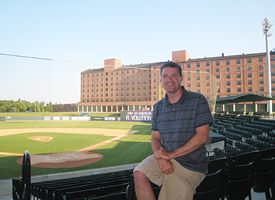 ESPN.com
Jim's all smiles, as he's reached the end of his journey too.
Seven hours is a lot of baseball -- big leaguers often don't put in that many hours during spring training -- but what do you expect from a camp with Cal's name on it?
"Timmy didn't play on a travel team, so I figured this would be a nice thing for him," Chris McManus said. "And he'll probably learn more here than he would have all season."
As his parents watched, Timmy went into the stretch, looked toward home plate and delivered. The pitch sailed over the batter's head and to the backstop.
"Whoahhhh," his father said quietly. "Just a bit inside."
He and Maureen shouted encouragement to their son, and Timmy recovered from his Nuke LaLoosh pitch to strike out the next batter and end the practice game. The boys collected their gloves and bats, slung their equipment bags over their shoulders and hurried over to a nearby slope, where the rest of the camp's teams were gathered by academy general manager Adam Christ.
"Listen up, everyone," Christ called out. "Did anyone on the Tigers lose a glove? Did anyone on the Tigers lose their glove?"
It took Cal 47 years to get from the mouth of the Susquehanna to its origin in Cooperstown. And now that he's reached that destination, the Iron Man is working on sending other players back up that same river of baseball. So if a ballplayer from Belgium one day reaches the Hall of Fame, you'll know where he got his start.
"I truly believe there are no endings," Ripken said in his induction speech. "Just points where you begin again."
Jim Caple is a senior writer for ESPN.com. He can be reached here. His Web site is at jimcaple.net, with more installments of "24 College Avenue." His new book with Steve Buckley, "The Best Boston Sports Arguments: The 100 Most Controversial, Debatable Questions for Die-Hard Boston Fans" is on sale now.