Today marks Barry Bonds' last game as a Giant in San Francisco. You're gonna miss him.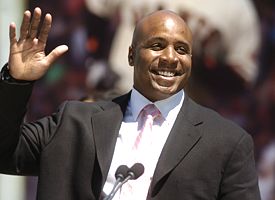 Noah Berger/AP Photo
In the Bay Area ... everyone loves Barry.
True, Bonds says he won't retire after the season. He'll very possibly sign with another team, probably in the American League as a DH. And depending on the interleague schedule, Bonds could wind up playing a series in San Francisco next season, but all that is speculative. What we know is this is his last home game for the team with whom he will always be identified. And tonight will be even more meaningful if Barry actually plays (he's missed the past 10 games with a sore toe) because no active player means as much to a team as Bonds has to the Giants.
As difficult as it is to recall now, the Giants nearly moved to St. Petersburg, Fla., the summer before Barry arrived. They had reached the postseason three times in the previous 30 seasons. They had averaged fewer fans than the league average the previous 15 years, drawing under a million as recently as 1985. Then Barry arrived in 1993 and everything changed. The Giants drew 2.6 million his first season and won 103 games. They reached the postseason four times in one seven-year span, and came within two innings of winning the city's first World Series (why, oh why couldn't Spiezio have hit that ball three feet lower?). And they now play in one of the finest ballparks in the game, where they average two fans for every single fan who showed up pre-Barry.
San Francisco fans love Bonds, which is only natural, and yet fans elsewhere always look down on them as if they're the biggest group of delusional, blindly loyal losers this side of Clark and Addison. As if Giants fans need to apologize for rooting for the best player on their team over the past 15 years, as well as one of the very best players in the game's history.
That makes no sense. Somehow it's all right for fans in other cities to root for Gary Sheffield, Jason Giambi, Pudge Rodriguez, Sammy Sosa, Roger Clemens or any of the other players who have been linked to or suspected of steroids. But San Francisco fans rooting for Bonds? Oh, no. That's shameful.
Well, tough. San Francisco fans don't need to defend rooting for Bonds. And if you were too busy rooting for the steroid users on your own team to understand, that's just too damn bad.
Because you will miss Barry.
Sure, he may still play next season, but it won't be nearly the same. As soon as Barry takes off the Giants uniform, he loses stature and becomes a marginalized figure. He'll be Hank Aaron finishing out his career with the Milwaukee Brewers, Babe Ruth unhappily playing out the string with the Boston Braves, Crash Davis breaking the minor league home run record with the Asheville Tourists. No matter how legendary the player, once they become identified with one team, they always lose luster when they change uniforms at the end of their careers.
Barry simply won't be the national lightning rod for emotions and heated opinions while wearing a Rangers jersey. Columnists and late-night comics will have to come up with jokes that don't use the size of Barry's skull as a punch line. Hell, Dodgers fans may not even heckle him quite so mercilessly.
From here on out, Barry will just become an aging player trying to keep his career going. First you'll forget that he isn't on the Giants anymore. Then you'll forget he's on the roster when his new team comes to town. Then you'll forget that he's still playing at all.
So loudly cheer Bonds tonight as he finishes up his career in San Francisco or boo him just as soundly. Because next year, you won't care enough to do either. With his departure from San Francisco and McCovey Cove, Barry also abandons his exhausting role as baseball's unofficial villain.
Unless, of course, he signs with the Yankees.
BOX SCORE LINE OF THE WEEK
It was kind of a slow week for box score lines, but Off-Base likes the lines that came out of the Astros' 18-1 victory over the Cardinals. First, there was Houston's Cody Ransom, who scored five runs in three official at-bats. Then there was St. Louis infielder Aaron Miles, who pitched the ninth inning and gave up two runs, yet was still the Cardinals' most effective reliever. But the winner is September call-up J.R. Towles, who set the Houston record for most RBIs in a game with this line:
4 AB, 3 R, 4 H, 8 RBIs
The eight RBIs quadrupled his career total, which generally speaking, isn't easy to do in one game.
TELL YOUR STATISTICS TO SHUT UP
Bud Selig likes to pat himself on the back over the wild card format and how it has increased the number of teams in contention each season. And he's right, it has. An average of 1½ teams qualify for the playoffs each year who wouldn't have entered September in contention under the old format, while an additional six teams per year find themselves within six games of a division lead or wild-card lead. But all that comes at a price. For instance, there has been a lot of attention on Boston nearly squandering a 14½-game lead to the Yankees and how that is similar to the great 1978 AL East chase. But all that is nonsense. This season is nothing like 1978 because nothing is on the line for the Red Sox this September. Even if they somehow blew their first-place lead, they were relatively assured that they would get into the postseason as the wild card. Similarly, by mid-September, the Yankees had a comfortable lead in the wild-card race, so there was no urgency to overtake the Red Sox, either. The entire American League was pretty much settled by the second week of September, with only the playoff pairings to be decided. If baseball still had the old postseason format, however, we not only would we have had a terrific duel between those two bitter rivals, we would have had Cleveland making it a three-team race. …
In what can only be viewed as a pre-emptive strike, The New York Post ("All The News That Fits In Our Campaign Against A-Rod") ran a story last week pointing out that Alex Rodriguez was slumping over the past week. And it's true. He's in such a terrible funk that the likely league MVP will finish the season with a mere .300-plus average and only 52 or so home runs with around 150 RBIs and 140 runs. The choker. …
There was some interesting feedback from readers on last week's column about Roy Hobbs. Many readers enjoyed the piece -- with several noting that Hobbs is even more of a cad in Bernard Malamud's novel -- but a surprising number of readers were greatly offended that I besmirched his heroic reputation. Off-Base would therefore like to remind people that Roy Hobbs is a fictional character.
Jim Caple is a senior writer for ESPN.com. He can be reached here. His Web site is at jimcaple.net, with more installments of "24 College Avenue." His new book with Steve Buckley, "The Best Boston Sports Arguments: The 100 Most Controversial, Debatable Questions for Die-Hard Boston Fans," is on sale now.