You're joking, right? You can't be serious. Sixty-one percent of you who responded to our Page 2 poll on Tuesday wouldn't want baseball's best player on your favorite team? You'd be disappointed if your team signed a (soon-to-be) three-time MVP and Gold Glove winner who can play third base or shortstop? You don't want a player who could become the all-time home run king? If that's really true, I have another poll question for you: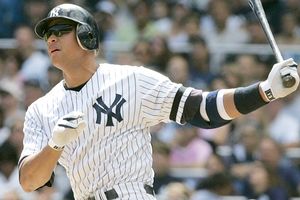 AP Photo/Frank Franklin II
You don't want the modern-day offensive equivalent of Babe Ruth on your team? Seriously?
Do you feel this way because your drug problem is that severe, or because the American educational system is that bad? Or do you simply listen to too much sports talk radio?
Look, I'm no A-Rod apologist. He's a diva, and a bigger phony than most team owners. But you know what? That doesn't matter. Did Lou Gehrig and Babe Ruth get along? Was Ted Williams considered a "winner"? Did every teammate like Reggie Jackson? Does Manny Ramirez even know what team he plays for? Baseball is the most individual of sports, and all that really matters is what a guy does on the field. And what A-Rod has done is average 124 runs scored, 45 home runs and 128 RBIs per season the past 10 years.
I mean, just how big an ass would a player have to be for you to honestly say, "No, sorry, I really don't want the offensive equivalent of Babe Ruth in my lineup?"
And don't give me that crap about how A-Rod would upset your club's precious chemistry. I keep reading all these comments praising the great "chemistry" and "teamwork" of the Boston Red Sox. Please. As if the Rockies and Indians somehow had flaws in their character, or were bad teammates simply because they didn't beat the Sox. So the Rockies won 21 of 22 games, and then got swept in the World Series because their bottle of "chemistry" ran out? Nonsense. The Red Sox didn't win it all because their character was somehow superior to every other team's. They won because they had more talent. They won because they had better players, better pitching, and they played the best in October.
It's wonderful if every teammate is like Mike Lowell or Jason Varitek, but it's hardly necessary as long as a player produces. For crying out loud, Curt Schilling's ego is so monstrous it's an official stop on the Boston duck boat tour, while Manny has repeatedly asked to be traded. Talent matters, not personality. Chuck Knoblauch was as moody a player as there ever was, yet the Twins won a World Series and the Yankees won three straight with him in the lineup. Jack Morris was as self-involved a player as I've ever covered, and he was a cornerstone for three different World Series champs.
If New England fans need an example of how a player with excess baggage can perform with a new team, look at how Randy Moss has flourished with the Patriots this season -- in a sport that requires much more teamwork than baseball.
And it's not like Rodriguez is a troublemaker or a bad guy. Granted, taking his shirt off in Central Park on a sunny summer day was pretty scandalous (the nerve of that guy!). But seriously, c'mon! At worst A-Rod is like the office know-it-all who wants you to know how cool his 72-inch plasma screen looks, and how well his fantasy team is doing, and where all the cool restaurants are. But he also happens to really know his stuff, and he's able to hack into any system and write code that really, really works. You may not want to sit next to him, but you definitely want him in your office.
I understand people worrying that signing A-Rod would preclude their team from obtaining other necessary players. But that's a needless concern. Signing someone like A-Rod, Derek Jeter or Manny Ramirez to a contract for $20 million to $25 million per year isn't what hurts a team financially. It's signing the likes of Jeff Weaver for $8 million and Richie Sexson for $15 million, then trading for Horacio Ramirez and his $2 million salary (not that I have any particular team in mind). As Bill Veeck once said, "It isn't the high price of stars that is expensive; it's the high price of mediocrity." In that sense, signing A-Rod might help financially, because you'll be less likely to waste your money on some stiff who won't produce (hello, Adrian Beltre).
THE A-ROD FILES
A look at how A-Rod's teams have fared each since season his first full year in 1996, with overall team payroll ranking in parentheses:

1996 Mariners: 86-76, 2nd (8th)
1997 Mariners: 90-72, 1st (15th)
1998 Mariners: 76-85, 3rd (7th)
1999 Mariners: 79-83, 3rd (18th)
2000 Mariners: 91-71, 2nd, WC (15th)
2001 Rangers: 73-89, 4th (7th)
2002 Rangers: 72-90, 4th (3rd)
2003 Rangers: 71-91, 4th (5th)
2004 Yankees: 101-61, 1st (1st)
2005 Yankees: 95-67, 1st (1st)
2006 Yankees: 97-65, 1st (1st)
2007 Yankees: 94-68, 2nd, WC (1st)

Payroll figures from USA Today
Have teams gotten better after A-Rod left? Well, that depends on how you look at it. We all took great delight trumpeting that "fact" when the Mariners sported the best regular-season record in American League history the year after A-Rod signed with Texas. But the Mariners haven't been to the postseason since that 2001 season, finishing in last place three times. So who would Mariners fans honestly rather have at third base now? A-Rod or Adrian Beltre? Or at shortstop: A-Rod or Yuniesky Betancourt?
While it was fun booing and laughing at A-Rod during that incredible 2001 season, just remember, the Mariners went equally deep in the postseason in 2000 (one game further, actually) and they wouldn't have made the playoffs that year if it hadn't been for A-Rod's hitting .316 with a .420 on-base percentage, 41 home runs, 134 runs scored and 132 RBIs. (By the way, A-Rod also hit .371 with two home runs and seven RBIs in that postseason).
And while the Rangers did improve to 89-73 the season after they traded A-Rod, they haven't had a winning record since and landed right back in last place this year.
As for A-Rod's poor postseason play? That's overblown. Yes, he was awful in 2005 and 2006. But does anyone really think that Rodriguez's batting .267 with a .353 on-base percentage and one home run this October was more to blame for the Yankees' loss to the Indians than Chien-Ming Wang and his 19.06 ERA in two losses? Does anyone think A-Rod struggled more than Derek Jeter (.176, no runs, one RBI)? Or that A-Rod's 2004 postseason (.320, 11 runs, eight RBIs, three home runs) was why the Yankees didn't reach the World Series that year? For that matter, do Angels fans want Vladimir Guerrero off their team because he has three hits in his past 30 postseason at-bats?
Obviously A-Rod put too much pressure on himself and tried to do too much in New York each October. Naturally, that brought on the predictable result of subpar performance. But to say that a player who's hit .313, .308, .409 and .421 in four of his eight postseason series as a starter (including one series against, and another with, the Yankees) can't succeed in October is just insane.
The point is, unless you surround him with the league's worst pitching staff (I'm talking to you, Tom Hicks), A-Rod will help get your team in position to play each October. And if you don't think so, I suggest you look at the back of his baseball card and then honestly say those numbers wouldn't help your team.
And if that still doesn't convince you, I give up. I just wish you were the general manager of your favorite team. That way, there'd be one less suitor for the best player in baseball.
Jim Caple is a senior writer for ESPN.com. He can be reached here. His Web site is jimcaple.net, with more installments of "24 College Avenue." His new book with Steve Buckley, "The Best Boston Sports Arguments: The 100 Most Controversial, Debatable Questions for Die-Hard Boston Fans," is on sale now.
Also See
ESPN Top Headlines