Having already suffered more than anyone else in any city in the history of the world, Boston fans woke up Monday morning to face another long, cold winter wondering, "Why us?"
The New England Revolution, a team deeply ingrained in this city's sports lore, lost in Major League Soccer's championship game for the fourth time in six years Sunday, suffering a 2-1 defeat at the hands of the hated Houston Dynamo. The crippling loss came despite a 1-0 halftime lead that had Boston's long-suffering fans hoping that their many painful and legendary sporting disappointments might finally end. Instead, Revolution fans watched their lead shrivel and disappear in the second half, when coach Steve Nicol may have stayed with goalkeeper Matt Reis too long in another autumn defeat that will surely haunt fans for generations.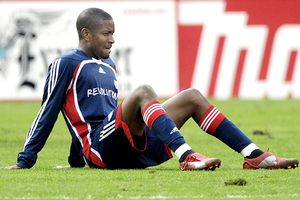 AP Photo/Pablo Martinez Monsivais
Revolution defender Avery John is a picture of the suffering Boston can look forward to this winter.
"They always get your hopes up so high and then they just crush you in the end," said season-ticket holder Charles River. "It's tough, very tough. I really wanted them to win so I could get my sister a Revolution MLS Champion T-shirt for Christmas. Now what the hell am I going to get her? I mean, it's not like I'm going to be able to get her a Josh Beckett commemorative Cy Young T-shirt."
Newton Peabody said that as painful as the Revolution's loss was, the recent World Series was even worse. "I had tickets for Game 6, but the damn thing ended in a sweep so I didn't even get a chance to use them," he said. "And the same thing happened to me in 2004."
He shook his head. "It's just one damn thing after another in this city and it never ends. It's almost as if we're cursed."
It certainly seems that way. In just the eight days leading up to Sunday, Beckett lost the Cy Young award to Cleveland's C.C. Sabathia, the Celtics saw their season-opening, eight-game winning streak end, the Bruins lost to the Canadiens and the Patriots had a bye week.
And then came the most staggering blow of all: the Olde Town Team's sudden loss in the MLS championship just when it seemed this soccer-crazed city was finally going to get something to cheer. But Houston's Dwayne De Rosario headed in the game-deciding goal in the 74th minute -- yet another kick in the gut to Boston fans who are all too familiar with such painful endings.
"No one outside Boston can appreciate the agony we endure here," Quincy Somerville said. "Do you know how much I've had to spend on replica jerseys alone in the past year alone? My budget was already stretched thin buying home and road Dice-K jerseys, and then I had to get Kevin Garnett and Randy Moss jerseys, too. I really don't know what I'm going to do if the Sox trade for Miguel Cabrera at the winter meetings."
"The hell these guys put us fans through is unbelievable," Charlie Card said. "The hard part for me is knowing my grandfather died without ever seeing the Revolution win a championship. True, he died in 1994 before the Revolution existed, but still. What really hurts though is that no one has ever acknowledged the suffering we've gone through. It's as if the media ignores every Boston team."
And still, they believe. Hours after the loss, fans throughout the city were cheering on their beloved Patriots, hoping their support could somehow rally a put-upon team that hadn't won in two weeks and needed two entire plays from scrimmage before finally scoring against Buffalo.
"You know, there are infants who were born 18 days ago who don't know what it's like to see a Boston team win a championship in their lifetime," Lowell Brookline said, trying to put the suffering of Boston fans into perspective. "It's tough being a fan in this town, but you just have to put aside the pain of the past, stay as positive as possible and make do with the Patriots being undefeated and coming off three Super Bowl championships in the past six years, the Red Sox having won two of the past four World Series, the Celtics, winners of a record 16 NBA championships, being in first place in the Atlantic division, Boston College likely playing in a New Year's Day bowl and the Bruins possibly going to the playoffs.
"I know it's not much, but it's all we have. And yet people wonder why we're bitter and miserable. By the way, did I mention that the Yankees still suck?"
Jim Caple is a senior writer for ESPN.com. He can be reached here. His Web site is jimcaple.net, with more installments of "24 College Avenue." His new book with Steve Buckley, "The Best Boston Sports Arguments: The 100 Most Controversial, Debatable Questions for Die-Hard Boston Fans," is on sale now.