Will the last superstar to leave Minnesota kindly drop a few dollars in the collection plate on your way out to help pay for the new stadium?

The Timberwolves traded Kevin Garnett in the summer. Center fielder Torii Hunter signed with the Angels last week. And now it looks like the Twins will trade two-time Cy Young winner Johan Santana. (Waiting to see whether the Yankees or Red Sox get Santana is like waiting to see whether your favorite and most dependable co-worker is hired away by Halliburton or Wal-Mart.) Next thing you know, Adrian Peterson will tear his remaining ligaments, Joe Mauer will permanently shave his sideburns and Garrison Keillor will get laryngitis.
Watching so many beloved athletes leave is especially cruel for Minnesotans, who were forced to bail out the Target Center owners four years after the arena opened and recently agreed to pay for a $522 million stadium for the Twins. A new stadium was necessary, taxpayers were told repeatedly for a decade, because the Twins couldn't be competitive in the Metrodome, where they have won two World Series and also have won the AL Central four times in the past six seasons.
Building a new ballpark (which despite a half-billion-dollar price tag won't even include a retractable roof) is supposedly what would enable the Twins to keep star players such as Hunter and Santana. Well, maybe not.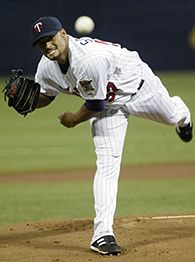 AP Photo/Paul Battaglia
Minnesota taxpayers are footing the bill for a $522 million stadium, but they probably won't get to watch Johan Santana pitch there.
That's because the Twins are still owned by the Pohlads, who approach team ownership differently than say, Mark Cuban. Carl Pohlad is a billionaire banker who pinches his coins so often he could be sued for sexual harassment by Susan B. Anthony. Pohlad got his start by delivering foreclosure notices to farmers in the Depression (hey, someone had to do it), so if Twins fans are disappointed that their half-billion dollar subsidy isn't sufficient to keep Hunter and Santana, that's just tough. Given that Pohlad offered the team up for contraction to pocket even more loot a couple of years ago, fans should consider themselves lucky he doesn't also trade Mauer and Justin Morneau as well, then instruct Smithers to release the hounds during "Take Me Out to the Ballgame."
New general manager Bill Smith -- a good, knowledgeable baseball man -- is therefore forced to make the best of the situation. Does he risk $130 million to $150 million over six years on a great, hard-working pitcher who has been very durable but who nonetheless could fall into a manhole? Or does he trade a pitcher at peak value in exchange for promising prospects who are far cheaper and may prove to be quite effective in the long run (or maybe not).
After 20-plus years of Pohlad ownership, do Twins fans really have to ask?
The thing is, the right trade could make sense. There certainly is precedent in Minnesota. In 1989, the Twins traded Frank Viola for five pitchers, including two, Kevin Tapani and Rick Aguilera, who were instrumental in helping them win the World Series two years later. In 1998, they traded Chuck Knoblauch for Eric Milton and Cristian Guzman, and both had some very good seasons in Minnesota and helped lift the Twins out of the quagmire that was the mid to late '90s.
So trading Santana could work out in the long run, but it's still an uncomfortable choice. And if Joba Chamberlain, Jacoby Ellsbury and Clay Buchholz truly are untouchable, the choice becomes easier: No.
If no one overwhelms Smith with a trade, the Twins should pursue a third option. Keep Santana for next season and see what happens. If they do and Francisco Liriano is healthy and dominant again, the Twins could very well win the World Series next season, particularly if the newly acquired Delmon Young fulfills his potential. Sure, that might cost the Twins some promising trade opportunities. But trying to win it all is a worthy goal and no less risky than hoping young prospects turn into stars. Sometimes they do. Often, they don't. (The mere mention of Rich Becker's name still causes Twins fans to flinch uncontrollably.)
Of course, the real solution is for Pohlad to simply open up the wallet and thank loyal fans for building the stadium by re-signing the best pitcher in baseball. Sure, it's a lot of money, but not quite so much when you bear in mind the county is spending hundreds of millions on a new stadium that will greatly increase ownership profits.
The most important thing about a new ballpark, after all, is having a team worth watching when it opens.
Looking for a gift for the fan who has everything?

If you ever wondered why players on the 1919 White Sox threw the World Series, go to mastronet.com and check out two pieces of memorabilia in Lot 13 that are up for auction through Dec. 12.
Part of a 15-pound collection of Black Sox-related documents, those two pieces are canceled checks paid to Eddie Cicotte and Lefty Williams in the amount of $476.25 and $250, respectively. Those checks represent about two weeks' worth of their season salaries: about $6,000 for Cicotte and $2,600 for Williams.
Brian Marren, vice president of acquisitions for Mastro Auctions, estimated the two canceled checks are worth at least $10,000 to collectors. If that's the case, two scraps of nearly 90-year-old paper are worth more than the two players combined earned in 1919 when they won 52 games.
Even factoring in inflation, that's a mighty low salary for a pair of 20-game winners. Which explains why major leaguers would be tempted by gamblers attempting to fix the series.
"Gambling was such a part of the culture then," Marren said. "We found a letter from 1919 from one of the executives of the White Sox complaining how much a problem gambling was in the Boston ballpark. He wrote it in June of 1919. It's kind of ironic."
Marren says there are hundreds upon hundreds of documents and correspondence in the collection, which fills roughly a 1-by-2-foot plastic tub. In addition to the canceled paychecks, it includes depositions from the Black Sox case, letters from owner Charles Comiskey's lawyers and memos regarding the forming of the commissioner's office. It does not, however, contain the signed confessions from Joe Jackson and the other seven White Sox players that were infamously "lost" during the trial. "There's no smoking gun," Marren said.
Those confessions, particularly the one in which Shoeless Joe says it is indeed "so," might be worth hundreds of thousands of dollars. (A more valuable document, of course, would be the contract, signed in blood, in which Scott Boras sells his immortal soul to the devil.)
Jim Caple is a senior writer for ESPN.com. He can be reached here. His Web site is jimcaple.net, with more installments of "24 College Avenue." His new book with Steve Buckley, "The Best Boston Sports Arguments: The 100 Most Controversial, Debatable Questions for Die-Hard Boston Fans," is on sale now.