WARNING: The Surgeon General has determined that reading this story may produce elevated levels of jealousy, particularly if your local forecast calls for snow, freezing rain or includes the words "wind-chill factor."
NORTH SHORE, Oahu -- Threading his way around surfboards scattered on the grass, Roy Powers wanders to the edge of the beachfront property rented by his sponsor, O'Neill clothing, and gazes out toward the Pacific Ocean where two dozen or so surfers are riding waves near the Banzai Pipeline.
Powers is in a fine mood today, which is not surprising. He is quick to smile, just as quick to laugh; the sort of engaging, good-humored optimist given to saying such things as, "All those pissed-off terrorists? They have to laugh too, don't they?"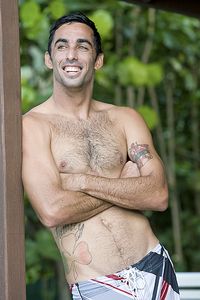 JOLI for ESPN.com
Why is Roy Powers smiling? He's a professional surfer.
And Powers has reason to laugh. As a top professional surfer he has sponsorship deals that pay him well into six figures. He has a travel fund that covers his trips to surfing contests all over the world, including Australia, Tahiti, France and South America. He owns a home about a mile from here plus a house on the Big Island he's never seen. He recently fulfilled a lifelong dream by winning the Reef Hawaiian Pro competition, guaranteeing himself a spot on the World Championship Tour next season. And on this beautiful December day, he golfed in the morning, will surf a bit in the afternoon and has prime tickets for the next evening's Hawaii Warriors football game with his father. He is 26, tan, lean, muscled and has never had to worry about his weight.
If you really want to appreciate how large Powers lives, consider this story he tells. When he finally secured a date with a girl he had a crush on for years, he took her to a strip club in Honolulu, where he gave her 500 $1 bills and had her make it rain. "It's not classy," he says, "but it worked."
(Note: The above should only be attempted by trained professionals. Do not attempt at home.)
"It's probably one of the best lifestyles you can have," Powers says of pro surfing. "All the luxuries of Hollywood or any actor or any great person with privileges has, we have the same thing. But it's still under the radar. We're still able to touch water and have that freedom, that 'au natural' stuff that people pay millions and millions of dollars to see and do -- we're going to every one of those places. … We're going to the south of France, Australia. And the funniest thing is we're in Australia with no parents. None of that. You're with your boys, or your girlfriend, your friends. You've got a rental car, you're racing around, surfing, eating good food, going to parties. I mean c'mon, is this real? It's not even real. …
"I did an article with this Beverly Hills magazine. They wanted to do something on a different luxury lifestyle and at the start the guy was like, 'Pro surfer? That doesn't sound good' and by the end the guy was tripping out. 'Your life sounds better than when we had a conversation with Floyd Mayweather or Tom Cruise.'"
ZOOM GALLERY
For more photos from the world of professional surfers, check out our
ZOOM gallery
from photographer Peter Wilson.
So as you sit in your cubicle listening to the radio warn that freezing rain will turn the commute home into a two-hour drive from hell, go ahead and ask yourself this question:
Why is it you majored in accounting?
---
THE NORTH SHORE OF OAHU is surfing's mecca, its Yankee Stadium and Augusta, only with bikinis and fantastic sunsets. The North Shore is less than an hour but a world away from the bustle of Honolulu, so isolated there is only one Starbucks. Surf shops dot two-lane Kamehameha Highway and residents set out hand-lettered signs advertising surfboard repair. Surf magazine competes with People and other celebrity mags at grocery checkout stands. Kids ride bikes with surfboards tucked under one arm. Residents sport bumper stickers and wear T-shirts that read "Eddie Would Go" in reference to the late, beloved surfer and lifeguard Eddie Aikau, who feared no wave. The local elementary school holds an annual surf night in which hundreds of children line up for several hours to get posters signed by their favorite surfers.
"In Hawaii you grab a surfboard before you grab a baseball bat, you know what I'm saying?" surfer Kala Alexander says. "Everybody has tried it at least once. We've probably got the most consistent surf for eight, nine months of the year. There is nowhere else in the world that has consistent, big, powerful surf for as long as we do."

We're going to Australia, the south of France. You're with your boys, or your girlfriend, your friends. You've got a rental car, you're racing around, surfing, eating good food, going to parties. I mean c'mon, is this real? It's not even real.
--Pro surfer Ron Powers
Waves the size of strip malls pound this coastline each winter, attracting pros from all over the world for the Triple Crown contest. The men's Triple Crown begins with the Reef Hawaiian Pro in late November, continues with the O'Neill World Cup at Sunset Beach and climaxes with the Billabong Pipeline Masters in mid-December. The women's Triple Crown runs at the same time with the Reef Hawaiian Pro and the Roxy Pro Sunset, along with the Billabong Pro Maui (the women's contest does not include Pipeline).
"It's the proving ground," Powers says, pointing down the beach toward Pipeline. "You come here to prove yourself … to show you have the balls. … That's where a wave can make you famous. Or it can end your life. It happens. It's real life out there."
During the competition, the biggest sponsors rent out beachside homes (at $500-$1,500 per night) for their surfers. From one end of the beach to the other, surfers cram house after house, some luxurious, some not, some with ample beds, others requiring blankets on the floor. Some are so close to the ocean the surfers merely need to wake up, pick up a board and walk out the back door and onto the beach.
"This is what you call extreme bachelor pad," Powers says of the house rented by O'Neill. "This is where good times happen."
---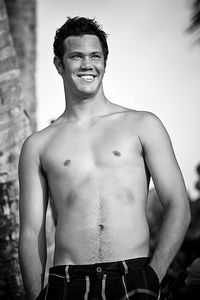 JOLI for ESPN.com
Nineteen-year-old South African Jordy Smith is regarded as surfing's next big thing.
WITH THE SUN SINKING into the blue Pacific, Jordy Smith stands in the O'Neill house living room, microphone in hand, eyes focused on the TV screen, singing along to Eric Clapton's "Wonderful Tonight." And he's actually singing well, hitting the high notes with emotion and sending the karaoke meter skyward. Jordy has a pretty decent voice. "He's got a great voice," Powers says. "If I was gay, I'd be stoked."
We go to a party and everyone turns to see
This beautiful lady that's walking around with me.
And then she asks me, "Do you feel all right?"
And I say, "Yes, I feel wonderful tonight."
Jordy has every reason to feel wonderful, not only tonight but every night. At 19, he is considered the next big thing in surfing (literally so at 6-foot-2, nearly 200 pounds), the LeBron James of the sport. After a self-generated six-month free agency period in which he surfed with no sponsorship, he recently signed a multiyear deal with O'Neill rumored to be in seven figures.
In surfing, the big money comes not from competition but from sponsorships and endorsements. While the O'Neill World Cup pays just $15,000 to the winner, the elite athletes can make $500,000 to $1 million a year from the clothing sponsors such as O'Neill, Quiksilver, Volcom and Billabong.
Surfing and singing karaoke on the North Shore is literally and spiritually as far as Smith could be from where he was two years ago while finishing up at a traditional boys-only prep school in Durban, South Africa. Green blazers, ties and gray slacks were required (though in the summer you could wear shorts just so long as you also wore gray knee-high socks). Hair had to be trimmed short enough that it didn't touch the collar. Shoes had to be shined, nails clipped, and flip-flops weren't allowed. Discipline was so old-school it included a leather belt. To make up for all the time he spent competing around the world, Smith would attend crash courses there from 7:30 a.m. until 3 p.m. each day, take two hours off, go back to class from 5 until 9.
"It just gave me more fire to surf when I had the chance,'' he says. "To surf all day, every day, when I had that chance."
Or as his father, Graham, describes it, "What happens to you when you get out of [that environment]? "FREEDOM!"

The best waves of your life are the ones where you don't think you're going to make it. And when you make it? I don't know, it's hard to describe. You're sitting there thinking, 'Oh, my God, I'm not going to make it, I'm not going to make it. Oh my God, this wave is going to pass me by and eat me. And kill me.'
--Ian Walsh
So what job did you have when you were 19?
For that matter, what did you do when you were 16? While you may have studied geography in school, Garrett Parkes is seeing it in person, one spectacular beach at a time. In the past year he has traveled to Bali, France, Portugal, Taiwan, the east coast of his native Australia and here to Hawaii, where the surf is so close that it literally washes up to the rental house's foundation and back bedroom.
"You can't really top it, I don't think," Parkes says. "You get to travel the world, hang with great, crazy people, meet people from different countries and cultures … and surf. It's the perfect job, really."
And just think how much fun Parkes would have if he had a driver's license.
Parkes signed his first endorsement deal at age 10 with Quicksilver. He declines to say how much his current deal pays but acknowledges it's more than the normal family earns. His situation isn't even particularly rare. Rosie Hodge had a deal with Roxy at age 9. "I remember trying to be cool and businesslike," she says of the first negotiations. "I just wanted a couple T-shirts and bikinis." John John Florence, the 15-year-old wunderkind with the blonde tresses of a rock star, had a deal with O'Neill at age 5.
The bidding was so fierce to sign Jordy that Nike had Tiger Woods call him one day. "He just gave me advice on how he went about it when he was my age and tell me about the company he was with," Jordy says. "It was kind of baffling in the beginning. You don't know what to say because he's such a high-profile guy, but you just kind of cruise with it."
Traveling the world, staying in beach houses on someone else's dime, receiving advice from Tiger, a seven-figure endorsement deal and a good voice … it beats the normal teenage life of video games and pimples. Jordy doesn't even need to worry about applying sunscreen to his back.
"The girls on the beach do my back," Jordy says. "Never a shortage of girls to sunscreen my back."
---
AS SEVERAL SURFERS LOUNGE about the O'Neill house, Graham Smith talks about a 100-foot swell heading for the coast of Ireland. "I read about it on the Internet this morning," he says. "They say it will wipe out the beaches."
Ian Walsh, sitting on the couch across from Smith, hears the talk of a 100-foot swell and his response, naturally, is to wonder whether he should fly to Ireland and surf it. In addition to competing, Walsh chases big waves all over the world at a moment's notice. That commercial showing Shaun White jetting around the world from Vancouver to Japan to Norway for the best snow? "My life is EXACTLY like that commercial," says Walsh, 24. "I'll be on the phone making 30-40 phone calls, lining up people to shoot it, booking the helicopter for the video …"
About a month ago, Walsh was in Hawaii competing when he heard of a monstrous swell heading for Tahiti, the sort of wave that should include an upside-down luxury cruise ship with Ernest Borgnine, Shelley Winters and Red Buttons on board in New Year's Eve party hats. He tracked the swell for five days, checking to see if it was holding its size and worthiness. He was debating whether or not to chase it when his brother, Luke, said, "Why not?"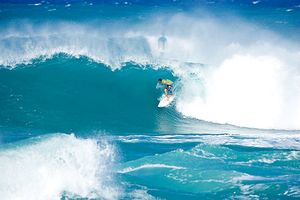 JOLI for ESPN.com
Ian Walsh says he's felt himself dying twice during spills.
Unable to counter this unimpeachable logic, Walsh packed his bags and booked his flight on the way to the airport. He flew five hours to Los Angeles, where he met fellow surfer Shane Dorian, then caught a flight a couple hours later to Tahiti. They flew 10 hours, landed, gathered their gear, grabbed a couple of hours of sleep, woke at 4:30 and were on the ocean by 6. A couple of hours later, Walsh caught the best wave of his life, a wave so colossal he won't even guess at its height, though from photos it makes Fenway's Green Monster look small. Walsh caught a flight back to Los Angeles, changed planes and returned to Hawaii. "I was on the plane longer that I was there," he says.
Walsh is professional, businesslike and a good cook. And he feels a deep need to surf waves so large their photos look generated by Industrial Light and Magic. "The best waves of your life are the ones where you don't think you're going to make it," he says. "And when you make it? I don't know, it's hard to describe. You're sitting there thinking, 'Oh, my God, I'm not going to make it, I'm not going to make it. Oh my God, this wave is going to pass me by and eat me. And kill me.' And then you make it and it's … 'Let's do it again. Only on a bigger wave.'"
Not too surprisingly, Walsh says he wasn't able to get insurance last year.
He pulls out a thick wad of old boarding passes. This, he says, will provide an idea of how many miles he flies. He fans them like a magician spreading a deck of cards. Los Angeles, Maui, Tokyo, Paris, Singapore, Kauai, Sydney, Bali, Honolulu, San Jose, Tahiti …
Very impressive. And all those flights are just from the past year?
No, Walsh says, "That's like just the last couple months. Just since summer."
---
DANE GUDAUSKAS STROLLS out of the O'Neill house toward the beach strumming a ukulele. Lean and blonde with a scruffy beard, the 22-year-old is the very epitome of a surfer dude in Hawaii. "The only thing I'm missing," he says, "is a girl in a hula skirt and a coconut shell bikini."
Not for long. Minutes later he is sitting at the edge of the lawn, looking at the surf while a gorgeous young woman in a very small bikini sits in the chair next to him. She doesn't have a grass skirt or a coconut-shell bra, but she's close enough. Sitting with them is Walsh, and his manager, Travis Clarke.
Standing behind them taking in all this is Walsh's brother, Luke.
Luke, 22, dropped off the pro circuit a couple of years ago to go to college. The reasons why become clearer after listening to him describe a trip to France in 2004.
He was there to compete at Biarritz, which sounds great, except he and two fellow surfers booked a hotel for only the first two nights ("It was really ill-planned") and unfortunately there was a huge, international festival in town and every hotel within 50 miles was booked. "So we got kicked out of the hotel. We loaded up all of our stuff. Some gypsy packed us up into his car. It was crazy. He's like, 'Your only option is to sleep on the beach.'"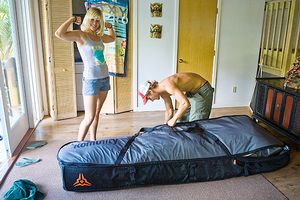 JOLI for ESPN.com
For pros like Rosie Hodge, the surfing circuit means a lot of packing and a lot of plane flights.
Which they did, and that would have been fine, only the first night they awoke to a thunderstorm of biblical proportions. The next night, someone stole his backpack, which carried his money, credit cards and passport. And then the three lost their first heats of the contest. They borrowed some money and took the train to Paris to get a replacement passport at the U.S embassy. He says he did eventually win a competition, which paid him a whopping $300.
Luke wound up flying back to the States, where he earned his keep teaching lessons, competing and working in a surf shop on the Jersey shore until returning home to Maui, with perhaps $200 of massive earnings. Even then he might have stayed with pro surfing -- despite the daunting $20,000 he estimates for annual travel expenses on the Men's Qualifying Series -- had he not had an appendectomy that left him unable to compete for two months. With nothing to do but think about life, he decided that college might be a better career choice. So he enrolled at the University of Hawaii, where he majors in marketing. He's considering working in the surf industry, perhaps managing his brother.
"It's hard sometimes,'' he says. "I'll be stuck in town working on some term papers and Ian will be doing exactly this, sitting on the beach relaxing. But all the advice I get is it will work out in the end."
That's probably sound advice, because pro surfing definitely isn't all hula girls and coconut shells.
---
A POWERFUL STORM with hurricane-force winds roared across the island two nights earlier and there still are downed cables and homes without power as Melanie Bartels rushes to prepare for the Billabong championship on Maui. It's a short flight from Oahu, but depending on the surf conditions for the event, she could be gone anywhere from four to 10 days. And in addition to getting ready for the trip, she has a job interview.
Bartels, 25, won the Roxy Sunset contest last year. This year, she lost her sponsor and doesn't know whether she'll be able to continue. She has a son, Ezekial, and a few more responsibilities than the average young surfer. According to the Association of Surfing Professionals Web site, she won $27,700 in prize money this year.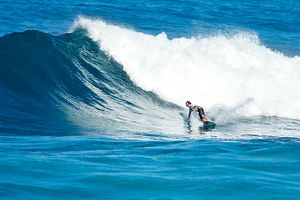 JOLI for ESPN.com
Melanie Bartels shows why she's one of the top female surfers in the world. But she has trouble making a living on the tour.
"Right now, I just have to get another job. Anything that will pay," she says over the phone, declining a more extensive interview due to a lack of time. "I need some income. It's so hard when you don't have a sponsor. It's tough, man. This will be the first year without a sponsor and the real world is hitting me."
As Luke Walsh learned the hard way, most pros do not earn hundreds of thousands of dollars. Many struggle just to get by. According to the ASP, the 200th-ranked surfer on the Qualifying Series, Clancy Dawson, earned $3,300 in prize money last year. The 500th won nothing at all. It's even tighter on the women's circuit, where sponsorship and prize money are considerably less than the men receive -- a very few make $500,000, a few others earn in the low six figures and many earn far less.
"There are girls who don't even have a sponsor," says Chelsea Hedges, ranked seventh in the world, "and they're traveling just on their prize money to get from one event to the next or they're maxing out their credit cards."
While Hedges and Hodge enjoyed a lovely house by Sunset Beach for the Roxy Pro courtesy of their Roxy/Quiksilver sponsor, Samantha Cornish and two other surfers paid for a rental house on their own. Cornish is ranked fourth in the WCT standings but she competed without a sponsor this year. She earned $48,100 in prize money, which doesn't go all that far when you fly all over the globe and stay at some of the world's most popular beaches.
"Of course, there have been times when I've felt I would like a job where I get paid more," Cornish says. "But there's something inside me that wants to win the world title. There are only a few us in the whole world who can do this, and I'm fortunate to be one of them."
And at least English is Cornish's first language.
Brazil's Pedro Henrique and William Cardoso squeeze themselves and about a dozen boards into a small bedroom at Bruno Lemos' North Shore house. A photographer with a passion for surfing, Lemos moved to Hawaii from Brazil in 1991. In recent years he has offered Brazilian surfers inexpensive rent in his surf-themed home (there are boards attached to the living room ceiling) during the Triple Crown so they can reduce travel expenses. Robson Silva is also staying in the house and Lemos says one year he had three surfers staying in a bedroom and another in the living room.
"It's so expensive here -- it helps out a lot," Lemos says while cooking up a pot of pasta for the house dinner. "All of the rich guys have a studio in the back of their house. Renting them out is a major part of their income."
Henrique is fortunate to have a sponsorship which, he says, pays him roughly $3,000 a month. From that he must pay his considerable travel expenses -- and his airline ticket to Hawaii alone cost $1,800. He also pays 20 percent of his salary to the management agency that represents him. What is left over goes back to his wife, Carol, and 2-year-old daughter, Ariel, in Brazil. He won $12,200 this year.
"It's not easy," he says. "For some guys, we have to be on the CT to win the prize money to help with travel and send home. Maybe we can buy a car or a house. With the guys on the QS, it's a little bit harder because they pay less."
Thus, Henrique and Cardoso are happy to accept their space in this home. While Lemos' son sleeps in his parents' room, the two world-class surfers share his bedroom, sleeping on bunk beds.
---
A SIGN POSTED IN THE SAND warns of the dangerous surf near the world-famous Pipeline, but a more powerful warning is attached to the chain-link fence at the beach entrance. Candles, flowers and a photo montage are dedicated to some of the surfers who met their death at Pipeline, including popular Tahitian pro Malik Joyeux, who drowned here two years ago in what is described by one lifeguard as "really nice conditions."
"More people die at Pipeline than all the other surf spots in the world put together," Alexander says. "It is so shallow, so intense and it comes from deep water and hits a really shallow reef and jacks up really fast. A lot of people die out there. I've lost friends out there. I had one friend who had half his face ripped off by the coral reef. He had four kids and a wife."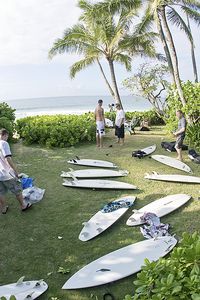 JOLI for ESPN.com
The backyard is littered with surfboards. But the view is fantastic.
This is the other side of surfing: It is a dangerous sport. Facing a 97-mile fastball or an angry 280-pound defensive lineman is no day at the beach, but then, neither is a day at these beaches. As lifeguards keep a protective eye on the competition at Sunset and the event announcer warns spectators to stay far up the sand, word spreads that Peter Davi has died that same afternoon while surfing big waves off the California coast. The previous day a huge wave on Maui ripped open a gash the length of Brett Lickle's thigh, requiring Laird Hamilton to strip off his own surf shorts for a tourniquet to save him. Ian Walsh says he twice has come so close to drowning that he could feel his extremities go numb from the last remaining oxygen rushing to his brain and heart.
Pro surfing no longer seems like such a great lifestyle.
Walsh's parents live on Maui just miles from Jaws, the massive break where Ian once surfed a 69-foot wave. His mother, Kitty, worries every time she hears an ambulance. "The sirens go by and you just wait and listen," she says. "Where did the siren start, how far did the ambulance go? And you then see rescue helicopters fly by. … You just close your eyes and hope."
She says Ian is supposed to call as soon he leaves the beach to let her know he's all right. "It's pretty frightening as a parent."
---
THE OCEAN GIVES and the ocean takes away. And sometimes it does both.
Hurricane Iniki struck Kauai in 1992, when Powers was 12 years old. The storm devastated the island but he also recalls making the most of the situation when the National Guard arrived after the storm. "I had military guys driving me to the beach to surf in their Humvees. How rad is that? They would give me their rations for lunch."
Powers worked hard for many years to gain a spot on the CT, traveling far from home, sacrificing family gatherings, missing life's normal social activities. And having finally qualified for the tour, he failed to make the cut again after his first season. This left even the relentlessly cheerful surfer crying on the sand with a towel over his head. He contemplated quitting, even considered trying out for the Los Angeles Galaxy soccer team, but fought on, rededicated himself and surfed well enough this year on the QS to requalify for the CT with his victory at the Reef Hawaiian Pro.
"I can't be a failure," he says. "If I quit and fail, it's not just me I'm doing that to. Because it's not just me I'm doing this for. I'm doing it for my parents, for my town, for being a Hawaiian. That's how legends are made. It's the people who overcome all the obstacles and then come out on top."
You must make the most of the waves you get.
"The ocean can deny you a window," Graham Smith says. "There are so many variables. Catching the right wave. Doing the right maneuvers at the right time. It's not like a game of tennis, where the nets don't move or soccer, where the goals don't move. It's overwhelming. … You can paddle toward a wave you think will be good and you could have paddled off the best wave of the day. A lot of it is just pot luck."
Luck and work and experience and patience. Take the World Cup final at Sunset. As the minutes wear down in the final, Makua Rothman needs a 9.01 ride (out of 10) from the judges to catch Leonardo Neves of Brazil for the championship. The three other surfers in the group paddle farther out in search of a last strong wave, but Rothman, 23, virtually grew up at Sunset Beach and knows that he needs to be in closer. He also knows how to handle the conditions, having once surfed what was described as the biggest wave ever successfully ridden at Jaws. So he lines himself up with a friend's house near the shore and waits. And waits. And with two minutes left in the competition, Rothman catches a beautiful wave and rides it magnificently, zipping through its barrel and carving its face for a score of 9.5. It beats not only Neves but 2007 world champion Mick Fanning as well. And when the event ends, his friends rush to the edge of the surf, lift Rothman on their shoulders and carry him off the beach in triumph.
"It means everything to me," Rothman says of the victory. "I grew up right here. I bled, cried, got my ass kicked -- everything -- right here on this beach."
As the pros scatter following the contest, a handful of surfers steal into the waves with their boards. The competition may be over, but the waves are still there. The ocean can be challenging, thrilling and lethal, and the only way to experience it is to get on a board and ride.
"Surfing is like the ocean," Powers says. "Ups and downs. Wishy washy. Good waves, bad waves. You're what the ocean provides. If the waves are good, life is good."
And if the waves are bad, you do the best you can. In other words, it's a lot like life itself. Only with awesome sunsets.
"It's all a journey," Powers says. "It's all a ride."
(By the way: The North Shore forecast this week is mostly sunny with a high of 81.)
Jim Caple is a senior writer for ESPN.com. He can be reached here. His Web site is jimcaple.net, with more installments of "24 College Avenue." His book with Steve Buckley, "The Best Boston Sports Arguments: The 100 Most Controversial, Debatable Questions for Die-Hard Boston Fans," is on sale now.