The past 12 months of sports often were so confusing that you needed to repeatedly review Bill Belichick secret videotapes to make sense of it all. Appalachian State beat Michigan in football? Not possible. The Colorado Rockies reached the World Series? You must be joking. The NBA's No. 1 pick in the draft hasn't played a single minute? Give us a break. Notre Dame started the season 1-8? Right, and if you pull the other leg, it plays "Jingle Bells."
But it's all true, which is more than you can say for Page 2's eighth annual This Was The Year That Wasn't. With all the confusion from the past year, you just may have forgotten these moments:
Jan. 1: In one of the most exciting finishes in bowl history, undefeated Boise State upsets Oklahoma in the Fiesta Bowl when tailback Ian Johnson catches a 48-yard Hail Mary pass from Doug Flutie, runs the wrong way through the Stanford band and eventually dives into the end zone, where he celebrates by proposing to Britney Spears.
Jan. 8: Florida steals Ohio State's lunch money, gives the Buckeyes an atomic wedgie and stuffs them in a locker.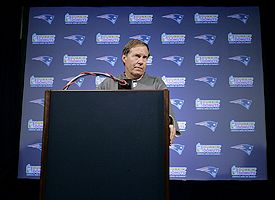 AP Photo/Stephan Savoia
"Mangini ... I am your father!"
Jan. 21: It's a mixed day for Bill Belichick. On the one hand, New England blows a 10-point lead and loses the AFC Championship Game to Indianapolis. On the other hand, a Congressional oversight committee determines that the Patriot Act gives the coach the right to wiretap opposing coaches without a warrant.
Feb. 4: Peyton Manning establishes an NFL record by becoming the first player in Super Bowl history to appear more often in the commercials than in the actual game.
Feb. 18: Pitchers, catchers and chemists report to spring training.
March 3: The Cactus and Grapefruit League seasons officially open with former Sen. George Mitchell visiting each complex and launching unproven steroid allegations into the stands with a pressurized air cannon.
March 11: March Madness begins in the traditional fashion as office copiers across the nation run out of toner due to Florida coach Billy Donovan printing out his résumé.
March 25: After months of hype, NASCAR unveils its "Car of Tomorrow" but the race turns into a major disappointment when drivers roll into the pits and learn that the vehicle's water fuel cell hasn't been invented yet.
April 2: With the Gators leading Ohio State 40-29 at halftime, coach Billy Donovan gets confused and leaves Florida to fill the new coaching vacancy at Florida. Donovan changes his mind during "One Shining Moment" and leaves Florida to return to Florida but not before Eddie Sutton comes out of retirement to count the Gators' victory as his 799th career win.
April 6: After losing the NCAA women's Final Four, Rutgers coach Vivian Stringer rejects Don Imus's suggestion to change their name from the Scarlet Knights and also sew a scarlet 'H' on their jerseys.
April 8: Rory Sabbatini finishes second in the Masters after he three-putts on the 18th hole while taking his eye off the ball to give Tiger Woods the choke sign. Meanwhile, Cinderella story Zach Johnson wins the tournament and then rids Augusta of gophers with a series of synchronized underground detonations.
April 24: Michael Vick's career is placed in serious jeopardy after that shady new competitor in a trench coat at his Bad Newz Kennels turns out to be undercover agent McGruff the Crime Dog, who busts the whole ring.
May 6: Roger Clemens ends months of speculation by announcing his steroid and HGH shipments will be delivered to the Yankees' clubhouse.
May 28: Ohio State loses the national championship to Florida in track and field, baseball and water polo.
June 17: NBA commissioner David Stern suspends referee Tim Donaghy for his part in the San Antonio Spurs once again reaching and winning the NBA Finals instead of a more marketable team from a much larger broadcast market.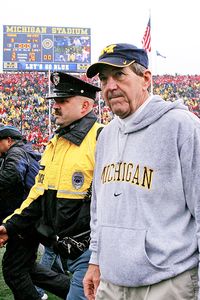 AP Photo/Tony Ding
"I went with the Belichick look. I guess that wasn't enough."
June 20: Michelle Wie drops out of the John Deere Classic due to a sore wrist and softened spine.
June 27: YES Network broadcaster Suzyn Waldman wins the Edward R. Murrow award for her coverage of the Hindenburg disaster.
June 29: After weeks of anticipation, Portland fans are profoundly disappointed when the Trail Blazers use the No. 1 pick in the draft to select 46-year-old Sam Bowie.
July 1: In an attempt to lower attendance so drastically that the NBA will allow them to move from Seattle to Oklahoma, the Sonics' new owners trade Ray Allen for Roger Dorn, Willie Mays Hayes and Rick (Wild Thing) Vaughn, then announce the team will travel by bus during the season.
July 7: Sales prove disappointing for Alex Rodriguez's wife's replica T-shirt.
July 16: Outraged fans take a firm moral stand against Michael Vick's indictment on dogfighting charges by drafting potential backup quarterbacks in their fantasy leagues.
July 25: Rory Sabbatini calls Tiger Woods to ask him if his refrigerator is running.
July 29: After every cyclist has been disqualified due to performance-enhancing drugs, Tour de France officials award the yellow jersey to a 13-year-old delivering the "Le Monde" newspaper along the Champs Elysees on his Schwinn Sting-Ray.
Aug. 1: Minnesota trades Kevin Garnett, Randy Moss, Johan Santana, Adrian Peterson, Marian Gaborik, Tom Lehman, Garrison Keillor, the Coen brothers, Al Franken, Mary Tyler Moore, Charlie Brown, Betty Crocker, Paul Bunyan and the Pillsbury Doughboy to Boston.
Aug. 7: Barry Bonds breaks the most cherished record in American sports with his 756th career blast to become baseball's all-time home run king, then celebrates by holding the home run crown above his head and taunting Bob Costas to try to jump up and take it from him.
Aug. 9: David Beckham finally turns American women (and gay men) into passionate soccer fans when he poses in his underwear for Armani.
Aug. 10: George Mitchell announces that he is expanding his probe to investigate Beckham's underwear for artificial enhancers.
Aug. 21: The Texas Rangers beat the Orioles 30-3 when new umpire Tim Donaghy bets the over.
Sept. 1: New England's Rodney Harrison is suspended for using HGH. George Mitchell declines to expand his investigation into the NFL, saying that "everyone knows" the league doesn't have a problem with PEDs and instructs fans "to pay no attention to the players behind the curtain" who weigh 260 pounds, run the 40 in 4.5 and have 30-inch waistlines.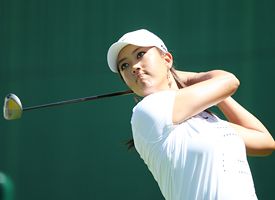 AP Photo/Claude Paris
"I am not Tiger Woods."
Sept. 9: In one of the biggest upsets in amateur football history, No. 5-ranked Michigan loses on a last-minute, 15-lateral kickoff return by the winless Miami Dolphins.
Sept. 12: After the New York Jets report him for violating the league mandate against taping defensive signals, New England coach Bill Belichick says that he's put the entire episode behind him and is focused on the Patriots' next game when he will demonstrate the firepower of his fully armed and operational battle station on the planet of Endor.
Sept. 13: Greg Oden, the No. 1 pick in the draft, tells the stunned Blazers that he will miss the entire season due to "the rheumatism."
Sept. 14: After breaking down the door of a Las Vegas hotel suite only to discover that Nicole's real murderer has once again given him the slip, O.J. Simpson is so angered that he steals back all the baseball cards his mother threw away when he was a kid.
Sept. 16: Detroit quarterback Jon Kitna returns to the field after a concussion, saying God healed him. He also notes that it's "God's will" that the Lions start out the season 6-2 only to then lose six games in a row to fall out of the playoff race.
Sept. 22: Oklahoma State coach Mike Gundy takes over as the newest commentator for Fox News.
Sept. 27: Brazil routs the U.S. 40-0 in the women's World Cup when coach Greg Ryan makes the bizarre decision to bench Hope Solo and all 17 other players on the roster.
Sept. 30: The Mets blow a seven-game lead in the NL East when they lose 21 of their final 22 games, all of them to the Colorado Rockies.
Oct. 4: After hitting .314 with 54 home runs and 156 RBIs during the regular season, A-Rod opts out of his contract with an 0-1 count in his first at-bat of the Division Series against Cleveland, but unfortunately fails to inform manager Joe Torre.
Oct. 5: Cleveland successfully introduces its newest promotion: "Midge Night" in which all Yankees relievers age 22 and under receive 100,000 free midges.
Oct. 9: John Turturro wins an Emmy for his performance as Billy Martin in "The Bronx is Burning." Hank Steinbrenner then hires him to replace Torre as the Yankees manager.
Oct. 21: Despite a six-touchdown lead in the fourth quarter against Washington, Bill Belichick keeps his starters in the game, then cripples coach Joe Gibbs with force lightning and seals him in carbonite for transport back to Tatooine.
Oct. 28: The Red Sox' World Series sweep is briefly interrupted during Game 4 when A-Rod runs naked onto the field during "God Bless America," grabs the microphone from Carrie Underwood and formally announces he is opting out of his contract. In a related story, Bill Belichick is fined $250,000 for taping the World Series without the express written consent of the commissioner of baseball.
Oct. 29: Lance Armstrong begins dating Ashley Olsen, winning her over by saying that "you are so much hotter than your sister."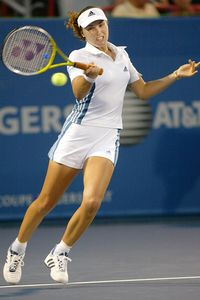 AP Photo/Paul Chiasson
As of press time, Martina thought she was snorting flaxseed powder.
Nov. 1: Martina Hingis abruptly retires from tennis after she is caught trying to snort the lines.
Nov. 2: The Knicks open their season when coach Isiah Thomas throws out the first inappropriate comment to a female fan.
Nov. 7: The entire New York Knicks fan base files a class action suit against Isiah Thomas for overall harassment.
Nov. 10: The Rockies phone major league baseball offices to ask if the World Series has started yet.
Nov. 17: The two most storied, tradition-rich schools in collegiate sports meet when Notre Dame hosts Duke in what NBC's publicists call the Game of the Century. "I can't hype this one enough," an NBC vice president for marketing says. "Charlie Weis has the Irish on their way to a school-record season that not even Knute Rockne ever approached and, as usual, both schools are very much in the national title hunt. Notre Dame beat UCLA which beat Cal which beat Oregon which was ranked No. 2 in the last BCS poll. Meanwhile, Duke beat Northwestern which beat Michigan State which beat Notre Dame which, as I mentioned earlier, is very much in the national title hunt."
Nov. 18: In a battle of unbeatens, the Colts blow a 10-point fourth quarter lead and lose to the Patriots when Belichick's deflector shield, sadly, proves to be quite operational.
Nov. 27: The Falcons blow a 10-point lead when Atlanta coach Bobby Petrino abruptly leaves the game in the third quarter to beat traffic.
Dec. 10: Having shrewdly scheduled absolutely no games whatsoever on its schedule, undefeated Ohio State receives a bid to lose in the BCS Championship Game to Appalachian State.
Dec. 13: The long-awaited Mitchell report proves disappointing when the former senator digs up only previously reported and investigated usage of PEDs, plus unconfirmed allegations that Morganna padded her bra, Oscar Gamble had hair extensions and, contrary to legend, Shoeless Joe Jackson not only wore shoes during games but also had an endorsement deal with Chuck Taylor.
Dec. 29: Having earlier solved the Iraq war, the plummeting value of the dollar, rising inflation, escalating federal deficit and global warming, Congress forces the NFL to broadcast the Patriots' videotape of the New York Giants' defensive signals on three different networks. In a related story, the 1972 Dolphins are hospitalized with massive chest pains.
Dec. 31: New York's traditional calendar-ending celebration is cancelled after Jonathan Papelbon's dog eats the Times Square ball, George Mitchell expands his investigation to include the Bad News Bears due to "reports of acne," and the New Year's Baby, already whining that the Red Sox haven't won the World Series in his lifetime, takes the advice of agent Scott Boras and abruptly opts out of 2008.
Jim Caple is a senior writer for ESPN.com. He can be reached here. His Web site is jimcaple.net, with more installments of "24 College Avenue." His new book with Steve Buckley, "The Best Boston Sports Arguments: The 100 Most Controversial, Debatable Questions for Die-Hard Boston Fans," is on sale now.