Although 358 days remain in the year, Roger Clemens has set the bar ridiculously high for the most humorous quote of 2008 with his memorable "I should have a third ear coming out of my forehead. I should be pulling tractors with my teeth" line to Mike Wallace during Sunday's "60 Minutes" interview.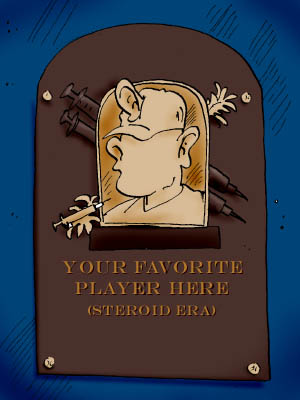 Clemens is right, though. A third ear would be a clear sign that you should cut back on the anabolic steroids. But more importantly, while additional muscle mass would help most athletic performances, the key question is whether the same holds true for the body changes Clemens describes. Obviously, being able to pull tractors with your teeth would be a huge advantage if you were in a strongman competition. But what about a third ear? Sure, it would provide a bonanza for jewelers raking in profits from sales of additional diamond studs to athletes, but would a third ear enhance or hinder athletic performance?
Page 2 takes a look, sport by sport …
Football

At first, you might think a third ear could help visiting football teams hear the signals better in a loud stadium but not if, as Clemens says, the ear was on your forehead. In that case, the ear would not face the quarterback, providing no help whatsoever in hearing his signals. In fact, it might make the situation even worse by overwhelming the brain with even more incoming crowd noise.
(Dallas quarterbacks coach Wade Wilson, meanwhile, would need a three-pronged headset.)
Overall effect: Negative.
Basketball

A third ear almost certainly would work against a basketball player shooting a foul shot in front of a hostile crowd, by allowing him or her to hear every insult about the athlete's face, acne, criminal history, poor form or mother. Third ears might help coaches get their strategy across during timeouts in a loud arena, though, but again, only if said player was facing the coach, rather than scanning the crowd for hotties.
Overall effect: Neutral.
Golf

With a third ear, Tiger Woods would require that the gallery not even whisper and also walk around barefoot while wearing absolutely no corduroy. He also would require that the gallery stand no closer than the previous tee.
Overall effect: Negative.
Baseball

A third ear would provide no obvious advantages, though third-base coaches would be aided by being able to tug three possible ears as the "indicator" sign when instructing the batter to bunt or hit away. Rafael Palmeiro would have had to insert another earplug, while Manny Ramirez and Ichiro would have to get customized Oakley Thumps. Most troubling of all, umpires could be deafened (or worse) when Lou Piniella argues with them.
Overall effect: Negative.
Soccer

Players would have to come up with some sort of protective gear, otherwise heading the ball could lead to serious hearing loss.
Overall effect: Negative.
Generally speaking, there are few good reasons why an athlete should want a third ear on his forehead. There are, however, some specific examples where it could help.
• Hulk Hogan could do the "I can't hear you" Hulkin' Up gesture in THREE different directions.
• Gaylord Perry would have had another place to find wax for loading up a pitch.
• Evander Holyfield would have been completely unfazed by Mike Tyson.
• And while the breathtaking symmetry and beauty of Tom Brady's face would be forever altered, a third ear could only improve Gheorghe Muresan's looks.
Finally, in the nonathletic world, Ross Perot ("I'm all ears" -- or is that redundant?) and Yoda "Size matters not … Judge me by my size, do you?") would each be rated NC-17, but Van Gogh could have painted at least another hundred landscapes.
Jim Caple is a senior writer for ESPN.com. He can be reached here. His Web site, jimcaple.net, includes more installments of "24 College Avenue."