At 9:09 p.m. PST on Wednesday, George Michael raises the microphone to his mouth and shouts out to the audience at KeyArena: "How are you feeling, Seattle!!!"
Well, since you asked …
The Mariners are in last place, my wife dragged me to your concert, you just sang a buzz-killing cover of "First Time Ever I Saw Your Face" -- but worst of all, just a few hours ago the city caved in and agreed to a $45 million settlement with Clay Bennett that will allow the carpetbagger to move the Sonics to Oklahoma City after 41 years in Seattle, an even worse financial deal than giving Jim McIlvaine $35 million. So, George, while you're strutting around the KeyArena stage as the first official act of the post-Sonics era -- this is what we have to look forward to -- in what is now their former home?
I keep glancing up to the rafters, where I see the retired jerseys for Gus Williams, Lenny Wilkens, Nate McMillan, Fred Brown, Jack Sikma and Spencer Haywood, along with the 1978-79 NBA championship banner. And it all feels very odd and very sad. So how do I feel right now, George? A little worse than when you and Andrew Ridgeley split up.
Although probably not as bad as Squatch, the Sonics mascot. In this economy, how many employment opportunities are there for a furry, seven-foot-tall Sasquatch, even if he can dunk a basketball on roller skates?
If you're gonna do it, do it right -- right?
Do it with me … Because
I'll be your boy, I'll be your man
I'll be the one who understands
I'll be your first, I'll be your last
I'll be the only one you ask
I'll be your friend, I'll be your toy
I'll be the one who brings you joy …
I'll make you rich -- I'll make you poor
Just don't use the door
I know how you feel, George. As much as I dislike Cash-Us Clay and his conniving, Swift-boating partner, Aubrey McClendon, I reserve more anger for Howard Schultz, the Starbucks owner. Bennett and McClendon were just looking for a team to move to their own city, which I don't like but can certainly understand. But Schultz? He bought the team in 2001 and promised Seattle he would be our man, the guy who would recapture the joy and pride everyone felt when the Sonics beat Utah in the Western Conference finals to advance to the NBA Finals. "I remember nobody wanted to leave the arena," he said then. "I remember the players didn't want to go back to the locker room because the community, the fans and everybody involved were one. … I'll never forget that day. It's a beacon in my life. I want to bring that back." Five years later he sold the team to Oklahomans for $350 million.
And now he's suing them because they breached their contract by not giving an honest effort to work out an arena deal in Seattle. Please. Is a guy who can sell coffee for $4 a cup so na´ve he didn't understand that a bunch of guys from Oklahoma probably were going to move the team to their home?
I'm selling my stock in Starbucks.
"Seattle, anyone remember the '80s?"
Yeah, George, I remember the '80s, back when you had a voice, a career and the Sonics were so popular they set the NBA single-season attendance record and played to crowds of 40,000 IN THE KINGDOME. Back then, if you asked someone which pro team might leave Seattle, the first pick would have been the Mariners. It certainly wouldn't have been the Sonics, who had recently given Seattle its only pro championship. It's hard to imagine an NBA team playing in a place like the Kingdome these days, but back then you just needed a court and a place for people to sit. And the Kingdome was plenty good enough for the Sonics to win the NBA Finals there. Of course, nowadays teams require brand new luxury arenas containing restaurants, fitness centers, hotels, amusement parks, shopping malls and nuclear power plants.
Seattle rebuilt KeyArena to the Sonics' specifications a little more than a decade ago, but that wasn't good enough for Schultz when he bought the team -- or when Bennett bought it -- two years ago. Cash-Us Clay demanded a $500 million arena to keep the Sonics in Seattle (the over-under for when Bennett demands a new arena in Oklahoma City is three years.) And because Seattle, which had already spent $1 billion on football, baseball and basketball arenas, didn't immediately agree to spend another half-billion dollars to replace a 13-year-old arena, the team left town. And NBA commissioner David Stern not only let them, he said it was the city's fault for not caring enough!!!
I'm telling you, George, the entire system is so rotten and so outrageous and so @#$%ing out of control that I fear the next arena/stadium demands from an owner will require Bob Geldof, Bono and you to get together for another Band-Aid concert. Feed the suits … Feed the suits … Feed the suits …
We could have lived this dance forever
But now who's gonna dance with me? -- Please stay.
And I'm never gonna dance again
guilty feet have got no rhythm …
You're gone -- no dance -- you're gone.
This matter is so wrong
so wrong
that you had lo leave me alone.
Tell me about it, George. I can't even figure out the settlement. Bennett pays the city $45 million now -- an amount that no doubt will quickly disappear within the city's budget -- and another $30 million if Seattle doesn't get a replacement NBA team within five years. But he doesn't have to pay it if the state legislature fails to approve funding for a new arena by the end of next year. And what are the chances of that happening? About the same as any Sonics fan personally seeing any tangible financial return from that $45 million.
Well I guess it would be nice
If I could touch your body
I know not everybody
Has got a body like you
But I've got to think twice
Before I give my heart away
And I know all the games you play
Because I play them, too
Oh but I need some time off from that emotion
Time to pick my heart up off the floor …
'Cause I gotta have faith
I'll be honest, George. I like a lot of your music. I liked it in the '80s, and I like the way it reminds me of my college years now. But this gimmick you have of covering up your weakened voice by pointing the mike at us to sing whenever you come to a high note is getting really, really annoying. I didn't pay for these tickets and drive downtown to hear myself sing. And if you could hear my voice, you would be in agreement with me. Or maybe not. Because it seems like with every passing year, fans are expected to carry more of the burden. Whether it's singing your chorus or paying for the arenas so the owners can boost their profits, we're constantly expected to do more and more. And frankly, I'm getting pretty tired of it.
So while Seattle will now go all out to secure another team, I'm not sure if I'm ready to pay money to bring back a league that treats its fans so shabbily. Like you say, you gotta have faith. And given what the NBA did here, the possibilities of lockouts and strikes and the suspicions about whether the very games are on the up and up, my faith in the league is pretty damn low. So maybe I'll just stick to concerts and Storm games. Considering how poorly the Sonics have played over the past half-dozen years anyway, I think I'll survive.
Now will you please sing my wife's favorite song, "Last Christmas"?
Good night, Seattle.
Sigh. Good night, George. And if you see Bennett, who has promised to begin the moving process this morning, please tell him not to bother waking me up before he go-goes.
Jim Caple is a senior writer for ESPN.com.
Sonics Moving To Oklahoma City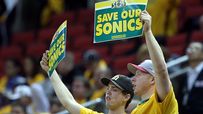 After 41 years in Seattle, the Sonics are leaving. Following a settlement Wednesday, the team's ownership will move the team to Oklahoma City for the coming season.
Story
News
•
Sonics still undecided on practice facilities
•
Stern spells out timeline for potential NBA return
•
Official document: Settlement details
Analysis
•
Munson: Q&A on Sonics' settlement with Seattle
•
Adande: Move sends a bad message
•
Moving vanguard: Others with going concerns
TrueHoop
•
Bennett not necessarily yielding all things Sonic
•
Wrestling with the news
•
A shot to the gut of Seattle fans
Page 2
•
Kevin Jackson: Your team could be next
•
Caple: Faithless in Seattle
•
Schoenfield: Lowest Seattle moments
Podcast
•
Broussard on the moving news
Video
•
Seattle mayor speaks
•
Sonics owner on move
SportsNation
•
Moving issues in Sonics situation
•
Who's next? Rank most likely to move
ESPN Top Headlines