The biggest problem with cycling's drug-testing program is that it is too damn effective.
Seriously, everyone says they are for comprehensive, rigid drug testing, but when push comes to shove, how many fans really want it? Consider the field for this year's Tour de France, which starts Saturday. Thanks to the recent doping scandals, the Tour will start for the second straight year without the cyclist who crossed the finish line first in Paris the previous year.
Alberto Contador, who won last year's Tour, is barred from this year's ride, along with the top American cyclist, Levi Leipheimer, who finished third a year ago. Contador and Leipheimer aren't banned because they tested positive -- they did not. Instead, they are ineligible to compete because they joined the Astana team that has been banned even though this year's Astana roster is completely different from the one that ran afoul last year. Also absent from this year's Tour is Michael Rasmussen, who was last year's Tour leader until his team pulled him out after learning he lied to them about his whereabouts when he missed a couple drug tests during training.
Meanwhile Floyd Landis, the 2006 "winner" who battled unsuccessfully to have his positive steroid test thrown out, is still serving a two-year ban from racing, so he isn't competing either. Nor is Alexander Vinokourov, who was busted for doping during last year's Tour.
So while cycling has gained a reputation for being wildly out of control, the fact of the matter is the sport has the toughest drug-testing program there is. Not only do the biggest stars get caught and punished, the biggest stars are punished even when they are not caught doing anything at all. Remember, Contador and Leipheimer are prohibited from racing only because they joined a team that had dirty cyclists last year.
In cycling, you're now guilty until you can prove yourself innocent. And just ask Landis if you think that's a fun, inexpensive process.
The question is, would our most popular team sports be able to withstand the same scrutiny? And the answer is, of course not! If cycling's standards were applied to Major League Baseball, Aaron Rowand wouldn't be allowed to play this season because he signed with a team that once employed Barry Bonds. If cycling's standards were applied to the NFL, there would be so few eligible players, teams would have to go back to the single-platoon.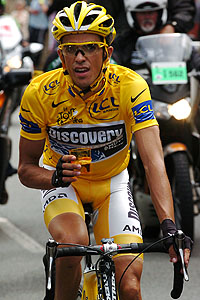 AP Photo/Christophe Ena
Last year's champ, Alberto Contador, won't be racing. But this year's Tour de France is still worth watching.
So don't tell me that cycling and the Tour de France is dirtier than other sports. At least cycling is trying to clean up its sport.
In the meantime, I'll tune in to the Tour from the first stage rolling out of Brest to the final circuit down the Champs Elysees. I'll tape the mountain stages and watch them on the trainer in my garage, sweating with the cyclists as they climb up impossibly steep roads amid spectacular snow-capped peaks. I'll keep one eye open for any dogs who might venture in front of a bicycle, and the other for the wild guy in the devil costume. I'll listen for the reassuring commentary of Paul Sherwin and Phil Liggett, plus the renaissance analysis of Bob Roll on everything from life in the peloton to the lives of the Impressionists (during a broadcast last year he named the dark and gloomy "The Potato Eaters" as his favorite Van Gogh work, then proceeded to explain how it was painted before Van Gogh had developed his vibrant, colorful style). I'll root for Slipstream, the team that has dedicated itself to racing clean. I'll cheer for George Hincapie and Dave Zabriskie to lead America's hopes. I'll pull for Australia's Cadel Evans and Luxembourg's Schleck brothers (check out Frank tumbling into a ravine in the Tour de Suisse). I'll watch the agonizing climb up Alpe d'Huez from my bedroom, feeling relieved that I am not gasping for oxygen while also wishing desperately that I could measure myself against that mountain.
In short, I'll enjoy every mile, climb, descent, turn, sprint, steeple, cobblestone and sunflower for the next three weeks.
And if the podium girls test positive for performance enhancers, I won't care.
Jim Caple is a senior writer for ESPN.com.