Morgan Hamm totally messed up my Olympic fantasy team.
I drafted Hamm as my gymnast, but the guy just withdrew from the Olympics because of an ankle injury, so I won't earn any points there. That puts a lot of pressure on Walter Dix and the rest of my team. The Olympics haven't even started, but already I'm in last place!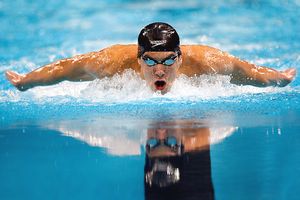 Jamie Squire/Getty Images
If you get the first pick in your fantasy Olympics draft, don't be a fool and pass on Michael Phelps.
But I'll recover. And you can, too. Forget effective drug testing, impartial judges and more women's pole vaulting. Fantasy leagues are what the Olympics need most to fully regain their old popularity.
Back during the 1976 Olympics in Montreal, McDonald's ran a promotion in which it handed out Olympic scratch cards with the slogan, "When the U.S. Wins, You Win!'' (or something like that; it was a long time and several Bruce Jenner face-lifts ago). You scratched away the gray coating on the card to reveal a particular Olympic event that summer. If the U.S. won a bronze medal in that competition, you won a free drink. A silver medal got you a bag of fries. And a gold medal earned you a Big Mac. Best of all, you could win all three if the U.S. swept the event. Swim cards were especially coveted because you were almost guaranteed to win something and quite possibly an entire lunch (team handball, not so much).
From my teenage perspective, this was the greatest promotion a corporation could ever offer, and I think it's how I first fell in love with the Olympics. And I wasn't alone. The promotion generated great excitement in the Games -- you suddenly had a rooting interest in who won the modern pentathlon.
McDonald's ran the promotion again in 1984, which was parodied in a "Simpsons" episode when the great Krusty the Clown "Krusty Burger" promotion bankrupted the entertainer as the Soviet boycott helped the United States to win virtually every medal in sight.
The scratch-card promotion may be gone, but you can recapture the experience (well, minus the free food) with an Olympic fantasy league. It's such a natural idea to boost the Olympics' popularity that I don't know why Jacques Rogge and the International Olympic Committee haven't already set up an official league. (Speaking of which -- to avoid legal entanglements with the litigious IOC, you might want to name your league Fantasy Global Sporting Competition or some equally generic name.) It's simple. Just get a bunch of friends and co-workers together, ante up and hold a draft.
Although it would be tempting to load up your team with swimmers or sprinters, to provide a truer Olympic representation and stoke your interest throughout the Games -- including during the garbage events such as team dressage -- follow these guidelines:
• Pick three athletes from track and field (including the marathon), with at least one athlete from the field events.
• Pick two swimmers/divers.
• Pick one gymnast.
• Pick one boxer.
• Pick three athletes from all the other sports, though you can pick only one athlete from each discipline, and your picks must include a wrestler (Greco-Roman or freestyle, not that you could tell the difference) or a weightlifter.
• Pick one team from men's or women's basketball, men's or women's volleyball, men's or women's soccer, baseball, softball or team handball.
• You must have at least three non-American athletes on your team.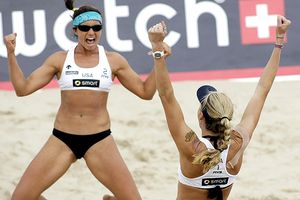 AP Photo/Miguel Villagran
Misty May-Treanor, left, and Kerry Walsh are near-locks for Olympic gold -- but that only counts as one gold in fantasy Olympics.
---
Scoring: Every individual gold medal is worth five points. Every silver medal is worth three points. Every bronze is worth one point. Every team gold medal is worth 10 points, every team silver is worth five points and every team bronze is worth two points.
Note: For our purposes, any pairs event, such as beach volleyball or synchronized swimming, is considered an individual competition with only a single medal counted. But if you have multiple athletes on a relay team, count each medal. Also, a gymnast's medal in the team competition counts as an individual medal.
Bonus points: If your athlete winds up on the Wheaties box, you receive 10 points. If your athlete makes the cover of Sports Illustrated, Time, Newsweek or ESPN The Magazine before the Olympic torch is extinguished, you get five extra points. If your athlete is a flag bearer in the closing ceremonies, you get two points. If your athlete makes a public protest about Tibet or Darfur, you get one point.
Oh, and be very careful with your picks -- every athlete busted for doping will cost you five points.
Obviously, Michael Phelps would be the No. 1 pick in any draft. But don't fret, there are several other multiple medalists. (Don't overlook Phelps' teammate Ryan Lochte or Australia's Grant Hackett and Libby Trickett.) Also, do your homework to see which swimmers and sprinters will compete on the relay teams, for which you could double your points.
A sample (non-Phelps) team:
Track and field: Walter Dix (U.S.), Liu Xiang (China) and Reese Hoffa (U.S.).
Swimming/diving: Grant Hackett (Australia) and Natalie Coughlin (U.S.).
Gymnast: Morgan Hamm (U.S.) ... well, don't pick him.
Boxer: Osmay Acosta (Cuba).
Others: Alejandro Valverde (Spain, cycling), Andrei Rybakou (Belarus, weightlifting), Misty May-Treanor and Kerri Walsh (U.S., beach volleyball).
Team: U.S. women's basketball.
Is it a winning team? Can you pick a better one? We'll have to see. But you'd better hurry with your draft. The opening ceremonies begin early Friday morning U.S. time, with the first medals awarded after midnight Friday.
Good luck, enjoy the Olympics, and feel free to give a Big Mac to your league's champion.
Jim Caple is a senior writer for ESPN.com. He's in Beijing covering the Olympics and checking his fantasy team.