Kobe Bryant recently said he would rather win an Olympic gold medal than the NBA championship. Was he merely saying what was politically correct before the Olympics? Did he say it only because it sounds better than "I would rather win an Olympic gold medal than lose the NBA championship"? Or does an Olympic gold medal really mean more to him than a professional championship?
SportsNation listranker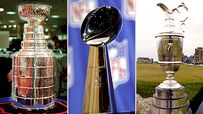 Which sports prizes do you think are the most coveted? We want to know. Create your own results with the SportsNation listranker.
Only Kobe knows for sure but what about you? What sporting prize means the most to you? Of all the things you could win in sports, which would you choose? A Super Bowl ring? The Masters green jacket? The Heisman Trophy? The Cy Young Award? A World Series? A Final Four? There are dozens upon dozens of championships and awards to win, but which would you most want to claim?
Here are my top 50, but first here are a few quick caveats on my rankings:
Individual championships trump team titles. Call me selfish, but I would rather lay sole claim to a title than share the glory.
The form of the award matters. Trophies top plaques, and the bigger the better. After all, you want the damn thing to look impressive in your trophy case.
Names count, too. Awards named in honor of a person (such as the Cy Young) just resonate more than those that, while prestigious, are named something boring and generic like the "MVP award."
Durability counts. Generally, the longer the award has been around, the more it means.
OK, here are my top 50.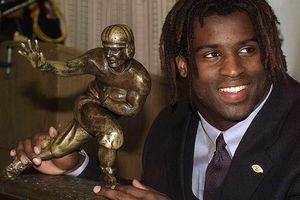 AP Photo/Suzanne Plunkett
The classic bronze sculpture awarded to college football's best player tops our list of hardware.
1. Heisman Trophy: Although it's lost prestige in recent years, this remains the most impressive prize in all of sports by virtue of the statue that comes with it -- a rugged football player stiff-arming the world. Forget a trophy case -- if I won the Heisman, I'd mount it at the edge of my driveway like a lawn jockey.
2. Olympic gold medal: Some Olympic champions display their medals in a trophy case. Others place theirs in a safe deposit box. Others tuck it away in a drawer. Not me. I'd wear it with my shirt unbuttoned to the navel '70s style so everyone could see it. "Oh that? Just a little souvenir I picked up in Beijing in 2008." Unless, of course, it was a gold medal for something such as taekwando or rhythmic gymnastics.
3. Tour de France yellow jersey: The most practical of awards, this is the only one that is actually worn in competition, with the exception of the record stolen base Rickey Henderson lifted from the field, hoisted above his head … and gold-plated so he could wear it as a necklace.
4-6, Super Bowl, World Series, NBA championship rings: The problem with championship rings is that they have grown so gaudy, so large and so heavy that wearing one is like walking around with a bowling ball attached to your hand. If you wore one for longer than a week, you would need rotator cuff surgery.
7. The Masters green jacket: This would be a lot better if you could actually wear the damn thing at an occasion other than the Masters champions dinner or a Green Bay Packers tailgate function.
8. Cy Young Award: Why is the Cy Young so much cooler than the MVP? One, it's named after someone, and two, it features the 3-D relief of a hand holding a baseball.
9. Baseball Hall of Fame plaque: Would rank higher, but inductees receive a miniature version about one-third the size of the real thing. I can't wait until Barry Bonds gets into Cooperstown and we see whether they can fit his entire forehead on his plaque.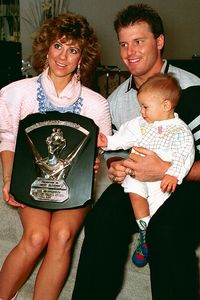 AP Photo/Rick McFarland
The Cy Young Award is a beautiful trophy, and this man might be selling a few on eBay in the near future to cover attorney fees.
10-12. Baseball, NBA and NFL MVP awards: Come on, is it so hard to come up with players to name these awards after and give them proper prestige?
13. Stanley Cup: As impressive as the cup is, I would sell it on eBay. I mean, it's not like I'm going to get to keep it beyond one day, anyway.
14. Heavyweight championship belt: Sure, there about 672 of these things out there now, but I would still love to win it so I could wear it as an actual belt when I fly on a plane. That way, when I go through security and the metal detectors start beeping and the TSA guys start giving me grief, I can show them the belt and say, "That's just my heavyweight championship belt. Any of you punks have a problem with me wearing it? I didn't think so."
15. Retired jersey: There is no greater honor than to have a team retire your jersey. Unless, of course, it's your summer league jersey -- see second item here.
16. Wheaties box: A performance enhancer an athlete would actually want to be linked to.
17. BCS championship: This would rank higher if you could feel as if you really won a championship or were just the beneficiary of a convoluted and incomprehensible ranking system.
18. British Open's Claret Jug: If I won this at St. Andrews, I would ask them to fill it with 18-year-old Macallan, then sip from it all night long. Which is what I believe John Daly did, though it probably lasted only 30 minutes for him.
19. Gold glove: Wouldn't it be something if a winner tried wearing one during a real game? Although, come to think of it, doing so might improve Manny Ramirez's fielding.
20. Pro Football Hall of Fame bust: One reason the Pro Football Hall of Fame doesn't inspire anywhere near the debate that baseball's does? Fans can't argue over what helmet a player should wear on his bust.
21. Letterman's jacket: This is incredibly cool when you're 17 and you're wearing it while walking through the hallway and you find that a cute cheerleader has decorated your locker with cookies, jelly beans, construction paper cutouts and glitter the day of a big game. It's incredibly lame if you're still wearing it at age 46 and trying to pick up the waitress at the local bar.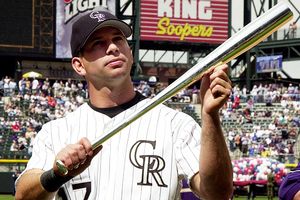 AP Photo/David Zalubowski
The Silver Slugger Award is suitable for framing --
or for bunting practice if you're Todd Helton.
22. Silver Slugger: Nice, but the pine tar on the handle diminishes the overall effect.
23. U.S. Open (golf): One reason the Open takes a backseat to the Masters (apart from the whole azalea thing): No cool apparel for the winner. So may I suggest they start a new tradition by handing out a pair of plaid slacks to the winner? Or maybe one of Tiger's old red polo shirts and black slacks? He must have a hundred of them.
24. Soccer World Cup: Would instantly soar up the rankings the moment the U.S. won it.
25. Cover of Sports Illustrated: Not as big a deal as it once was (then again, what is?) but it's still a sporting touchstone. Even if it does mean you'll immediately go on a 10-game losing streak and pull a hamstring.
26. Madden video game cover: The NFL's highest honor, and a clear warning that you should have all your insurance premiums paid and your bonus checks cashed.
27. ESPY: Of course, it goes without saying that this is the greatest award in the history of sports. So I won't say it.
28. Naismith Award: Think the Heisman Trophy without a cool statue or a decent press agent.
29. Final Four net: It may be one shining moment, but one lone strand of net seems underwhelming for winning a national basketball championship. What, does the NCAA consider it a violation if the players received an entire net?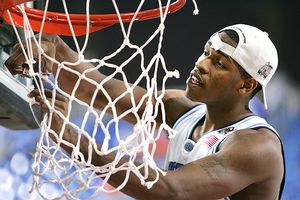 AP Photo/Eric Gay
Please don't take more than one strand. That is likely to constitute an NCAA violation.
30. Wimbledon cup and Wimbledon platter: What was more insulting to women champs? That they earned less money than the men did for many years or that they are still awarded a glorified serving tray? "I say, good show winning that tennis tournament. Well done. Now be a good lass and fetch us some tea."
31. Wanamaker Trophy: Let's be honest. No one cares that much about the PGA Championship, but it's a hell of a good-looking trophy.
32. Sprint Cup: The coolest thing you could have in your car next to a pair of big fuzzy dice.
33. Indy 500 milk bottle: Not just proof that you've won the most famous car race in the world, but its contents are fortified with nine essential vitamins and minerals.
34. Frozen Four championship: Do they get to cut apart the net after winning the college hockey championship?
35. Bobblehead giveaway doll: A symbol of the high regard a team holds for you. Or, a sign of how desperate they are to boost attendance.
36. College World Series championship: Would mean more if you got it swinging a wood bat like a real man.
37. Baseball's Triple Crown: No one has won it since Carl Yastrzemski in 1967, so it would be pretty impressive to win. What would be even more impressive is if it came with an actual crown you could wear.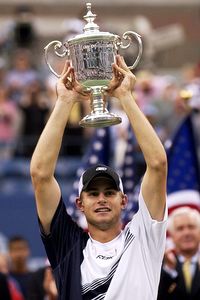 AP Photo/Amy Sancetta
Andy Roddick hoists the trophy after winning the 2003 U.S. Open.
38. U.S. Open championship (tennis): It would be more special if it were presented by royalty like at Wimbledon. We don't have a royal family in America, but the King of Queens is probably available.
39. Little League World Series trophy: Yes, it would be pretty cool to win this initially, but as the years pass and your early growth spurt no longer lets you dominate smaller players and you get cut from your high school team and grow into a bitter old man and you realize that your athletic career peaked at age 12, it may not seem so great.
40. World Wife-Carrying trophy: True, the WWC lacks a little prestige, but the trophy makes up for it -- the champions win the wife's weight in beer.
41. Kentucky Derby winning ticket: OK, it's not the same as owning the horse, but your winnings don't have to pay for oats.
42. Ryder Cup: Could someone explain why this previously obscure tournament suddenly became a big deal in the '90s? And is there anything more pathetic than millionaire golfers swelling their chests about how they're playing for their country?
43. Laureus World Sports Award: I don't know what this is for, but it's one spectacular trophy, albeit … well, just take a look.
44. WNBA championship: Hey, don't knock it. Now that the Sonics have left, this is Seattle's lone professional championship.
45. Sullivan Award: This is given each year to the country's top amateur athlete. I believe the only remaining athletes eligible for it are some eighth-grade girls playing field hockey in Maryland.
46. NIT championship: If you think this is lame, check out the women's NIT.
47, Lady Byng Trophy: Would winning this be a blessing or a curse? Would it give you carte blanche to behave however you wanted? I would say he was an ass for not even acknowledging me, but he's a Lady Byng winner -- so it must be something I did. Or would it mean that for the rest of your life you would be held to an irritatingly lofty standard of proper behavior. I can't believe it -- he's making that woman stand on the subway while he sits. Some Lady Byng winner he is.
48. Rolaids Relief Man Award: The closer position might be entirely overrated, but any trophy with a fire helmet is pretty sweet.
49. University of Washington intramural softball championship T-shirt: So sue me. It's the only athletic championship I ever won, and it took me nine years to win it (yes, I was a ninth-year senior).
50. Your fantasy league trophy: The only suitable trophy for such a pathetic feat must be capable of holding at least 16 ounces of beer.
Jim Caple is a senior writer for ESPN.com.