I was out of the country last month covering a little thing called the Olympics, so let's get right to it. …

BOX SCORE LINE OF THE WEEK
Apparently, the only question about CC Sabathia's winning line this week is whether it should have been even better than this:
9 IP, 1 H, 0 R, 0 ER, 3 BB, 11 K
More specifically, should that 1 H have been 0 H?
You've probably seen the play in question by now. Pittsburgh's Andy LaRoche hit a slow roller toward the mound in the fifth inning. Sabathia charged the ball, attempted to field it with his bare hand and bobbled it. He didn't even attempt a throw, as LaRoche sprinted to first base with what official scorer Bob Webb ruled a base hit. Sabathia didn't give up another hit the rest of the game. All hell broke loose. And now everyone is talking about changing the scoring procedures, including using a three-man committee.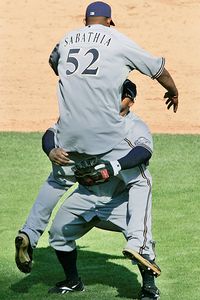 AP Photo/Gene J. Puskar
Did Sabathia really pitch a no-no? Well, he celebrated as if he did.
Personally, I don't know what all the fuss is about. Should the play have been scored an error? Of course. But what sport have the Brewers been watching the past two decades? No one in major league baseball is charged with an error anymore. Intimidated scorers have been lowering the standards so steadily, the only way a fielder can be charged with an error these days is if the baseball in question is immediately sealed inside a plastic evidence bag and sent to the press box, where forensic experts dust it for fingerprints and then, if they are able to obtain a warrant from the union, compare them with the player's. If there is a match, the scorer must then go to a grand jury to determine whether the player can be charged with an error, and if so, what kind. By the time the entire process is completed, the player has retired, and worse, the free press-box hot dogs have all been eaten.
Let's face it: The only reason there's been an outcry regarding this particular scoring decision is because it "cost" a pitcher a no-hitter. But suppose Andy LaRoche had a historic hitting streak on the line? Granted, it's difficult to imagine any Pirate doing something historic, but just suppose for the sake of argument LaRoche did. In that case, there would have been just as much outrage had that play been ruled an error. And if it was just a scoring decision in the middle of an otherwise routine game, no one would have noticed or cared that scoring standards had been lowered yet again.
So what do we do about this scoring issue? The last thing we need is to add people to the scoring decision. Trust me, scorers already hear plenty of outside opinion regarding their calls. As soon as they rule one way or the other on a play, half the press box immediately begins yelling that he messed up, while the other half quickly checks the replay monitor to see what they missed while their heads were down surfing the Web.
Obtaining sufficient opinions is not the problem. The problem is that teams apply pressure on the scorer by either phoning from the dugout to whine, or by having a team official complain personally. Scorers will deny it, but the relentless pressure has a chilling effect.
What we need is less people involved, not more. So here's what should be done.
First, and most importantly, instruct the scorers what a hit should be and what an error should be. And by this I mean that any ball a player should have fielded cleanly is an error. No more excuses about how he didn't actually touch the ball, or how there was miscommunication between the fielders, or how the dancing groundskeepers left a divot in the infield. These guys are major leaguers, not little leaguers. We don't need to protect their feelings or buy them snow cones. There is no shame in an error. Everyone makes them, even if the official scorers seldom acknowledge this. Think about the pitcher and his earned run average for once.
Once we're clear about what is an error, the next thing is to sequester the official scorers in sensory-deprivation chambers far away from distracting opinions for the length of the game. No phone calls from the dugout are allowed; no visits from team officials are tolerated. Give the scorer a Whizzinator, a box of Depends and a case of hot dogs, then let him do his job in peace. He makes his scoring decisions, hears no complaints, finishes up at the end of the game, sends in the official report and goes home. Or, more likely, to a bar. Simple.
Oh, and while we're at it, can we get rid of the "You can't assume a double play" rule? Why can't we assume a double play? Assumptions are the basis for all scoring decisions. If the shortstop gets the ball to the second baseman for the first out, and one of the Molina brothers is running to first base, we not only can assume a good throw will result in a double play, we should assume it.
TELL YOUR STATISTICS TO SHUT UP
• The bad news is, this was the last year baseball was scheduled to be an Olympic sport. The good news is, Harvey Schiller says it has a very good chance of returning in 2016. Schiller is the president of the International Baseball Federation. More importantly, he is a past executive director of the United States Olympic Committee. He knows the politics of the Olympics intimately, and how to get things done. He also knows the important people outside the IOC, such as commissioner Bud Selig and the TV executives who would also play important roles in baseball's return.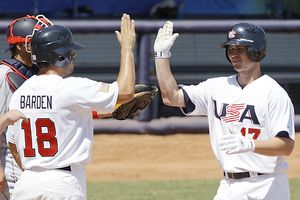 AP Photo/Kathy Willens
The U.S. Olympic baseball team would have been much more exciting with a few big names on the roster.
Why is baseball getting the boot in 2012 anyway, when rhythmic gymnastics and trampoline are still in? A primary objection to baseball is that it requires the construction of a separate stadium that will never be used again in many countries, although this would not be the case if the 2016 Olympics are awarded to either Chicago or Tokyo (two of the four finalists). Another objection is that in baseball the best players don't play in the Olympics, although it's odd this objection is not raised for soccer. But Schiller says he has a plan to get around that. Under his plan, the preliminary rounds would be played with the same sort of players we have seen in prior Olympics -- top minor leaguers and collegians for the U.S. and Canada, plus pro players for the other nations. But the medal-round games would be played by major leaguers. You would only need a couple days off in the major league schedule to accommodate such a plan (medal-round games are played on two consecutive days). You could even shorten the duration further by playing doubleheaders, so that only one day is required. There would be some problems, of course. One, players hate to travel cross-country, even for the All-Star Game, and if the Olympics were held outside North America they would have to travel much farther and deal with jet lag there and back. Two, players would have to get there, practice and be ready to play for a medal the next day. U.S. manager Davey Johnson, for one, doubts whether major league players or owners would agree to such a plan.
If not, here's another idea. Stack the rosters with recently retired players. So what if they're well past their prime? Level of play isn't the issue. Previous Olympic teams have given us Mark McGwire, Will Clark, Ben Sheets, Nomar Garciaparra, Jason Giambi, Barry Larkin and Jacques Jones. They were all great players, but that didn't matter because they weren't household names at the time. What the Olympics want is big names to draw attention. And recent retirees would provide that. Had it not been for his winter three-ring circus, Roger Clemens could have brought drama to this year's Olympics. Kenny Lofton is another player who could have helped the U.S. team. And of course, there was Barry Bonds. Sure, people might have suspected Bonds and Clemens of using performance enhancers, but what top Olympian isn't already suspected of that? Besides, they would be tested the same as everyone else. The rest of the roster could have been filled out with the usual top minor league and collegiate prospects. The U.S. team not only would have been more interesting for the general fan, it could very well have played better as well.
Whatever plan is used, the important thing is to get baseball back in the Olympics. "Hopefully," Johnson said, "people will come to their senses."
• Fans who want to see their favorite broadcaster in the Hall of Fame can play a role in the process by voting for Ford Frick award nominees until Sept. 30. The three broadcasters who receive the most votes will be included with seven others on the final ballot that will go to the 20-person voting committee, largely made up of the living Frick winners. You can vote at baseballhall.org.
• This doesn't have anything to do with baseball, but I just finished one of the best sports books I've ever read: John Carlin's recently published "Playing the Enemy." Like all great sports books, this one is about so much more than sports. It tells the story of how Nelson Mandela used the 1995 Rugby World Cup in South Africa to bring the nation's blacks and whites together peacefully in the transition from apartheid, when a bloody civil war seemed far more likely. We regularly overstate the importance of sports in our lives, but as Carlin describes it, this is one case where sports truly made a difference in the course of history. As he quotes Mandela, "Sports has the power to change the world. It has the power to inspire, the power to unite people that little else has. … It is more powerful than governments in breaking down racial barriers."
Jim Caple is a senior writer for ESPN.com.