In yet another stunning act of governmental intervention in the free market, Treasury Secretary Henry M. Paulson Jr. called for a takeover of the New York Yankees late Tuesday night.

"This action might be unprecedented, but it is also necessary to avoid the complete collapse of our nation's most successful and treasured sports team," Paulson said after the Yankees were eliminated from the postseason for the first time since former President Bill Clinton's first term. "Had there not been swift action, yet another American titan would have tumbled, with devastating consequences for the entire nation. American consumer confidence would suffer a potentially fatal blow if the Yankees finished behind Tampa Bay and a Canadian team in the standings."
Wall Street appeared to be calmed by news of the bailout, with the Dow Jones Industrial Average gaining 65 points in early trading and 47 hedge fund managers signing up to renew their Yankees season tickets.
It's estimated the bailout eventually will cost U.S. taxpayers $700 million, although economists said that figure might soar even higher depending on whether the team pursues soon-to-be free agent Manny Ramirez and, if so, on whether Ramirez keeps Scott Boras as his agent. It also is still being determined whether financing for the new Yankee Stadium should be covered in the bailout plan.
The plan, however, faces resistance from a skeptical Congress. While there is broad consensus that federal action is necessary to save the Yankees, there also are concerns that the hastily prepared bailout comes too late and will not work in the long term.
"While Americans have all the confidence in the world in Derek Jeter and Mariano Rivera, I don't see the situation improving as long as they're paying Alex Rodriguez $27 million a year to hit a buck 20 when it counts most," Sen. Hillary Clinton said. "I'm also worried that Joe Girardi doesn't have what it takes to manage in New York. Nor am I convinced that moving Joba Chamberlain to the rotation was the wisest move."
"I understand something must be done, but there need to be safeguards," said Republican House minority leader John Boehner of Ohio. "We can't just give the Steinbrenners a blank check. What if they get the bailout and then simply turn around and give a ridiculous contract to Ryan Dempster, when you just know he's never going to have another season like this one?"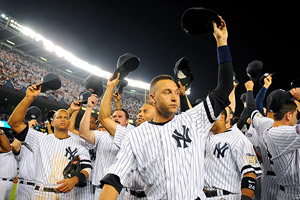 Rich Pilling/Getty Images
It's been a momentous week for the Yankees. They closed Yankee Stadium and were eliminated from playoff contention, and now the federal government is coming to their aid.
There also is widespread concern that the bailout favors the super-rich at the expense of struggling fans. "I've looked through this whole proposal, and I don't see one dime going to the Royals," Missouri Rep. Ike Skelton said. "Where is the help for the poor teams who can't even afford their mortgage on the cellar? Why do the Yankees need a bailout from us? Didn't Kansas City do enough for the Yankees when we gave them Roger Maris?"
Federal Reserve chairman Ben Bernanke, meanwhile, lobbied hard for the bailout, pointing out that the Yankees already have acted to turn things around by releasing Richie Sexson and can save millions this winter by buying out the options on the contracts for Jason Giambi and Carl Pavano. "I think they could easily get the payroll down to $199 million, maybe even $198 million," Bernanke said.
The chairman also noted that under the bailout, prior to signing or trading for a player, Yankees general manager Brian Cashman would have to obtain approval from himself, Paulson, the House and Senate committees on appropriations, the secretary of commerce and the reigning champion of the White House rotisserie league. Asked whether all that would be undue interference, Cashman replied, "No more so than I deal with now."
Although there have been signs the Yankees' dynasty was crumbling for some time -- the title of Buster Olney's best-selling book being among the most obvious -- Congress finally realized the seriousness of the situation during a dramatic weekend in which the Tampa Bay Rays qualified for the postseason while the Yankees suited up a roster that included Brett Gardner and Chad Moeller for the final game at The House That Ruth Built.
The Yankees' staggering decline from perennial AL East champions to also-rans might have caught Washington off guard, but several leading economists and sabermetricians have been predicting the team's collapse for some time.
"You simply can't keep spending money on aging and overrated high-priced free agents while neglecting the farm system," one fan posted on the influential blog Sons and Daughters and Wives of Fritz Peterson. "And bailing them out will only encourage further foolish spending by the Steinbrenner family. After all, CC Sabathia is eligible for free agency this winter, and you just know Hank [Steinbrenner] will overpay him even though his pitch count has been frighteningly high in Milwaukee and Dale Sveum keeps pitching him on short rest."
The proposal faces its stiffest competition among legislators from the states of Massachusetts, Maryland and Florida. Sen. Ted Kennedy said the bailout represents unprecedented and disturbing governmental interference in the free-market system, as well as "welfare" for Boston's most-hated rival.
"Why should the hardworking citizens of Red Sox Nation be burdened with higher taxes to bail out the greed and excesses of the Steinbrenners?" Kennedy asked. "The Yankees got themselves into this mess, and they should have to get themselves out of it. It's not like anyone forced them to sign Pavano or give Kei Igawa a $26 million contract."
The Canadian government also complained, saying the plan would violate NAFTA and force the Blue Jays to flush even more money away on free agents.
A House proposal by Pennsylvania representatives to include federal money for the Pittsburgh Pirates was quickly shouted down by other members, who criticized it as nothing but pork-barrel politics as well as a complete waste of money.
"I'm not crazy about bailing out the Yankees," said Rep. Dennis Kucinich of Ohio. "But at least there's a chance this plan will help them turn things around. The Pirates? Talk about a bridge to nowhere."
Hearings on the bailout will be aired live on CNN, Fox, MSNBC, C-SPAN and the YES network.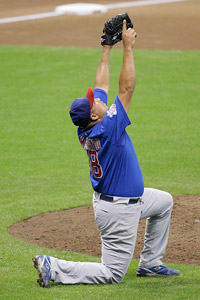 AP Photo/Morry Gash
He's a heck of a pitcher … and a pretty darn good hitter, too.
BOX SCORE LINE OF THE WEEK
It's usually a pretty good sign when a starting pitcher has more hits than hits allowed, and such was the case Sept. 14 when Carlos Zambrano went 1-for-3 while no-hitting the Astros. That game also left him with a higher batting average (.354) than ERA (3.41) on the season -- as long as you ignore the decimal points, that is. Unfortunately, Zambrano didn't exactly pull a
Johnny Vander Meer
. Zambrano followed up his no-hitter by allowing eight runs and six hits in 1 2/3 innings in his next start, raising his ERA back above his batting average. But he still gets the award this week for the earlier no-no. His line:
9 IP, 0 H, 0 R, 0 ER, 1 BB, 10 K
According to Stats Inc., Zambrano has the highest batting average for a pitcher with at least 75 plate appearances since Orel Hershiser hit .356 back in 1993.
TELL YOUR STATISTICS TO SHUT UP
• Be prepared for another sputtering postseason because the schedule is the same as last year's. Off days are scheduled between Games 4 and 5 of the division series, as well as between Games 4 and 5 of the league championship series, even though the teams won't be traveling between the latter games. So once again, a team could have this schedule: Final game of the regular season, two days off, Game 1 DS, day off, Game 2 DS, day off, Game 3 DS, Game 4 DS, day off, Game 5 DS, day off, Game 1 LCS, Game 2 LCS, day off, Game 3 LCS, Game 4 LCS, day off, Game 5 LCS, day off, Game 6 LCS, Game 7 LCS, day off, day off, Game 1 World Series, Game 2 WS, day off, Game 3 WS, Game 4 WS, Game 5 WS, day off, Game 6 WS, Game 7 WS. That's 19 games and 13 days off if the team went the limit in each series. Go one game less than the limit each time, and the team would play 16 games and have 15 days off. How can a batter stay in a groove with that many days off? That type of scheduling punishes depth, rewards teams with thin pitching and rips apart the daily continuity that is the very essence of baseball. And it's unnecessary. The reason MLB went to this schedule last year was to start the World Series in the middle of the week, when television ratings are highest. That's a good idea -- the more viewers, the better. But it could be accomplished better by ending the regular season on a Thursday rather than a Sunday. That not only would set up the desired midweek start for the World Series but also would eliminate the dreary final weekend, when most of the teams out of the races don't draw fans because fans are watching football.
• Tampa Bay is easily the best story and most surprising team this year, but which team had the most disappointing season? Detroit, which traded for Miguel Cabrera and Dontrelle Willis and was expected by many to win the World Series, yet will instead possibly finish in last place and around 15 games under .500? Or Cleveland, which finished one victory shy of the World Series last year, but played so poorly in the first half of this season that it traded Sabathia and will end up in third place? Or Seattle, which traded for Erik Bedard in the winter and was considered a contender to win the AL West, yet probably will become the first team in history to lose 100 games with a payroll of $100 million or more? The vote here goes to Seattle. At least Detroit and Cleveland can look forward to better years in 2009. The Mariners, who likely will lose Bedard for most if not all of next season after shoulder surgery, don't figure to be contending anytime soon.
• Now that the Yankees' postseason streak has ended, along with their residency at Yankee Stadium, it's interesting to note that when their playoff run began in 1995, the Yankees were averaging 23,521 fans per game, and they were averaging more than 53,000 when it ended. Oddly, as the Yankees fared worse in the postseason, they drew better in the regular season. Their attendance has risen every year except one since their last World Series win in 2000 -- increasing by more than 15,000 fans per game in that span, or more than a million fans per season. In fact, the Yankees' attendance fell between their third and fourth world championship in that run. Was the increase in attendance thanks to better marketing? The YES Network's relentlessly pumping the team? Acquiring A-Rod? Or was it the club's lessening the complaints about Yankee Stadium and the surrounding neighborhood? (Thanks to David Schoenfield for supplying the attendance info.)
Jim Caple is a senior writer for ESPN.com.