So who is more likely to make the correct decision during the postseason?
A manager who has spent a lifetime in baseball, who has come across every conceivable scenario in the game multiple times as both player and manager at the amateur, minor and major league levels, who has been with his team every day since the middle of February, who also has probably worked with many of his players over the course of several years, who is acutely aware of their strengths, weaknesses, tendencies and emotions, who has a staff of coaches and scouts supplementing his knowledge with their own observations, who is privy to the latest medical updates on the players' health, strength and fatigue, who has full scouting reports on the opponent, who has been successful enough making such decisions to reach this very point and who, not unimportantly, will make the decision with the full understanding that it will affect his long-term reputation and, perhaps, his immediate employment?
Or sportswriters/fans who probably couldn't name the team's starting lineup two weeks ago?
Don't be stupid. Obviously, sportswriters and fans have a better chance of being right. That's because we make our calls AFTER seeing what happens. That's the beauty of second-guessing. Hindsight isn't just 20/20. Hindsight is Ted Williams after Lasik surgery.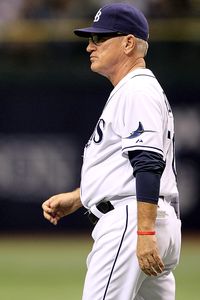 Doug Pensinger/Getty Images
Is Joe Maddon right? Let's wait until Game 5 is over before we decide.
Second-guessing managers is the single greatest pleasure of the postseason. Unless your team has the good fortune of winning the World Series, there are few things better than being able to sit back after disaster strikes a team and say, "What an idiot! He never should have done that!"
So is Tampa Bay's Joe Maddon making the right call by changing the rotation to start Scott Kazmir in Game 5 of the ALCS on Thursday instead of James Shields? The better question is, why ask now? We'll decide after the game when we see what happens.
If Kazmir pitches poorly and the Rays lose, Maddon will be second-guessed from St. Petersburg, Florida to St. Petersburg, Russia. Hey, Georgi! Can you believe Maddon started Kazmir in Game 5? What a stupid Uzbek! His decision will dissected and thoroughly examined for all flaws. And then he will be found guilty of being either overconfident or panicking. Or perhaps both.
And if Kazmir pitches well and the Rays win? We'll ignore the obviously enlightened decision by Maddon and just go back to second-guessing Boston manager Terry Francona for losing Game 2 by taking out Jonathan Papelbon after only 18 pitches and replacing him with Mike Timlin. That's the beauty of second-guessing in the postseason. There's always a losing manager to blame!
Second-guessing is great fun, but there is an art to it, an established order. First, and most importantly, there must actually be a move to second-guess, one that has equal arguments for and against. For instance, ripping Grady Little for staying with Pedro Martinez in 2003 or Bob Brenly for staying so long with Byung-Hyun Kim in 2001 were not cases of second-guessing, they were just pointing out the obvious following indefensible, bewildering, incredibly stupid decisions.
Consider the Kazmir choice. Maddon said he and his staff talked about the move as a possibility before the series began and he is doing so for a couple of reasons.
Kazmir has pitched better in Fenway than he has at home against the Red Sox. He is 4-2 with a 3.02 ERA in Boston and 2-3 with a 4.29 ERA against the Sox at home.
Shields pitched very well in Game 1 in St. Pete but has pitched very poorly at Fenway, where he is 0-3 with a 10.13 ERA.
Maddon likes pitching Kazmir with a day off following the game because it allows him more bullpen options if he struggles.
And although Maddon (wink, wink) says it wasn't part of his decision-making process, Kazmir also has a bad history with Derryl Cousins, who would be the home-plate umpire in Game 6.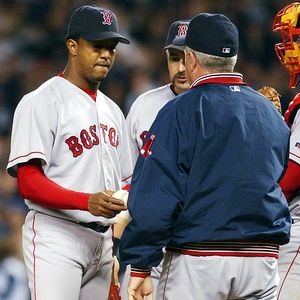 AP Photo/Charles Krupa
Grady Little's indefensible decision to keep in Pedro Martinez cost the skipper his job.
All that makes good sense (well, I'm not crazy about the bullpen thing -- if you feel it's important to be able to push your relievers to the max, maybe you should reconsider your starter). But it's balanced against the well-established rule in the official second-guessing rulebook that managers are NEVER, EVER, UNDER ANY CIRCUMSTANCES allowed to look ahead to a postseason game beyond the one they are actually playing. To do so while leading a series means you're not going for the jugular, as well as inviting some very bad juju by preparing for a possible loss. To do so while behind means you're not giving it your best shot to win now WHEN YOU ABSOLUTELY HAVE TO but instead preparing for a game that may never be played.
Lou Piniella could tell you about this after the criticism he received last fall when he took Carlos Zambrano out early in Game 1 of the division series so he would be strong and rested for Game 4. As Chicago fans might have reminded you about a couple hundred times since then, there never was a Game 4 because the Cubs lost the first three.
The tricky part to this rule is the flip side. Managers also are not allowed to approach the upcoming game as if it is the last one that will ever be played. Florida manager Jack McKeon experienced this briefly in 2003 when he was heavily questioned for "panicking" and starting Josh Beckett on three days rest in Game 6 of the World Series instead of giving him another day to rest and come back strong if needed. When Beckett won Game 6, the criticism ended, but the praise all went to the pitcher, not the manager. Same thing for Bob Brenly in 2001: He was questioned for starting Curt Schilling in three games of the World Series, but Schilling received the praise after the decision worked out.
That's because the third law of second-guessing is that it is ALWAYS the manager's fault when a move goes poorly but the player's credit when it goes well. No matter how well-reasoned and well-intentioned a move, if it fails, it can never be regarded as simply a good idea that just didn't work out, or a good idea that fell short because of a poor performance by the player. No, it is ALWAYS the idiot manager who screwed things up. Remember, it wasn't Erick Aybar's fault for not getting the bunt down against the Red Sox in the division series, it was manager Mike Scioscia's fault because he called for a squeeze in the first place.
Due to all the reasons he cited, Maddon's choice to go with Kazmir on Thursday night and push Shields back to Saturday if necessary makes sense. His mistake was ever suggesting he would pitch Shields in Game 5, thereby making it look as if he's changing horses in midstream.
But Maddon sure as hell knows his personnel better than we do. And he certainly made the right call (against all convention) in Game 2 when he left closer Dan Wheeler in there for 48 pitches. So if Kazmir pitches well and the Rays win Thursday night, we should be sure to give credit where credit is due. That would be to Maddon, the manager who put his reputation on the line and made the right call by doing what he knows is best based on all his baseball experience and intimate knowledge of his players.
Of course, we'll do that right after we get done second-guessing Francona for screwing up this series. I mean, really, what the hell was he doing lifting Papelbon after only 18 pitches?
Jim Caple is a senior writer for ESPN.com.