Congratulations, Philadelphia fans! Your World Series championship is well-deserved. Your team took on the best of the American League and whipped them soundly, winning in five games, and proving beyond a shadow of a doubt that you had the best team in baseball this year.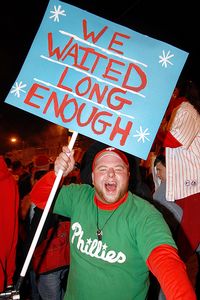 William Thomas Cain/Getty Images
Yes, Phillies fans, you waited a long time. Now don't be obnoxious about it!
You've waited a long time for this moment, so savor it. Text all your friends. Kiss your significant other. Hug your family.
And then, get over yourself. Be like Angels fans, who celebrated their first World Series after 41 years of existence by cornering the market on rally monkeys and ThunderStix, but never invaded the rest of the nation. Be like White Sox fans, who celebrated their first championship in 88 years quietly among their South Side brethren. Whatever you do, don't bother the rest of us with endless, in our-faces tales of how you are the greatest, most loyal, longest-suffering fans in sports.
Your baseball team hadn't won a World Series for 28 years? Big deal. There are 30 major league teams, so winning once every 28 years is about the expected wait time between world championships. You also played in two other World Series in that span, which, again, is about the expected number. So don't think you're that special. Cleveland Indians fans haven't had a World Series championship to celebrate for 60 years. San Francisco fans haven't had one in their team's 50 years in the city. Same goes for Houston fans (none in 46 years), San Diego fans (none in 39 years), Milwaukee fans (none in 38 years) and Texas and Seattle fans (not even a World Series appearance in 36 and 31 years, respectively).
Look, we're happy for you, we really are. It's good to see a fellow city reach the promised land after enduring years of considerable pain. But nothing would make me happier than reading this story in a couple years:
PHILADELPHIA -- J.D. Drew hit a game-winning grand slam in the top of the ninth inning, giving the Seattle Mariners a 6-5 victory over the Philadelphia Phillies and their first World Series championship.
Philly fans, sated by their recent string of world championships, took the loss in stride, with the humble and supportive manner for which they are now so famous. Well-known as the most appreciative fans in all of sports, they gave Drew a standing ovation when Major League Baseball commissioner George W. Bush presented him with the World Series MVP trophy.
"I know we had our differences with Mr. Drew in the past, but he's a hell of a player and we're very happy to see him do so well and bring such joy to another city more deserving than ours," Phillies fan Paulie Pennino said. "I'm tempted to say that I wish he had signed with the Phillies and been able to grace our town with his talents these many years, but that would be selfish and petty, and we're not like that in the City of Brotherly Love. We respect all players, no matter what uniform they wear, win or lose, whatever their batting average or ERA is, because we know how difficult sports can be. So I'm just proud that we're able to say that our management drafted him originally, and wish him the best of luck with the rest of his career and his future finances."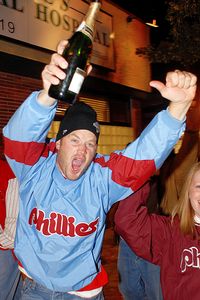 William Thomas Cain/Getty Images
Phillies fans understandably acted a little silly Wednesday night. But maybe they'll become angels after that?
Many Philadelphia fans had opened up their homes to the Mariners when the team needed rooms after checking out of their hotel before Game 7 was suspended due to rain for three days. The fans continued their renowned good manners and hospitality by purchasing beer and cheesesteaks for the wives of the Mariners players when Game 7 resumed. They also exchanged heartfelt handshakes with the wives after the game, and complimented them on their husbands' success and their good-looking children. They then saluted the players by chanting "Two, four, six, eight -- who do we appreciate? Both teams!"
"Sure, we would have loved to win our third World Series in a row, but that would just be greedy after winning two Super Bowls, a Stanley Cup and two NBA Finals -- not to mention Villanova and Temple both winning NCAA men's basketball titles. It's better to spread the wealth," radio host Philip Citanaf said. "And while it was disappointing to see Ryan Howard bunt into a triple play to end the game and go hitless with 15 strikeouts in the series, that's just the way it goes sometimes. Yeah, I admit, I was surprised Charlie Manuel called for the suicide squeeze in that situation. But I'm sure he had his reasons. He's a great manager, and knows his players and baseball far better than I do. We are blessed to have him in our city."
Despite the many rainouts and suspended games, the World Series went off without a hitch until the Mariners' flight home was delayed by thousands of appreciative Philadelphia fans who gathered at the airport to thank the Seattle team once again for its inspired play, as well as by travelers who were there to begin the long Thanksgiving Day weekend.
"It's a shame to see the baseball season end," Pennino said. "But that's all right. We are a city of winners, and we have our three other first-place teams to cheer. Not that it matters to Philly fans whether their teams are in first place or last. We always have to appreciate how much pressure these fine athletes are under. Just knowing our players tried their hardest, or nearly their hardest, is good enough for us."
Jim Caple is a senior writer for ESPN.com.