PULLMAN, Wash. -- In my first five autumns as a student at the University of Washington, a New Year's Day bowl was on the line for the Huskies each time they played Washington State in the Apple Cup. In my sophomore year, a trip to the Rose Bowl was on the line for both schools. The Huskies won my first two years and went to Pasadena. They lost the next two years but won the 1984 game on the road to earn a bid to the Orange Bowl. I was the sports editor of the school paper that fall, and I remember running around the field that cold night, tossing oranges around while looking for players to interview and cheerleaders to kiss. It was one of the happiest moments of my college years.
Saturday was the first time I had been on the Martin Stadium field since that too distant night, and this Apple Cup experience was slightly different. Rather than throwing oranges and opening myself up to a sexual harassment lawsuit, I found myself swept through the tunnel exit amid a mob of happy WSU students chanting: "Huskies suck! Huskies suck! Huskies suck!"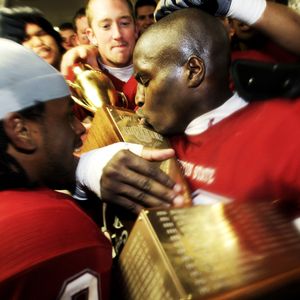 AP Photo/Ted S. Warren
Washington State linebacker Greg Trent gave the Apple Cup trophy a kiss, which meant Jim Caple's Huskies remained winless.
As much as I would have liked to disagree, I couldn't. My school has the worst team in college football. There's no need for a playoff system to determine that -- the title was decided Saturday in Pullman. In the first meeting of 10-loss teams in conference history, the Cougars beat my Huskies 16-13 in double overtime.
"They said we were the worst team in the country," one Cougars fan said. "Now, they're the worst."
To really appreciate how colossally, epically bad these two teams are, consider this: The Huskies entered the game 0-10 with the nation's longest losing streak and were playing their archrival on the road. Yet they still were favored to beat the Cougars by more than a touchdown. Of course, I don't know how Vegas was able to set a line for the game between a resistible force and a movable object. It would be like handicapping an Oscar for best actor between Keanu Reeves for "The Lake House" and Mark Wahlberg for "The Happening."
How bad are the two teams? Three weeks ago, they lost by a combined score of 114-0.
The Cougars had won a game before Saturday, but it was over a Football Championship Subdivision opponent. They had given up an average of seven touchdowns per game and had been beaten by an average of 34 points a game. In their previous four games, they were shut out three times and outscored 217-28. They used five quarterbacks this season and held an open audition on campus in search of a sixth. (An architecture student won.)
The Huskies had been beaten by an average of four touchdowns per game and once were called for delay of game on the first play from scrimmage. Worse yet, that game was after a bye week. So they had 330 hours or so to prepare for the game yet still couldn't get their first play off on time. The season's highlight came during the second week, when quarterback Jake Locker tossed what appeared to be a tying touchdown in the final seconds against BYU, only to be flagged for the most egregious penalty in college football history because he flipped the ball high into the air in sheer joy. (Backed up 15 yards, the Huskies naturally missed the extra point.)
Locker was knocked out with a broken thumb at the end of September and hasn't returned. Coach Ty Willingham was fired at the end of October, yet he hasn't left. And place-kicker Ryan Perkins has arthritis in his right knee. Yes, arthritis in our kicker's leg! On the one hand, the way he fights through the pain is inspiring. On the other hand, doesn't there have to be someone on campus who can kick but doesn't qualify for a handicapped parking permit?
So I can't really say I was surprised that the Huskies missed three field goals Saturday. Or that their opening drive ended in an interception. Or that they called a timeout before a Washington State punt yet still were fooled badly by the ensuing fake. And yet ... the Huskies still led most of the game and were up 10-7 with the ball and two minutes remaining. Fans were slapping hands in the stands, and players were celebrating on the sideline.
"With about two minutes to go, I started to get a little choked up," senior tight end Mike Gottlieb said. "After all we had been through, I was thinking, 'We're finally going to win one.' And then it was taken from us."
Taken away, given away -- however you want to phrase it, the Huskies blew the lead. Facing a fourth-and-3 at the Washington State 36 with 1:04 left in the game, the Huskies had a choice to make. They could try to go for the first down. If they were successful, the game would be over. (The Cougars were out of timeouts.) If they failed, the Cougars still would have to go 64 yards to score. Naturally, Willingham chose to punt to gain 16 precious yards. Seven plays later, the Cougars kicked the tying field goal. They then won in double overtime.
Some coaches deliver words of comfort and inspiration to their teams, speeches that rally their spirits and inspire them to perform great feats. Willingham, meanwhile, had these words for his team after the loss: "Let's go home."
When I asked linebacker Donald Butler what students on campus have said to him about the awful season, he got a little defensive and said they don't bring up the subject. I asked whether he found that a little odd, and he replied, "It's self-explanatory. They're pissed. We're pissed. We haven't won a game. What is there to talk about?"
Fair point.
But the worst part of this season is that even after 11 losses, it still isn't over. The Huskies played their first game in August, and their final game is in the first week of December. Not many football teams can play games in five separate months yet not win any of them. Of course, I'm jumping the gun a little there. The Huskies still have to lose at Cal (7-4) to keep their record unblemished.
"No, that loss is for sure," said student Jon Danforth, whose face was painted purple and gold as he watched in the stands. "People tell me, 'At least you know you'll never see them this bad again.' That's a fat load of comfort to me now."
I feel for Danforth and his twin brother, Nick. They're seniors, and the Huskies have been 11-36 (soon to be 11-37) since they entered school. When I was at Washington, the Huskies were 48-11, went to a bowl game every year and made a strong claim for the 1984 national championship. (They finished second in the polls behind BYU.) Saturday afternoons were the source of joy, excitement and pride. Now, Saturdays bring only embarrassment and disbelief. It's at the point where even the possibility of a victory over one of the worst teams in the nation almost reduces big men to tears. And the Danforths won't pass roses and oranges in the stands, nor will they swarm onto a field and take photos of the scoreboard for posterity, nor dance with a cheerleader on a crisp November night under the glow of the stadium lights and feel so thoroughly, deliciously content that they won't even think about their student loans.
Said Danforth as he looked out at the Cougars celebrating their victory: "Our team must really suck."
Jim Caple is a senior writer for ESPN.com.