Yankees Introduce Mark Teixeira
Americans everywhere are tightening their belts in these uncertain economic times, and the World's Greatest Team is no exception. Despite facing increased competition on all fronts, the New York Yankees will once again lead by example by slashing their payroll for 2009 -- and still wind up winners, as usual!
Oh, it won't be easy. Because of the hard times, the leaner, cost-conscious Yankees likely will pay their roster $30 million less than in 2008. That would be a staggering cut for any team to withstand, but especially right now for the Yankees. After all, despite the financial suffering of so many worldwide, the division rival Tampa Bay Rays will shamelessly flaunt their wealth and try to buy a championship by raising their payroll an expected 25 percent. Such extravagance in today's economy is an insult to working men and women everywhere, and the frugal Yankees won't stand for it.

How can the Bronx Frommer's ("New York on $1.2 Million a Game") possibly hope to vault from third place all the way to their rightful spot atop baseball's toughest division by cutting payroll while competing against rich teams that obviously don't care how their free-spending ways affect the rest of the league? That's the challenge owners Hank and Hal Steinbrenner gave general manager Brian Cashman with the new austerity plan. Naturally, the man behind the Yankees' brain trust is up to the task.
CHAT WITH JIM CAPLE
Is Bert Blyleven a Hall of Famer or not? That's what Jim is chatting about in this week's installment of "That's Debatable."
•
Jim Caple chat wrap
Most general managers would look at a $30 million budget cut and simply begin a rebuilding process by trading off the team's best players. Not the Yankee Coupon Clipper, who is committed to winning each year no matter the financial constraints. Which doesn't mean he hasn't had to make some allowances this time. He was forced to replace 20-game winner and possible Hall of Famer Mike Mussina with CC Sabathia, the overweight and overworked lefty who had a losing record in the American League last year. He had to replace former AL MVP Jason Giambi with Mark Teixeira, a journeyman who has played with four teams since 2007, hit only 13 home runs with 43 RBI in the American League in 2008, and who has nearly 200 fewer career home runs than the great Giambino. Cashman also took a chance -- but what other choice did he have, given the massive budget cuts? -- by signing A.J. Burnett, who has averaged less than 150 innings per season the past six seasons and has won more than 12 games in a season only once. Yankees fans can only hope Burnett stays healthy and is able to fill in for former All-Star Carl Pavano, who had twice as many victories as losses last year.
The penny-pinching is affecting the returning veterans, as well. Despite constantly adding to his Hall of Fame credentials and securing his spot as the game's top shortstop, team captain Derek Jeter has sucked it up by going three years without a pay raise.
Additionally, the Yankees also have to pay the expenses of moving to a new stadium, which is located in one of the poorest congressional districts in the country.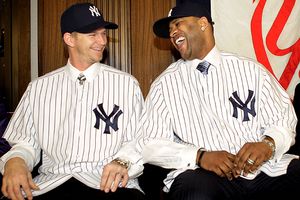 AP Photo/Kathy Willens
It remains to be seen whether CC Sabathia and A.J. Burnett can fill the shoes of Mike Mussina and Carl Pavano.
Lesser teams would have shriveled up and howled for a revenue-sharing welfare check in the face of such economic hardship. But not the World's Greatest Franchise. The Yankees have always been the team of the little guy, standing firm against the many hardships tossed their way. Like their fellow patriotic, hardworking but downtrodden citizens of the economically challenged Bronx, the gritty Yankees don't complain about their fate. They merely strap on their hard hats, pack their lunch pails and go to work.
So everyone will pitch in to get through the tough times. To help trim equipment expenses, the World's Greatest Fans will throw foul balls and home runs back onto the field so the balls can be used again. The clubhouse workers will raise needed revenue for the farm system by taking in laundry from the surrounding neighborhood. The players will save on gas and parking by carpooling to home games and hitchhiking on road trips. The team will tape over cracked bats, get by with one batting helmet, and wear one-size-fits-all jerseys (which can be purchased in the team store for just $159!). Bob Sheppard will sell recorded voice-mail messages on late-night TV. And vendors not only will continue selling their popular meatless hot dogs on stale buns left over from 1993, but will add money-generating takeout and home-delivery service.
Winning under these circumstances will be difficult, but these gutty underdogs wouldn't have it any other way -- it will make the World Series all that much sweeter! The scrappy Yankees will overcome their considerable obstacles by feeding off their hunger to whip the free-spending Rays and the fat, wealthy, contented Red Sox. The budget cuts will give America's Team powerful incentive to prove the legions of doubters wrong, while blue-collar third baseman Alex Rodriguez will try even harder to earn the incentive bonuses he so desperately needs to make ends meet.
Most importantly, these Yankees will draw confidence from the knowledge that the World's Greatest Team has overcome worse in its long and glorious history. In fact, all 26 previous Yankees championship teams won the World Series despite even lower payrolls than this season's.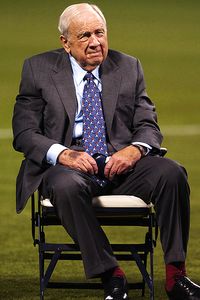 AP Photo/Tom Olmscheid
Minnesota Twins owner Carl Pohlad passed away earlier this week at the age of 93.
TELL YOUR STATISTICS TO SHUT UP
• One team that has always operated on a budget is the Minnesota Twins, who have competed on food stamps, IOUs and postdated checks, whether their owner was Calvin Griffith or Carl Pohlad. Griffith was as old-school as a cigarette ad with Joe DiMaggio, and he was a colorful character, too. At my first game covering the Twins, in 1989, Griffith was watching TV while finishing up his dinner in the press dining room. Someone told him it was time to go up to his suite for the game, but Griffith shook his head. "'Hogan's Island' comes on in a couple minutes," he said. This man, I thought as I walked up to the press box, ran the team just five years earlier. There were few such endearing stories regarding Pohlad. He subcontracted weed-pulling work as a boy in Iowa (pocketing the difference); he also delivered collection and foreclosure notices during the Great Depression. Although he was the richest man in baseball at various points, he ran the Twins with the heart of a banker (which he was) and leaves behind a mixed legacy as a baseball owner of 25 seasons (longer than any current owner apart from the Steinbrenners). Pohlad let many of his best players go when their salaries grew too high, repeatedly threatened to move the team unless the taxpayers built him a stadium that he could have paid for himself several times over, and coldheartedly volunteered them for contraction in 2001 to collect a potential $150 million payout from the other owners. On the other hand, he hired good people, patiently let them do their jobs (as long as they didn't spend too much money) and, despite his penny-pinching, provided Minnesotans with their two greatest sporting accomplishments of the past half-century: the 1987 and 1991 World Series championships. His kids likely will run the team in the same manner.
• The sudden-death overtime ending to the Chargers-Colts playoff game Saturday night sets up the annual Off Base complaint about the double-standard regarding baseball and football. That game didn't end until close to midnight on the East Coast, but where was the outrage that baseball always receives about games lasting so late that children aren't able to stay up to watch? Also, the strong ratings NBC had for the game are an indication that perhaps baseball is being a little narrow-minded when it rearranges its schedule as much as possible to avoid Saturday night telecasts for the World Series. Get a World Series that lasts more than five games again, and maybe the ratings will go back up regardless of the day.
• The end of that Chargers-Colts game also highlights the fact that baseball's method of ending tie games -- extra innings -- is vastly superior to football's. Some say the NFL should copy college football's method, but why not simply follow the baseball and basketball models? Play another quarter or a set block of time -- say, 10 minutes -- which would almost certainly allow both teams a crack at scoring. If there is no victor after the first OT, just play more OT periods. The NFL probably doesn't want games going on for four or five hours and spilling into the next time slot, but wouldn't that be great for fans? Wouldn't you love to see the equivalent of a 15-inning or 19-inning game in the NFL? For years, the NFL resisted the two-point conversion because of the misguided belief that it would reduce the number of potential OT games. This was faulty logic because: (A) far more often, the possibility of going for two keeps teams' hopes -- and viewer interest -- alive when the lead is more than seven points; and (B) the NFL clearly doesn't like OT anyway. Eventually the league came around to the two-point conversion, but for now it has the same sort of blinders on regarding overtime.
• Belated congratulations to Jamie Moyer for his splendid 2008, in which he won 16 games, pitched in his first World Series, turned 46 years old and received a two-year contract extension -- that's right, a two-year extension at age 46. He also continued to give back with his considerable charity work. Moyer had 164 wins when he turned 40. He now has 246 and is putting himself into consideration for the Hall of Fame. If he ever retires, that is.
Jim Caple is a senior writer for ESPN.com.