College goes by all too quickly. One moment you're moving into your dorm, wondering how you'll ever survive the next nine months sharing a 6x12 room with this strange person with a bad haircut, weird clothes and a slightly odd smell. (Tuna fish? Spam? Macaroni and cheese?) The next moment the two of you are best friends, tossing your mortarboards together, wondering what you'll survive on without a job and with your student loan payments due. (Tuna fish? Spam? Macaroni and cheese?)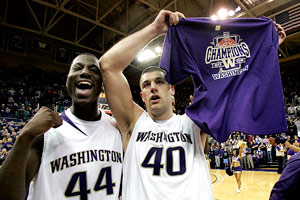 AP Photo/Elaine Thompson
Jon Brockman (at right) had a very memorable final home game at the University of Washington.
I think Einstein's theory of relativity accounts for how four years can fly by so swiftly, but I might be wrong about that. My class on the subject was at 9:30 in the morning, and I never passed a class that met earlier than 10:30. So I'll have to rely on Washington Huskies senior forward Jon Brockman's take when he described the way he felt about the final home game of his college career Saturday.
"It was something I'd seen my buddies go through every year, but you don't really imagine yourself in their shoes," he said after the Huskies won their first outright Pac-10 championship. "You think you'll be here a lot longer, that it will take more time."
Brockman was saying this at Washington, but it was an emotion likely shared by seniors everywhere this weekend, when conference regular seasons wound down and we moved into tournament time. Fans shared the feeling as well. Students pitched their tents on the hard concrete plaza outside Washington's Hec Edmundson Pavilion to camp out for the season finale against Washington State, just as other students did outside gyms, arenas and fieldhouses across the country. Depending on the geography, they either layered on the fleece and winter coats (it snowed in Seattle this weekend) or layered on the sunscreen. Either way, everyone layered up the pizza boxes.
Even with Detlef Schrempf and consecutive NCAA tournament appearances, camping out in sub-freezing temperatures was not a prerequisite to attend basketball games when I was a student at Washington. I don't think I would have done so had it been. Then again, considering some of the nasty houses I lived in and the high cost of college these days, maybe I would. The answer, I suppose, depends on how much beer there is.
Saturday's game against Washington State had more riding on it for the Huskies than normal. Washington had never won an outright Pac-10 championship, though it tied for the title in 1984 and '85, my two senior years at the UW. Washington also won a title in the old Pacific Coast Conference in 1953. That 1953 title was so long ago, I wasn't even aware of it when I was a student in the early '80s. I had the unfortunate realization during Saturday's game, however, that today's freshmen are almost as far removed from the 1984-85 co-championships as I was from the '53 title during my freshman year in 1980.
Forget where the past four years went, what about the past quarter-century?
Back in my day, it seemed exotic to have players from Europe, such as West Germany's Schrempf and Christian Welp (Sports Illustrated dubbed them the Teutonic Towers). But foreign-born players are now commonplace. Among the four foreign players in Saturday's game was Huskies center Artem Wallace, who grew up in St. Petersburg, Russia.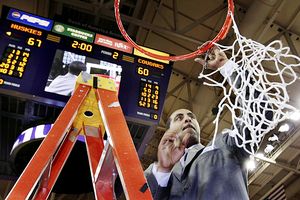 AP Photo/Ted S. Warren
Lorenzo Romar got to use those scissors himself.
Wallace was raised by a single mother, Elena Terechov, until he was 14, when his mother arranged for him to move to the small town of Toledo (pop. 677) in southwest Washington for one year as an exchange student. Plans were altered, however, when she developed ovarian cancer in the months before his departure, and then the cancer spread throughout her body. When the two said goodbye the night before his flight to America, Artem wondered whether it might be a final farewell. "You can never really prepare yourself for something like that at that young an age," he said. "You know it, but you refuse to believe it."
The next morning, as family and friends said goodbye at the airport, Gail Wallace, the man who would serve as Artem's guardian, was handed an envelope and told to give it to Artem when they landed. He did so when the two changed planes in Prague. Artem opened the letter and read the news that his mother had died the previous night.
It was a very long flight to America.
Artem wound up being adopted by Gail Wallace, staying in Toledo and accepting a scholarship to Washington, where he arrived in the fall of 2005 with Brockman and guard Justin Dentmon. Like Wallace, Dentmon had a long journey to his senior year at the UW. His mother was just 13 years old when she gave birth to him, and he needed a year of prep school to qualify academically for college. But he's on schedule to graduate this spring with a degree in art, and will leave as one of the school's all-time leaders in points, assists, steals and adversity overcome.
Compared to those two, Brockman's backstory is relatively dull. He merely was a top recruit from just north of Seattle who chose Washington over Duke (excellent choice). The three were freshmen on the team that Brandon Roy took to the Sweet 16, and they were all in the starting lineup for Saturday's game. Wallace, who injured his knee at the end of last season and has spent most of this season on the bench, returned there after four minutes and spent the rest of the game cheering on his teammates.
With Washington leading by five at halftime, coach Lorenzo Romar brought out a pair of scissors in the locker room and asked his players what they were for. They didn't know. "Cutting tape off our ankles?" one suggested.
Ummmm, no. They were for cutting down the net to celebrate the title if the Huskies went on to win. Suitably inspired, they did, beating WSU 67-60 and sending the student section spilling onto the court, where they hugged each other, lifted freshman guard Isaiah Thomas onto their shoulders and shouted themselves hoarse. They will remember this day and this season long after their student loans are paid off, with the tales no doubt growing ever taller as the years pass. "Remember how we camped out all week for the Wazzu game in nothing but sleeping bags, and it snowed, like, a foot and a half one night, and it was so cold our vomit froze on our faces and we caught pneumonia but we still stood for the entire game despite 104-degree temperatures? God, those were great times!"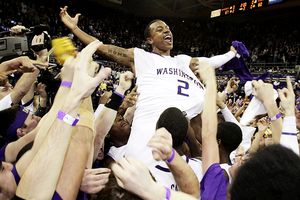 AP Photo/Ted S. Warren
Isaiah Thomas is only a freshman, but will he have a better moment at Washington than this?
As the final seconds ticked down and the party broke out, Brockman allowed himself a glance around the old gym, to preserve the memory of not just this moment but of his whole four years at Washington.
"I was just looking at the people and their reactions," Brockman said. "I knew how happy they had made me and how special they had made me feel, and I really wanted to see that same enjoyment on their faces. Looking around in the gym, there was so much energy, so much excitement -- that's exactly why we all picked up a basketball in the first place."
The downside of college basketball is that no sooner do we feel like we've gotten to know the players than they're leaving the court for the last time. One moment you're a freshman sharing the court with Brandon Roy; the next you're a senior cutting down a net and draping it over your head. "I think I'll shower with it," Dentmon said.
Your college years fly by in an instant -- before Huskies fans know it, Thomas will be leaving as well -- and the worst part is each year after graduation flies by even faster. But for one afternoon, the sight of the Huskies climbing the ladder one by one to cut down a net turned back the clock and made even the oldest alumni feel young enough again to camp out in any weather for NCAA tournament tickets.
Well, as long as there's enough beer.
Jim Caple is a senior writer for ESPN.com.