Sadly, Jerry Sacharski passed away last week at the age of 93. You've probably never heard of Sacharski, but you know his work. He played a role in some of the worst performances ever seen on a baseball field that do not involve the Pittsburgh Pirates -- he helped pioneer T-ball.

T-ball is important because it introduces kids to baseball by shrewdly dispensing with the need for a pitcher when players are too young to: (1) throw a baseball in the strike zone more than once in 30 attempts, and (2) hit a pitch in the strike zone more than once in 60 attempts. Were it not for T-ball, games would last seven hours, there would be about 100 walks and the kids still wouldn't get out of the first inning (not unlike an average Red Sox-Yankees game).
The one minor drawback to T-ball is that kids are still responsible for the remaining aspects of baseball even though their skills are sometimes limited to standing in right field and peeing their pants.
T-ball acquaints players with some of baseball's basic rules, such as how you are out if the fielder catches the ball, and how you're still out even if you cry. The rule requiring runners to return to their base and tag up after a popup or a fly out can be troublesome. In T-ball, it's difficult enough for kids to understand that they're supposed to run toward first base instead of third base when they hit the ball; to explain that in some cases they must stop and run back to their original base would be akin to asking Homer Simpson or Barney to explain the causes of the recent economic meltdown.
I was one of the few who understood the rule back when I played -- my older brother taught me well -- so I turned two or three unassisted double plays or triple plays each game, and that's no exaggeration. It was routine. Pop up to me at second base -- catch the ball, step on second to force the runner going to third, and then tag the runner on his way from first. It was so simple, I could have turned unassisted quadruple plays, if not quintuple plays. And yet by the end of the three-week season, not a single opponent had figured out the rule.
But it did our team no good. We kept losing, by scores as lopsided at the end of the season as they were at the start.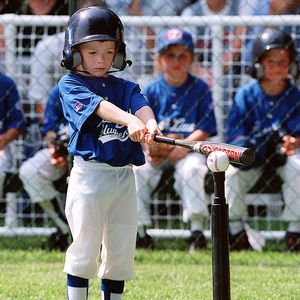 Hiroko Masuike/AFP/Getty Images
Do you have fond memories of your own T-ball days?
We were terrible. We didn't have a racist, foul-tempered shortstop or a juvenile delinquent center fielder or a pubescent girl pitcher, so we weren't as colorful as the Bad News Bears. But we did have a first baseman on some sort of medicine that made him fall asleep mid-inning (I once hit him right in the stomach with a throw that literally woke him up) and an outfielder who missed fly balls because he was picking dandelions and talking to the scoreboard operators (he was like Manny, only he couldn't hit). And we didn't get any better as the season progressed. We lost every game we played. Every single one.
It was miserable. Absolutely miserable.
In other words, I suppose it was like rooting for the Royals.
Back in my day, you had to wait until you were almost old enough for a driver's permit to play. These days kids play T-ball at so young an age, I think Octomom has already signed up her newborns for a travel team. We didn't have travel teams when I played -- which was a good thing -- because that way, overzealous parents didn't destroy their kids' interest in baseball until several years later. (Here's my question about travel teams: If everyone is traveling out of town to find competition, wouldn't it be far easier for everyone involved to just stay home and play each other instead?)
I would have enjoyed T-ball more had I played on a better team (this was in the days before free agency). I also would have enjoyed T-ball more had Mr. Sacharski also come up with something that would have helped my teammates actually catch the ball rather than just a tee to help hit it.
Velcro-ball?
BOX SCORE LINE OF THE WEEK
Was anything more welcome last week than turning on the TV and not only finding baseball games, but baseball games that mattered? While there are some obvious flaws in the World Baseball Classic, it doesn't get a whole lot better than watching Canadian pitcher (and Mariners prospect) Phillippe Aumont work himself into and out of a bases-loaded jam against some of America's best hitters. Unless you were watching the U.S. and Canada trade leads throughout an early March afternoon. Or watching Italy beat Canada in a huge upset. Or the Netherlands, the team of the immortal Dirk Van Klooster and Michiel van Kampen, beat the Dominican Republic -- not once but twice! -- to advance to the second round, a stunning upset that left former Sausage Race villain and current Newark Bear Randall Simon on his knees at third base weeping with joy. (Simon, by the way, is from Curacao.)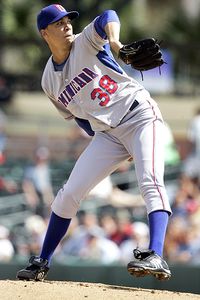 AP Photo/Jeff Roberson
Despite Jimenez's impressive outing, the Dominicans were eliminated from the WBC.
And that's just in the first week. Who knows what's left on tap?
Of course, Taiwan's Chen-Chang Lee might not have such fond memories of the WBC. He started Taiwan's 9-0 loss to Korea and didn't get out of the first inning, walking three batters, hitting another and serving up a grand slam. Still, this week's award has to go to the Dominican Republic's Ubaldo Jimenez, who pitched the first four innings in his team's second loss to the Netherlands and struck out 10 batters. He struck out the side three times. His line:
4 IP, 2 H, 0 R, 0 ER, 0 BB, 10 K
And while the pitch count prevented Jimenez from pitching further, fans couldn't have been too disappointed by his replacement: Pedro Martinez.
Yeah, the critics are right. This WBC is a mistake. It really would be more fun to watch these same guys running wind sprints in their underwear during Cactus League games instead.
TELL YOUR STATISTICS TO SHUT UP
• How big an upset was the Netherlands over the Dominican Republic? According to ESPN Research, the Dominican roster will earn $83.4 million this season in the majors, while the Dutch roster will earn $400,000. The Dominican pitchers had 518 career victories, while the Dutch had 95 -- with 90 of those from Sir Sidney Ponson -- while the Dominican batters had 1,801 career home runs to the 82 of the Dutch. Not that the Dominicans didn't miss having Alex Rodriguez on the roster.
• If the current economy has you wondering how it will affect attendance this season, consider these figures: MLB attendance increased slightly during the 1974-1975 recession. It rose slightly during the 1980-1983 recession (not counting the strike season), and was roughly unchanged during the 1990-1992 recession. The Great Depression was another story. Teams' average attendance was 633,000 in 1930, but that declined to 529,200 in 1931, 436,000 in 1932 and 380,500 in 1933. Attendance began to increase steadily until 1941 but, due to the war, didn't return to the 1930 level until 1945. At the depth of the Depression, attendance had dropped 40 percent from 1930. A similar drop now would cut attendance by an average of one million fans per team.
Jim Caple is a senior writer for ESPN.com.