Tracy Ringolsby has covered baseball for so long that he's in the Hall of Fame and can remember transmitting stories via Western Union. This spring brought a new experience. When his newspaper, the Rocky Mountain News, abruptly stopped publishing last month, he needed to arrange a flight home from Tucson, Ariz. Then he learned his company credit card had been cut off. He wound up paying for his flight, hotel and rental car out of pocket, then submitted the expenses for reimbursement.

The bank refused to accept the check. Twice.
The check eventually cleared, but that story pretty much sums up the current state of newspapers, which makes the U.S. auto industry look robust.
In addition to the Rocky Mountain News, the Seattle Post-Intelligencer, my former employer, ceased print publication last week after 146 years, laying off around 150 employees and retaining about 20 reporters to maintain a Web-only product, SeattlePI.com. Three of the four newspapers that cover the world-champion Philadelphia Phillies on a daily basis filed for Chapter 11 bankruptcy. 24/7 Wall St. speculated that the San Francisco Chronicle, Boston Globe, Detroit News, Miami Herald and Minneapolis Star Tribune are among 10 papers most likely to fold or publish only online.
And all that has happened just since pitchers and catchers reported for spring training.
I feel awful about the P-I situation. I know one writer who filed a story, then realized it might be the final game he would ever cover, sat in his car and cried. I've heard stories about reporters (husband/wife couples who both were thrown out of jobs) that made me want to weep, too. But I also realize the only difference between these employees and the millions of others thrown out of work in the past year is that the newspaper pink slips strike much closer to home for me. So with apologies to those reporters (and friends), I'll keep this column to one very small aspect of the struggling newspaper industry:
What does the possible loss of so many baseball beat writers mean for readers?
For a good decade now, readers have double dipped, enjoying free content provided by newspapers along with the insight, analysis and differing viewpoints of bloggers and Internet stats sites. But if newspapers no longer can provide expensive daily coverage, what will be lost? Or as John Hickey, who was the P-I's Mariners beat writer (the online version does not have one), asked, who will report the news?
"I read blogs," said Hickey, a friend and former colleague who has covered baseball since Jamie Moyer was in Little League. "Anyone who is concerned about any sort of sports or business needs to read the blogs because there is a lot of good information there and some great insight. But they aren't as good at reporting the news because it's not their mandate."
That's the key. I'm not comparing newspapers to blogs. I'm comparing the information fans receive from newspapers plus the blogs and Web sites to the information they would receive strictly from the Internet without any newspapers. What will we lose?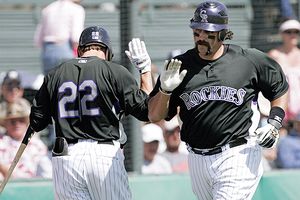 AP Photo/Ed Andrieski
The Rocky Mountain News won't be around to cover the Colorado Rockies this season, sadly.
• Game stories with analysis and quotes. When I was a beat writer, I put a great deal of effort and thought into my game stories, those 800-words-or-so diary entries that told readers what happened each day and why it was important. Game stories usually receive big headlines and photos on the front page of the sports section. But I must admit I seldom read many game stories beyond the introduction these days. Instead, I focus on the newsy notebooks. With most games on TV (and the radio), and with "Baseball Tonight" and "SportsCenter," fans usually know what happened the night before. (You can even get detailed pitch-by-pitch recounts online.) Plus, MLB.com provides game stories for each team.
• Stats. Reading the morning box scores in the newspaper remains one of life's great simple pleasures, but scanning them online is a frustrating substitute. Even if the Internet box score provides more details, it just takes too long to read each one individually, and far too long collectively. That, however, is the Web's only statistical defeat. Every other imaginable statistic and breakdown is readily available. (Baseball-reference.com, what would we do without you?) The Internet is made for baseball stats.
• News. It may seem that the Web provides more news, but apart from major sites that can afford to hire staff reporters (such as ESPN.com), the Web mostly provides a swift spread of news first reported somewhere else. Unless you root for the Yankees or Red Sox, the news about your favorite team still comes largely from the local beat writers.
Granted, game scores and player/manager comments don't always qualify as news. Are fans really enlightened when they read a manager's quote that he thought his pitcher "made one or two bad pitches" in a 7-2 loss? Even trade rumors can be overvalued. Yes, it's interesting to know whether a team is shopping a player. But it's not absolutely necessary, because teams will announce if there is a deal.
On the other hand, and this is very significant, beat writers report news you otherwise wouldn't know concerning injuries, disgruntled players, clubhouse issues, explanations for why a manager did something, team strategies and philosophies, etc. They are able to cull information from sources because they are around people long enough to develop a relationship that is solid enough for the sources to open up. They know when people are happy, frustrated or upset because they are there to see them and speak with them. Beat writers also can put the day's events into proper context because they have the perspective that comes with the job.
Another great service beat writers provide fans is humanizing the players, telling us about their personalities and their backstories. They make the players more than simply numbers on the field.
Could bloggers provide the same information if given proper access? Yes, certainly. But the more important question is whether they could afford the financial demands of daily access. It would be challenging enough for bloggers just to carve out the necessary eight-hour time slot to use that access at home games. Could they also pay the staggering lodging, travel and food expenses for 81 road games plus spring training?
In other words, would airlines or banks accept their checks?
U.S.S. Mariner is one of the most popular and insightful team-specific blogs around, but Derek Zumsteg, who runs the site with Dave Cameron, wrote in an e-mail that its ad revenue "approaches $0 a day." So there is no way he could employ a beat writer if The Seattle Times were to join the P-I and cease publication, leaving Seattle a no-newspaper/no-beat writer town. "There's just no revenue model right now for someone to follow the team, run up that travel budget and make a living at it," Zumsteg said.
Could things change? Could a model develop that allows blogs to make enough money for daily reporting, not just daily analysis? Could a media company (say, ESPN) one day hire beat writers and columnists in every city? Sure. Why not? A decade ago, who would have envisioned YouTube and its ability to give us this clip of the 1986 Dodgers Baseball Boogie?
Zumsteg said he has no doubt some freelancer eventually will cover a team on a full-time basis without the financing of a major media company. "I don't know how they pay the bills, though," he said. "And until someone cracks that nut, at the very least, we'll have lost continuing professional coverage by people paid to write about the sport."
The mainstream media receive frequent criticism for their narrow coverage and lack of true analysis of the powers that be. Some of that criticism is warranted. Having access doesn't do you much good if you protect your sources so well that you never print anything truly interesting. But beat writers also provide real information, for example, tidbits about where a club is heading and about what players think of management and teammates. Plus, they tell us compelling, funny, sad, great stories that we just wouldn't get elsewhere, simply because they are around the players every day. We lose more of that every time a paper pulls a writer from the press box.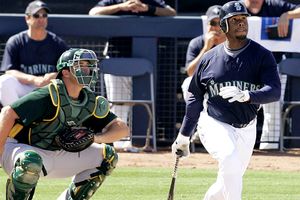 AP Photo/Tony Gutierrez
Junior will have to deal with one less beat reporter, now that the Seattle Post-Intelligencer has dropped its print edition.
Zumsteg wrote in an e-mail, "It's sad that the Internet is kind of tearing down these media institutions and then standing around the rubble pointing and saying 'LOL' while waiting for someone to figure out how to meet the needs those institutions served."
A newspaper reporter told me recently that he feels as if he were a blacksmith when the automobile was invented. That's true only to a certain extent. Automobiles replaced horses as the desired method of transportation; they didn't replace the desire for transportation. In fact, the desire for transportation multiplied due to the car. The same is true for the Internet. It didn't replace the desire for information, as more people are reading newspapers than ever before, albeit online for free. But the method of relaying that information is being replaced. When/if newspapers are gone, people will demand to learn their information from another source. They might even (gasp!) pay for it once they realize what they're missing.
The big question is when that will happen. And how many current reporters will remain at that point.
"At some point, someone will figure out the new model, and they'll need someone to write stories," Ringolsby said. "It's just a matter of surviving until then. And the way this business has changed in the last 10 years, it might take until next week. Or it might take until I'm retired."
In the meantime, he's doing the logical thing a reporter can do in this day and age. He started a Web site, insidetherockies.com.
BOX SCORE LINE OF THE WEEK
Lost amid all the talk about America's lacking its "best" players was one simple reason for why the U.S. failed to reach the World Baseball Classic championship game: Starting pitchers Roy Oswalt, Jake Peavy, Jeremy Guthrie and Ted Lilly pitched terribly, allowing 27 runs in 24 1/3 innings. You don't win many games when your starter allows a run per inning, no matter who else is on your team or whom you play.
Venezuela knows this. Looking ahead to the championship game, Venezuela manager Luis Sojo started Carlos Silva (4-15, 6.46 ERA last year) in the semifinal against Korea instead of Felix Hernandez. Silva did not get out of the second inning, digging Venezuela a 7-0 hole. His line:
1 1/3 IP, 6 H, 7 R, 6 ER, 1 BB, 0 K
On the other hand, Hernandez is well rested for the 2013 WBC.
TELL YOUR STATISTICS TO SHUT UP
• Curt Schilling's decision to retire Monday leaves him with an interesting distinction: In his final major league game, he was the winning pitcher in a World Series contest (Game 2, 2007). How many others can say that?
But, is Schilling a Hall of Famer? He'll likely get my vote thanks to his three 20-win seasons, three second-place Cy Young finishes, more than 3,000 strikeouts, a great winning percentage and, of course, all those big postseason performances. Although his 216 career wins fall well short of 300, it's high time many voters quit using the 300-win mark as an absolute standard. Have the standards for starters become too high in the age of five-man rotations? Consider this: Depending on whether Bert Blyleven's Hall of Fame candidacy gains momentum the next couple of years, and how writers feel about Roger Clemens by 2013 (Schilling's and Clemens' potential first year of eligibility), Schilling could become the first starting pitcher elected to the Hall of Fame who made his big league debut after 1968.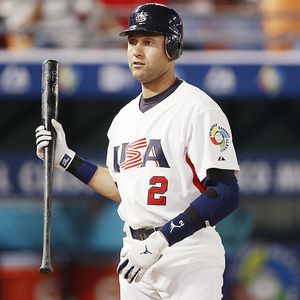 AP Photo/Lynne Sladky
Derek Jeter's WBC performance has led to rampant speculation about his future.
• Perhaps Derek Jeter was hampered in the WBC by not being able to position himself expertly against some of the foreign batters. But after watching him in the Classic, the question that sprang to my mind was, what will the Yankees do when he loses another step and is unable to be an everyday shortstop? (It's a subject addressed in this New York Times story by Jack Curry.)
Jeter deserves a lot of credit for stepping up and fully and enthusiastically participating in both the 2006 WBC and this one when so many others chose not to play. But he also shouldn't have been playing in the field ahead of Jimmy Rollins, who, simply put, is better than Jeter is now.
Jeter, who will turn 35 this season, is one of the reasons the Yankees are such a difficult team to predict heading into this season. On the one hand, they could be very, very good. On the other hand, age (a 35-year-old shortstop and a 37-year-old catcher) and injuries (I hear that A-Rod guy is hurt) could take a serious toll. If you were to tell me the Yankees will win the World Series, I would say, "Yeah, I can see that." And if you were to tell me, "The Yankees will have a losing record," I also would say, "Yeah, I can see that."
• In many ways, the second World Baseball Classic was a success. But it could have boosted attendance further -- and avoided some ugly camera shots of empty sections -- by not making ticket prices so outrageously high that even the Yankees would have felt too guilty to charge them. The lowest-priced seats at Dodger Stadium for the final game were $45, and those were all in the upper deck or the bleachers. Seats behind home plate went for $500. Seats down the baselines went for $120 to $220. That they sold as many tickets as they did, especially in this economy, is a testament to the passion of fans of the other nations. But the game would have been better served had the WBC charged cheaper prices and played to bigger crowds.
Jim Caple is a senior writer for ESPN.com.