Oakland A's slugger Jason Giambi offers up casting possibilities for the "Moneyball" movie, poses a question for The Doors' Jim Morrison and has some advice for A-Rod, among other things.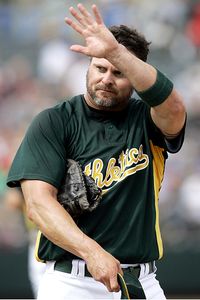 AP Photo/Jeff Chiu
Jason Giambi looks comfortable in the old Oakland A's gear.
1. They're talking about making a movie about the book "Moneyball" with Brad Pitt starring as Billy Beane. If they have a flashback scene in the movie, who should play you?
I don't know. Matt Damon is pretty good. I like Matt Damon. Although he would have to gain a little weight.
Is Brad Pitt a good fit for Billy?
I don't know if it's a good fit. I think Billy is a little better-looking.
You're just sucking up to your boss.
I'm just trying to reach my contract incentives.
2. What was the best part about playing in New York?
The history. The pinstripes and knowing all the players who wore them before you. Ruth. Gehrig. Mantle. Guys like that. Playing to a sold-out house every night is pretty exciting.
3. What's the worst part about playing in New York?
I don't know if there is a worst part. It's just different. With New York comes more media and higher expectations. But I don't really see that as being bad.
4. How is it different playing in Oakland?
I think it's different because when you play in New York you have 25 superstars playing together, and in Oakland you have a lot of young kids. Which is fun. It's exciting. The atmosphere we had here before was like a frat house. It was kind of loose. And in New York, it's an older bunch of established players who know what they have to do. And you have to cut your hair and shave your face.
Your hair is looking pretty short right now.
I'm getting too old to grow it out long.
5. Which three players from history or the present would you invite to a dinner?
Babe Ruth, Mickey Mantle and, let's see, Jim Morrison. Mickey was my hero growing up because he was my dad's hero. And Babe Ruth, just because what he did at the time was so much more than anyone else accomplished. I would just like the chance to talk to him and see what his personality was like. And Jim Morrison, I would just ask how he ever remembered the words to the songs.
What would you serve?
I don't know. I don't know that they would even be eating food.
6. Which superpower would you most want to have: the strength of 100 men, the ability to fly or the ability to turn invisible?
The strength of 100 men. Flying would be cool, but being invisible wouldn't be all that exciting. But there are some pretty incredible things you could do with the strength of 100 men. That would be cool. You could actually make a difference.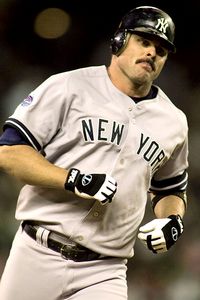 AP Photo/Jim Bryant
Giambi didn't win a ring in New York, but he did grow one heck of a mustache.
7. Do you have a recurring anxiety dream in which you can't do something, show up late or are naked in public?
Yeah, that I'll miss a game. I'll wake up and it's a day game, and I'm not at the ballpark. That's one I used to have all the time when I was younger. You're new in the big leagues, and you don't want to be late. You never want to be late to the ballpark. I would always check -- "You sure we're supposed to be there at 9:30?" Then I would check again and set my alarm and get a wake-up call.
8. What can be done to get American players more motivated to play in the World Baseball Classic?
That's tough. I think the timing is bad. I agree, there is no other time, but it's difficult. When you play in the big leagues and you're in the majors, you're ultimately playing as though it's your Olympics every day. I always felt that way. I played for the Olympic team, and it was a great honor to represent your country, trust me. The other countries are so excited about representing their countries here in the majors. When you're in the U.S., and playing for the Oakland A's, it's as if you're representing your country every day.
9. You went through what Alex Rodriguez is going through with steroids. What advice would you give him?
He did the hardest part. He went out and he admitted it and took the right step forward. And now he's got to win back the fans. The hardest part is done -- getting it out there and talking about it and getting it off your chest. Now he can go forward.
10. People use you as an example, saying that when you admitted what you did, all was forgiven. But they're forgetting you got ripped pretty good at the time. There were some legal restraints on you, but how would you handle it differently now?
I got lambasted. I worried for a long time because I was kind of out there by myself. In hindsight now, with everything that has gone on since, it was the greatest thing I ever did.
Fortunately, sometimes being the first is the best. I kind of set that standard as far as establishing myself. I came back and was comeback player of the year. You find out about yourself. I wouldn't do anything different. I did the best I could at the time.
Jim Caple is a senior writer for ESPN.com.