Kurt Snibbe
NEW YORK -- Whenever a spectacular new baseball stadium opens, I always wonder what ballparks will be like 20 years in the future, when the owner threatens to move the team unless the city builds him a new stadium that is properly "state of the art."
We don't have a retractable infield or a self-mowing grass outfield. There are only 15 Starbucks stores in the Brahmin Velvet Rope Mezzanine and only three American Girl outlets in the upper decks. We don't have an anti-gravity champagne lounge. There is no heliport in the bullpen, no cruise ship terminal by the parking lot, no secret mountain cave compound. The individual replay video boards in each seat don't come with Dolby surround sound. And how can we be financially competitive when I don't have the authority to indiscriminately levy income taxes on the fans?
When Ken Griffey Jr. started his career 20 years ago in Seattle's Kingdome, baseball's newest stadium was the modern version of Minnesota's Metrodome, which was entering its eighth season. Back then, stadiums were considered state of the art if they had a speed-pitch station. Now, they aren't state of the art unless they have a retractable roof (Seattle, Milwaukee, Toronto), a Ferris wheel (Detroit), a swimming pool (Arizona), a kiddie sandlot (San Diego), a microbrewery (Denver), a hotel (Toronto), an aquarium (Tampa Bay), retail office space (Texas) and a year-round steakhouse (San Francisco, New York).

In other words, stadiums have changed a lot. Who would have dreamed anyone would want to eat at a stadium when a game wasn't being played? How many ways can you prepare nachos? (And for that matter, now that Dippin' Dots have been around for two decades, it's time to stop calling them "the ice cream of the future." One, do we really need to improve ice cream? Isn't that something that works pretty well already? And two, at this point, it's like calling soccer America's pro sport of the future.)
New York is a very late entrant to the new stadium wave, but the city is making a big splash this week by opening two new ballparks for the Yankees and the Mets.
The new Yankee Stadium is what the old Yankee Stadium would look like if it received daily injections from Brian McNamee. It is enormous. Yankees executive Lonn Trost said there are 500,000 additional square feet of space in the new stadium. That's more than 11 acres, which is larger than Fenway Park. And it's not like the old Yankee Stadium was small, either.
Why so big? First, the stadium needs to be large enough for CC Sabathia to fit inside. More importantly, it provides fans room to spread out comfortably and spend even more money. The new Yankee Stadium is like a shopping mall with a ball field attached. Going to the concession stand at the old stadium was a claustrophobic experience, akin to Andy Dufresne squeezing through the sewer pipe. No longer. The concourses are so wide, you need a cutoff man to reach the condiment stand.
With all the extra space, bathrooms and concessions (gee, who knew fans might want something more to eat than a hot dog?) and a breathtaking high-definition scoreboard with video so vibrant the Yankees could charge you just to look at it, the new stadium will be a more enjoyable place to watch a game. If fans can afford tickets, that is. Forget the infamous $2,600 club seats behind home plate, which, oddly enough, haven't sold out yet. Seats behind first base go for $350, and seats beyond the right-field fence are $90. With prices like that, how can 12-year-olds afford to sit there and interfere with fly balls anymore? (On the other hand, I think tickets on the nearby subway platform sell for only $15.)
Trost went on and on about how the new stadium harkens back to the original 1923 version. But other than the terra-cotta facade that completely encircles the park, it feels a lot like the mid-'70s remodeled version, only bigger and more expensive. Depending on the source, the new Yankee Stadium cost at least $1.5 billion, which is so ridiculous it makes the $800 million spent on the Mets' new ballpark seem like a bargain.
I like the Mets' new park more than the Yankees' new park anyway, mostly because it more closely follows the retro-park model. You can't describe it as intimate, but compared to the new Yankee Stadium, it feels more like an old stadium, albeit one with an Alyssa Milano boutique (it's where Mrs. Met shops for fashion).
The main entrance is a modern take on Ebbets Field, so it does not feel out of place to walk in and find yourself in the Jackie Robinson Rotunda. Robinson never played for the Mets, but it's better than a tribute to Vince Coleman. Once inside, you'll notice there are significantly fewer seats than at Shea Stadium. Shea held 57,000 fans. The new park holds just 42,000. Whether that's good or bad depends on whether you're a fan looking for a ticket or an opposing outfielder relieved there will be 15,000 fewer fans shouting, "You suck!!!"
Shea Stadium's concessions were notoriously bad (the only things remaining from Shea are the hot dogs -- which, like cockroaches, are indestructible). The new park provides a serious, wide-ranging upgrade for fans and foodies. You can get everything from sushi and lobster rolls to tacos and Belgian frites. Plus, calories counts are listed (900 calories in popcorn?), which would have been handy when Sid Fernandez pitched.
Both parks are grander and better than their predecessors but obviously lack the history. That's particularly the case for Yankee Stadium -- after all, the original was the site for the Joe Louis-Max Schmeling fights, Army-Notre Dame games, the 1958 NFL championship game and, if I'm not mistaken, a few baseball games as well.
That's the real key to New York's new stadiums. Like all new ballparks, they are wonderful places to watch games. But for all the modern upgrades and amenities, they will need to survive many, many decades -- the owners must not demand replacements for well more than half a century -- before they can be considered as special as the oldest, smallest, humblest and most beloved ballparks we have, Fenway Park and Wrigley Field.
To be truly loved, a ballpark needs history and generations of memories -- although garlic fries and extra legroom are good starts.
BOX SCORE LINE OF THE WEEK
Baseball is supposed to be fair, but it often isn't. For instance, Kansas City starting pitcher Kyle Davies threw 103 pitches and seven scoreless innings Thursday, and he received nothing for his efforts but a pat on the back because the Royals didn't score a run until after he left the game. On the other extreme, San Diego reliever Edward Mujica threw exactly one pitch Monday night and was credited with a win because the Padres scored the decisive run before manager Bud Black made a pitching change the next half-inning. Mujica's line:
1/3 IP, 0 H, 0 R, 0 ER, 0 BB, 0 K, 1 pitch, 1 W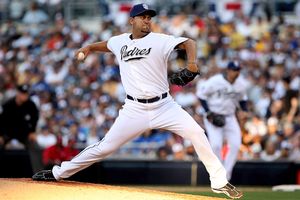 Stephen Dunn/Getty Images
Edward Mujica picked up one of the easiest wins imaginable.
Baseball has a lot of rules that have been around for so long we take them for granted without question. One of those is the guidelines for earning a victory. Starting pitchers, for instance, must complete at least five innings to be eligible for a win. A reliever, however, needs only to be in the game when the eventual winning run is scored. He doesn't even need to throw a pitch -- he can pick a runner off base for the third out of an inning, then have his team take the lead and give way to another reliever the next inning.
Why is that the case, though? If starting pitchers are required to expend a minimum amount of effort, why isn't there also a provision that requires relievers to do more than be in the right place at the right time to get a win? When a starter goes less than five innings and his team has the lead (and holds it for the rest of the game), the official scorer decides which reliever was most effective and therefore gets the win. Why should the official scorer not be given this authority in other cases?
Yes, the current rules provide a nice degree of consistency. Changing them would lead to some awkward situations (and a lot of calls to the press box). But so what? The ultimate goal should be rewarding the pitcher who most deserves the win, rather than the pitcher who got lucky.
TELL YOUR STATISTICS TO SHUT UP
• According to Team Marketing Report's annual survey, the Yankees have the highest average ticket price this season, at $73. That's about $23 more than the average seat at Fenway Park and nearly as much as it would cost to buy tickets to see the Diamondbacks ($14.31), Pirates ($15.39), Braves ($17.05), Rays ($18.35) and Reds ($19.19) combined ($84.29). Even if the Yankees were on the hook for the whole $1.5 billion cost of their new stadium, it makes financial sense. If they come close to selling out most games with an average price that high, they stand to take in nearly $300 million in ticket revenue this season. And the Yankees aren't even on the hook for the whole amount. The public is paying for land and infrastructure, and the other major league teams likely are chipping in as well. That's because of a codicil in the basic MLB revenue-sharing agreement that allows teams to deduct stadium construction costs from their revenue-sharing obligations.
• How big a phenomenon was Mark Fidrych? "The Bird" started 36 games at Tiger Stadium in his career and averaged roughly 33,600 fans for them. Detroit averaged roughly 18,300 fans for all other games during that span. He virtually doubled attendance for the Tigers. And when he died Monday, we all felt a little bit older.
• In addition to Ken Griffey Jr., the 1989 Mariners had Omar Vizquel and Randy Johnson as rookies. According to John Perrotto of Baseball Prospectus, they are the only team to have three rookies who went on to play 20 or more seasons. (Clint Zavaras fell just 19 seasons short of making it a quartet). And to think, Edgar Martinez was a rookie on that team as well. That's two guaranteed Hall of Famers (Griffey and Johnson), a likely Hall of Famer (Vizquel) and a possible Hall of Famer (Martinez), all rookies on one team. Can you name a team that can top that? That's not a trivia question; I'm really asking whether there's ever been a team with a better rookie class. And while you're pondering that question, here's another: How could the Mariners never reach the World Series with all that talent, plus a great manager (Lou Piniella) and Alex Rodriguez soon to join them?
FROM LEFT FIELD
We've seen 23 new stadiums (plus a major overhaul of Anaheim's ballpark) during Ken Griffey Jr.'s career, and 80 percent of teams play in parks opened for baseball since 1989. This is not unprecedented. In Willie Mays' career, major league teams opened 18 stadiums, 15 of which didn't survive through Junior's career. The greatest wave of stadium construction, however, was the seven-year span from 1909 to 1915, when 13 new ballparks were built to give new homes to 14 of the 16 teams in existence (the Giants and Yankees shared the Polo Grounds until 1923). All but three lasted at least 50 years, four lasted at least 80 years and two (Fenway and Wrigley) are nearing their 100th birthdays. And, not coincidentally, those two are the game's most beloved.
Funny how long a stadium can last when the team has to pay for it and how short a lifespan a ballpark can have when the team can make someone else pay for a new one.
AP Photo
1909: Shibe Park, Athletics (closed in 1970)
1909: Sportsman's Park, Browns* (closed in 1966)
1909: Forbes Field, Pirates (closed in 1970)
1910: League Park, Indians (closed in 1946)
1910: Comiskey Park, White Sox (closed in 1990)
1911: Griffith Stadium, Senators (closed in 1961)
1911: Polo Grounds, Giants/Yankees (closed in 1963)
1912: Crosley Field, Reds (closed in 1970)
1912: Fenway Park, Red Sox
1912: Tiger Stadium, Tigers (closed in 1999)
1913: Ebbets Field, Dodgers (closed in 1957)
1914: Wrigley Field, Cubs@
1915: Braves Field, Braves (closed in 1952)
* Cardinals moved into Sportsman's Park in 1920
@ Built for Federal League's Whales -- Cubs moved there in 1916
(Source: 1991 Elias Baseball Analyst)
Jim Caple is a senior writer for ESPN.com.