There has been a Griffey in the major leagues every season since 1973. There has been a Jakubauskas in the majors ever since last week.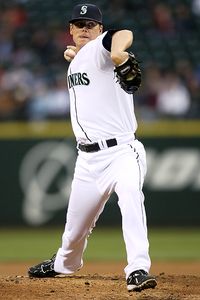 Otto Greule Jr/Getty Images
From PB&J to postgame spreads, it has been a long journey to the majors for Chris Jakubauskas.
Each year there are players who reach the majors after minor league careers so challenging they would have sent Crash Davis rushing to Sears for a job selling Lady Kenmores, but 30-year-old Seattle pitcher Chris Jakubauskas tops the usual standard. He not only played in an independent minor league, he played in three. He played for the Fullerton Flyers of the Golden League, the Lincoln Salt Dogs of the American Association and spent a summer with the Frontier League's Ohio Valley Road Warriors, a team that played its entire season on the road. He earned about $700 a month playing independent ball and made ends meet in the offseason by selling women's shoes at Nordstrom, shuffling paper at Wells Fargo, laying concrete and teaching at various baseball clinics. Asked to describe his route to the majors, he replied, "Long and arduous."
"There were a lot of peanut butter-and-jelly sandwiches, fruit and Top Ramen," he said of independent league life. "And then you waited for your parents to get into town."
Now he's in the majors with the Mariners, receiving as much for the season's first road trip in meal money alone as he earned in a month as a Road Warrior. Jakubauskas ("If you got those letters in Scrabble, you could pick up some points," he said) picked up his first victory in relief last weekend. He got his first loss in his first career start Thursday despite leaving with a 1-0 lead in the sixth inning against his favorite team as a boy, the Angels. His locker is approximately 10 steps from Ken Griffey's.
That's one of the wonderful things about baseball: the lives and stories it brings together in a single ballpark each day. While Jakubauskas discussed the joy of pitching in the majors and the secret to getting a good seal on a driveway, Ichiro sat across the clubhouse, fielding questions about his latest milestone.
With a single between first and second base Thursday, Ichiro broke the "record" for most "major league" hits by a player born in Japan: 1,808 hits here, 1,278 in Japan's majors, 3,086 total. As baseball marks go, this is not as notable (or straightforward) as say, the most major league hits by a player of any nationality (a record still held by some American named Pete Rose), but nevertheless the Japanese media has been stalking Ichiro since he approached the total late last season. The man he passed, Isao Harimoto, also flew to Seattle for the occasion.
"In 1995, that's 14 years ago, Mr. Harimoto told me that the only guy who could beat his record was me," Ichiro said through an interpreter. "Looking back on it now, thinking about his vision, for him to be able to say that to a player who had only one year under his belt, I'm amazed by that. I'm sure I'm the only one he said that to. … I thought, 'What's this crazy man saying?'"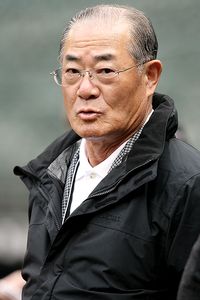 Otto Greule Jr/Getty Images
Harimoto has definitely lived Abraham Lincoln's credo of "with malice towards none."
Ichiro's father raised him to be a major leaguer from the time he was old enough to hold a ball -- in Robert Whiting's "The Meaning of Ichiro," Ichiro says the intense daily practices with his father bordered on hazing -- but Harimoto's background is far different. He says he didn't play baseball until he was 11, and even then only in pickup games because there were no organized leagues in his city. Which is understandable. He grew up in Hiroshima during and after World War II.
Harimoto was 5 years old when the U.S. dropped the atomic bomb on Hiroshima. He survived, he said, because the slope of a low mountain shielded his family's home from the direct blast. His sister, Tenko, was not as fortunate. "I lost my sister," Harimoto said through an interpreter. "She was in school and they were having a class on the top of the mountain when the bomb fell. All the students were killed."
The next few years were extremely difficult. He said there was little food and many nights sleeping outside on the ground. Conditions improved and Harimoto eventually was drawn to baseball, the area's only sport other than sumo. His first glove was for a right-hander -- Harimoto is a lefty due to a childhood accident that left him with restricted use of his right fingers -- but he used it anyway and grew to become the only player with 3,000 hits in the history of Japan's majors.
What is striking about Hiroshima is that the sobering A-bomb dome (one of the few structures to survive the blast despite being at ground zero) is directly across the street from the Hiroshima Carp baseball stadium. Harimoto said seeing the dome always made him sad. On the other hand, you can also stand at the dome, look back to the ballpark and see something joyful. "You [Americans] brought baseball to Japan," he said. "I appreciated that."
First-year Seattle manager Don Wakamatsu has his own tale of WWII. He is the grandson of James and Ruth Wakamatsu, who were forced out of their homes and into Japanese internment camps in this country. This week they watched their grandson earn his sixth and seventh victories as the first manager of Japanese descent in our majors.
"They don't talk a lot about [the camps]," Wakamatsu said. "They talked about some conditions. They talked about what they did. How they put four families in a single barracks and separated the families for privacy with sheets hanging in the room -- those types of things. I found out more on my own than from them. My grandpa never talks about it."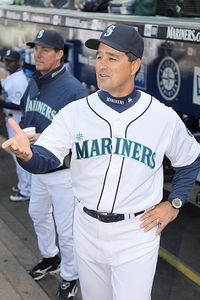 Otto Greule Jr/Getty Images
Wakamatsu's family history is the modern-day rags to riches story.
What Wakamatsu says impresses him most about what his grandparents endured is "just the fact they're not bitter at all. That shows a lot of strength on their part. That they don't harbor any ill feelings and understand that life goes on and they're happy and they can have a grandson who never has to be exposed to that."
As a player, Wakamatsu spent 12 years in the minors and about 12 weeks in the majors (briefly backing up Carlton Fisk), playing for seven organizations in 11 cities. Thus, he was able to appreciate what Jakubauskas has done. "He's a tough kid who went through a lot to get here," he said after the 5-1 loss to Anaheim. "He's on a mission, and he pitched like it tonight."
Less than two weeks into the season, Jakubauskas has already earned more money than he did in four years of independent ball. He still has a way to go, however, to catch Griffey, who has earned approximately $150 million since breaking in as a rookie 20 years ago. Griffey has essentially lived his entire life in the majors, though that doesn't mean there weren't costs along the way. "I was one of those 15-year-old kids whose dad had to work and whose dad wasn't there," he said. "The money is a little different now. He had to play. I don't have to play. I enjoy playing baseball."
Griffey grew up in major league clubhouses. Almost everyone else begins his path there from more remote origins. And whether you grow up in post-war Hiroshima or -- as Mariners shortstop Yuniesky Betancourt did -- smuggle your way out of Cuba, or simply hang on in whatever obscure minor league that will have you, those journeys to a big league clubhouse in any country are rarely easy.
You need to survive.
"Just keep throwing, because weird things happen," Jakubauskas said. "A friend told me, 'If someone is willing to give you a uniform, wear it. Because one day no one is going to be willing to give you one, and you'll be stuck.'"
It beats selling Lady Kenmores.
Jim Caple is a senior writer for ESPN.com.