Jeff Maier was watching the Indians-Yankees game on television Sunday afternoon when he saw something familiar. A Yankee hit a long fly ball to right field, the right fielder leaped for it at the wall, fans reached out, and the baseball descended through an assortment of arms and bounced off something for a New York home run.
"As soon as that play happened, I said to my fiancée, 'Andrea, come here and take a look at this. I guarantee they'll mention my name in a couple minutes,'" Maier said when I reached him on his cell phone Sunday night. "Sure enough, Paul O'Neill and Michael Kay brought it up."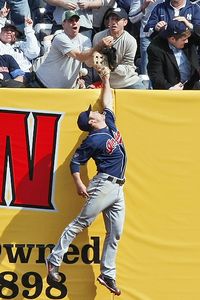 AP Photo/Kathy Willens
Does this scene from Sunday's game look familiar?
Maier, of course, was at the center of baseball's most famous case of fan interference that did not involve Morganna's cleavage. In Game 1 of the 1996 ALCS between the Yankees and Orioles, Maier reached out and grabbed Derek Jeter's fly ball before right fielder Tony Tarasco could catch it. This was in the days before instant replay in baseball, and umpire Richie Garcia incorrectly ruled the ball a home run. The home run tied the game, the Yankees went on to win it, and Maier became such a New York City hero that he received the keys to the city and appeared on "Late Show with David Letterman" and "Live with Regis and Kathie Lee."
That was nearly 13 years ago. Maier is 24 now, working for a Boston bank, studying for his master's in business administration and getting married next month. He said Jorge Posada's home run Sunday against Cleveland gave him a flashback to that memorable game. "It was like different characters but the same scene or act, so to speak."
Posada's home run was different in several important ways, though. One, after repeatedly examining the replay, it appears the umpires got the call right. Two, this was a regular-season game, not a playoff game. And three, this was at the new Yankee Stadium, not the old Yankee Stadium, so it couldn't have been a fan interfering with the ball. The seats are so expensive at the new stadium that it was probably a fan's butler.
"I say, Jeeves, would you be a good fellow and catch that horsehide spheroid? I'm afraid I'm terribly busy at the moment applying for another federal bailout to cover my season tickets."
According to the three-dimensional seat selector on the Yankees' Web site, those right-field seats go for $100 apiece -- if you buy them as part of a season-ticket package. According to the seating chart, which has more subtle shades of color than a Monet water lily painting, it appears they go for $125 apiece on a per-game basis.
"A hundred and twenty-five dollars? Oh my God," Maier said. "I guess I won't be sitting out there any time soon."
Now, those prices might seem steep for a ticket in the outfield, but they're actually the biggest bargain in the sport. Not only do you get a front-row seat (albeit a front-row seat more than 300 feet away from home plate) to see the most storied franchise in American sports, but with the way the balls fly out there, you're virtually guaranteed a souvenir home run ball.
The 20 home runs the Yankees and Indians combined for in the new stadium's first four games is too small a sample to know how the park will play -- was it bad pitching, hot lineups or the strong wind current caused by the club's sucking every dollar bill out of the fans' wallets? But if this keeps up, the club should seize the opportunity. A lot of people are saying the team must lower ticket prices to avoid embarrassing empty sections of seats, but I think the Yankees should take the opposite approach to increase revenue.
I can see the ad campaign already:
BE PART OF HISTORY IN THE YANKEES' NEW SHORT-PORCH PREMIUM SECTION!
How much would you pay to catch a home run off the bat of Derek Jeter, Alex Rodriguez or Mark Teixeira? Really -- how much would be too much? Because that's exactly what we'll charge -- plus a little more, just because it's us -- when you join New York's most exclusive club, the Short-Porch Premium Section at Yankee Stadium!
So much more than a luxury suite, membership in the Short-Porch Section guarantees you a souvenir home run ball* each and every game. Plus, get the ball autographed by the Yankee who hit it!** Impress your Wall Street clients! Wow your friends in the Hamptons! Get your kids to talk to you during visitation weekends! Just bring your glove (and your wallet) and remember to keep your eye on the ball!***
Bids are now open for the Jeffrey Maier Row ($1,000 minimum per seat per game****).
* Home runs are not necessarily hit by a Yankee, particularly if Chien-Ming Wang is pitching. Further, the Yankees guarantee only that a home run will be hit to a fan. The catching of said ball is the sole responsibility of the fan.
** Autographs extra, and price based on popularity of the player and his mood.
*** Official protective hard hats with a Yankees logo are mandatory, and an additional $25 per seat per game.
**** Plus Ticketmaster fees.
And if that approach doesn't work, the Yankees still should raise prices and just sell the seats directly to the only people who can afford them -- the outfielders. That way they can better position themselves for where the fly balls will land.
Jim Caple is a senior writer for ESPN.com.