Commentary
The Big Unit and the mullet that roared
Originally Published:
June 2, 2009
By
Jim Caple
| Page 2
As Randy Johnson tries for his 300th victory this week, we present the Big Unit Believe It or Not traveling show …

• Including the postseason and All-Star Games, Johnson has thrown more than 68,000 pitches in his career, perhaps none as famous as the one in a 2001 spring training game when he hit a dove that made the fatal mistake of flying between the mound and the plate just after the Big Unit released his pitch to San Francisco batter Calvin Murray. "Three feet from home plate, the ball just disappeared," Murray told reporters. "The bird just exploded. Feathers everywhere. Poof. I never saw the bird. All I saw was feathers."
What are the odds of a bird crossing the same spot as Johnson's pitch at the exact same time? "I think it's probably only happened one time," Johnson says, "or at least only one time when it was caught on tape."
SPORTSNATION: UNRULY ANIMALS
Was Randy Johnson's exploding bird the most disruptive animal in sports?
• Cy Young winner Tim Lincecum grew up in a Seattle suburb. Asked what he remembered most about watching Johnson as a kid, Lincecum replied "The mullet and throwing 100 miles an hour."
Ah, yes. The Unit's Mullet, easily the worst hairstyle in baseball history next to Oscar Gamble's 'fro and Pete Rose's Prince Valiant. But far from being embarrassed about the mullet, Johnson is actually proud of it. Seriously. "I was actually a trendsetter. I think a lot of people started a mullet after I had one," he says. "Who was the guy with 'Achy Breaky Heart'? Billy Ray Cyrus? I think I had it before him, but he made it popular. That was just me back in the day with long hair flying back. It was kind of my trademark. Time moves on and you get a little older and you realize your hair is getting gray and it's not there where it used to be. So you start cutting it and coloring it because it's getting gray."
So they can put that on his Hall of Fame plaque: "300 wins, five Cy Youngs, nearly 5,000 strikeouts, started the mullet fad … "
• Johnson has been on the mound for 4,091 innings in his career and in left field for one inning. In the final game of the 1993 season, he played left next to center fielder Ken Griffey Jr. Unfortunately, no one hit a ball to him.
"He asked Lou Piniella and Lou said, 'Yeah, go get out there,' and I was like 'Huh?'" Griffey recalls. "I was definitely going to let him have everything. He's out there, I definitely have to see how much ground he can cover. Because they might put him out there again, you never know. He did tell me that he would take all the fly balls up high and I could take the ones down low because he was taller."
[+] Enlarge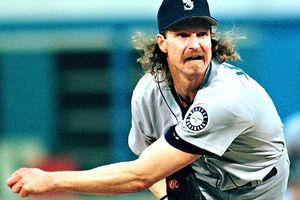 Daniel Lippitt/Getty ImagesThere's definitely a majestic grace in Randy's epic plumage.
• Do you think pitch counts are a bunch of garbage and consider today's pitchers a bunch of pansies? Consider these Big Unit pitch totals from an eight-game stretch in the 1992 season: 146, 133, 141, 146, 133, 128, 128, 132, 159. And that 159-pitch game wasn't even his high for the season; Johnson threw 160 pitches in one game. To put that in perspective, in only two games this season has a starter thrown as many pitches as Johnson's low of 128 during that stretch. He averaged 122 pitches that season. He has thrown 120 or more pitches 209 times.
"A guy throwing that hard?" Griffey says. "He'd throw 120, 130 pitches some days and you'd want to tease him after the game. You'd drop a towel and say 'Pick it up,' and he couldn't do it. 'Randy, could you get that for me?' 'Uh, no. Not today.'
• But if you want to talk about a rubber arm: Johnson pitched three games in relief in the postseason, winning two of them, most famously in Game 7 of the 2001 World Series the night after pitching seven innings and winning Game 6. But he was even more impressive in 1995, when, in a seven-day span, he won three elimination games. Johnson threw a complete game on three days' rest to win a one-game playoff with the Angels, beat the Yankees with seven innings on three days' rest in Game 3 of the division series, then pitched three innings in relief to win Game 5 two days later. He threw 286 pitches and 19 innings, allowed eight hits and struck out 28.
Less dramatically, Johnson pitched 4 1/3 scoreless innings of relief three days after getting shelled in his Game 3 start in the 2005 division between the Yankees and Angels. (And there are also those Seattle fans who, when you talk about what a competitor Johnson is, still mutter about his 1998 first-half performance before being traded to Houston, but that's another story.)
• Mariners manager Don Wakamatsu had the privilege of catching Johnson when they were on the same high school all-star team in California. Well, catching is a bit of a misnomer. Randy was so wild back then, Wakamatsu says, "I did more retrieving than catching."
• The thing about Johnson is that even when he developed his command, you still half expected him to let fly with a pitch that would hit the Bulls mascot. That very scenario nearly happened in the 1993 All-Star Game, when Johnson's first pitch to John Kruk sailed past his head and all the way to the backstop on the fly. The pitch so unnerved Kruk that he bailed out on the subsequent pitches for a strikeout that left everyone laughing. "It was the right person at the right time, so it went over pretty well," Johnson says. "If it was anybody but Kruk, I'm not sure it would have had the same appeal."
"Randy is the most intimidating pitcher I've ever called," says Mariners broadcaster Dave Niehaus, who called four of Nolan Ryan's no-hitters when he worked on the Angels broadcast team. "More so than Ryan, because of his size. I think Nolan taught him all of his tricks, too."
• Johnson has struck out 10 or more batters 212 times, second only to Ryan (215). The next pitcher on the list? Roger Clemens, more than 100 games back at 110. "It's not an important stat, but it just goes to show you how dominant Ryan and I are in that category," Johnson says. "And now I'm getting close to 5,000 strikeouts. I need about 200 or so, and I probably won't get it, but it puts things into perspective because I'd still be 700 strikeouts short of where he's at."
• Johnson is tied for the major league record for most strikeouts in a game (20) but more remarkably, holds the record for most strikeouts in a relief appearance with 16. Yes, 16! Curt Schilling started the game, which was suspended when a bank of lights blew out in San Diego. When they resumed play the next day, Randy took the mound and struck out 16 in seven innings.
• Johnson was a teammate of Mark McGwire's at USC, where his career record was 16-12 with a 4.66 ERA and 206 strikeouts in 243 1/3 innings.
• Johnson wasn't quite a big enough star yet to make the cut for the classic 1992 "Simpsons" episode in which Mr. Burns hires major league ringers to beat a rival power plant's softball league. Johnson finally hit the big time in 2006 when he was pitching for the Yankees, appearing in the episode titled "Bart Has Two Mommies." In the episode, Flanders meets Randy at a left-handers convention where he is selling left-handed teddy bears called the Southpaw. If you don't recall it, you're not alone. The episode had some of the series' lowest ratings.
• Was there ever a better rookie class than the 1989 Mariners? That was the rookie season for Johnson, Griffey, Omar Vizquel and Edgar Martinez, three likely Hall of Famers and a fourth possible. At last count, Seattle's Fab Four have won five Cy Young awards (and finished second three other seasons), one MVP award (and one second-place finish), two batting titles and 20 Gold Gloves, made the All-Star team 33 times, struck out nearly 5,000 batters, won nearly 300 games, hit nearly 1,000 home runs, scored more than 4,600 runs, driven in nearly 4,000 and stolen more than 500 bases. "Back then," former Mariners second baseman Harold Reynolds says, "we were kind of just surviving, but you could tell they would do some special stuff."
The four also have earned more than $430 million, including $170 million by Johnson. That sound you heard was former Mariners owner George Argyros fainting and hitting the floor.
• Johnson says Tim Raines gave him his nickname, Big Unit, when both were with Montreal. For the first couple seasons of Johnson's career he was primarily known as the tallest pitcher in major league history. He maintained at least a share of that distinction until Jon Rauch came along, but it was no longer his most identifying characteristic "as soon as I started having some success. The freak show was over. I wasn't a sideshow anymore -- I was actually going out and being successful and doing what I was there to do. I was a novel idea in the beginning. I was this tall, 6-10 person trying to pitch. … It took a lot of hard work and consistency, but eventually the sideshow act dissipated and people were more interested in watching me pitch."
Speaking of sideshow acts, check out this performance by El Rando Grando from a 1994 commercial for Mariners tickets.
• Johnson turns 46 this September, and while his fastball can still reach the low 90s, he pitched mostly in the 80s during a recent game. He says he can still occasionally pitch like his old self, but age has taken a toll on his consistency. "I don't think anybody is going to outsmart Father Time," he says. "Whether it's myself or Jamie Moyer or Satchel Paige. You're not going to pitch until you're 50."
How many more wins can he get beyond 300? We'll just have to see. But birds are advised to not swoop too low in the stadium when he's on the mound.
BOX SCORE LINE OF THE WEEK
Daisuke Matsuzaka walked three batters and threw four wild pitches (5 IP, 9 H, 3 R, 3ER, 3 BB, 6 K, 4 WP), but you have to do better than that to win this award once college baseball gets into its postseason.
The great thing about the College World Series is you have no idea what type of game you'll see. In a regional game Sunday, Florida State beat Ohio State 37-6, which represented a bit of a rally for the Buckeyes, who trailed 32-0 in the fifth inning. It also ended a very bad weekend for the Buckeyes, who lost 24-8 on Friday.
Then there was Saturday's game between Texas and Boston College that went an NCAA-record 25 innings, took seven hours and featured 18 consecutive scoreless innings. Texas went 22 innings between runs before scoring the game-winner in the 25th inning. But the most remarkable part of that game is that relievers Austin Wood of Texas and BC's Mark Belfiore each pitched more than nine innings in relief! How is that possible? Don't they know it's illegal for closers to pitch more than one inning without a permission slip from their agents?
And as if that weren't enough, Wood pitched 12 1/3 innings of HITLESS relief before finally giving up a single in the 19th inning. In all, he threw 169 pitches, after throwing 30 pitches the night before! His line:
13 IP, 2 H, 0 R, 0 ER, 4 BB, 14 K
Belfiore, meanwhile, threw 129 pitches after throwing 20 pitches the day before. Check out Keith Law's provoking piece on whether the coaches were way, way out of line to leave their pitchers in so long, and whether that one game will lead to problems down the road (Belfiore is considered good enough to be picked in the first or second round of the draft). The game might have made some teams question the kids' arms, but it should also answer any questions about their hearts.
(It also reminds me of the famous 1981 duel between Yale's Ron Darling and Frank Viola of St. John's, in which Darling took a no-hitter into the 12th inning before losing on a bloop single, an error and a double-steal. Roger Angell lovingly describes the game -- and watching it with "Smoky Joe" Wood -- in "Late Innings." Although it should be pointed out that both Darling and Viola were starters and accustomed to throwing a lot of pitches.)
TELL YOUR STATISTICS TO SHUT UP
Will Johnson be the last pitcher to reach 300 wins? With 46-year-old Jamie Moyer as the next closest to the mark (250 wins) and 37-year-old Andy Pettitte as the youngest active pitcher with 200 wins, a lot of people say this is the end of the line. But people said the same thing when Nolan Ryan won his 300th game. There will be no more 300-game winners, they said, because the five-man rotation costs them too many starts. And yet when Johnson wins 300, he'll be the fourth pitcher to do so since Nolan, and all four pitched in five-man rotations. In fact, Ryan pitched much of his career in five-man rotations; his 162-game average was 35 starts, just one more than Johnson. And the same holds for Tom Seaver, who averaged the same number of starts as Johnson in his career. So the five-man rotation clearly isn't that big an obstacle. Meanwhile, vastly improved medical and surgical procedures are allowing pitchers to play longer and longer, while higher salaries give them more than enough incentive to stick around. Who is the next pitcher with a chance to win 300? The answer probably isn't Moyer or Pettitte but rather some very young pitcher we aren't even considering. After all, when Ryan won his 300th game on July 31, 1990, who would have thought Randy Johnson -- who was then 19-20 for his career and nearly 27 -- would someday reach that mark? …
Congratulations to Tampa Bay rookie David Price. With his 5-2 victory over the Twins on Saturday, he now holds the rare distinction of earning his first regular-season win more than seven months after his first World Series win. Which is kind of the opposite of Johnson, who didn't win his first World Series game until he had won 200 in the regular season. …
The Orioles drew the smallest crowd in the history of Camden Yards last Tuesday (10,130) and also drew fewer fans for their entire three-game series against the Blue Jays (35,780) than they averaged per game for their first 10 seasons there. Sounds like it's time to demand a new state-of-the-art ballpark to bring the fans back. Either that, or put a winning team on the field again. … Meanwhile, the Royals drew 34,524 for a Memorial Day day game against the Tigers, then drew 16,366 the next night for Zack Greinke's start, which goes to show that who is playing isn't always as important as when you're playing. …
Jim Caple is a senior writer for ESPN.com.
RANDY JOHNSON JOINS 300-WIN CLUB
San Francisco Giants left-hander Randy Johnson became the 24th pitcher in major league history to win 300 games, beating the Washington Nationals 5-1.
NEWS
ANALYSIS
VIDEO
PAGE 2
SPORTSNATION
FANTASY
RESEARCH
PHOTO