Commentary
The Hypocrite's Guide to Pro Drafts
Updated:
June 12, 2009, 3:17 PM ET
By
Jim Caple
| Page 2
The No. 1 pick in baseball's draft this week, Stephen Strasburg, might seek a contract worth $50 million. People already are portraying such a contract request as either greedy or wildly unrealistic or both. And they are right. It is both greedy and wildly unrealistic for Strasburg to seek that much money. Because he is a baseball player. Had he been a football player and the top pick in the NFL draft like Matthew Stafford, however, he could have signed a deal worth $78 million ($41 million guaranteed) and no one would have blinked an eye. But Strasburg is a baseball player, so he is greedy and wildly unrealistic.
Confusing? The various drafts can be, which is why Page 2 has come up with the Hypocrite's Guide to Pro Drafts. It provides the lowdown on who is a gluttonous, self-indulgent prima donna milking the system and who is simply a selfish egomaniac out to ruin the system.
[+] Enlarge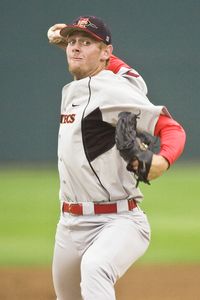 Darryl Dennis/Icon SMIJust in case you're keeping score: Stephen Strasburg = greedy; Matthew Stafford = justified.
If an 18-year-old graduates from high school and wants to immediately enter the NBA, the league will prevent it because an athlete that young obviously can't handle the rigors of professional sports and clearly is being exploited by an agent and a circle of sycophants who are only out for a cut of a multimillion-dollar contract. It would be different if that athlete played baseball, in which case he can choose to play in the minor leagues and enjoy the easy lifestyle in Elizabethton, Tenn., on $600 a month, $20 per diem and postgame peanut butter and jelly sandwiches.
If a 19-year-old football player wants to go pro after his first year of college, he is arrogant, placing himself over his team and wasting his time because NFL rules prohibit players from entering the draft until three years after their high school graduation class has been out of school. This rule has nothing to do with the league's wanting colleges to pay all player-development costs or his college's wanting to earn big money from his services. It is simply because the NFL is too brutal and dangerous a sport for a 19-year-old with such limited experience, and to attempt to prove otherwise is selfish and out of line. If the player thinks this is unfair, he can drop out of school and join the military to fight in Iraq or Afghanistan, in which case, he would be a patriot.
If a 17-year-old skipped his final year of high school to play basketball professionally overseas, that would be placing dollars over the value of an education, a frightening precedent and a clear sign there is something wrong with the parents. If that athlete played tennis, however, it would be entirely different. And if that athlete was also Russian, blonde and hot, well, then, what took her so long?
College players who are considering whether to enter the draft cannot hire an agent to help make this life-changing decision because agents are unscrupulous and loathsome creatures preying on an athlete's youth and experience. That's why they must be called (wink, wink) "advisors.''
If a 16-year-old is so skilled at baseball that he would consider skipping his senior year of high school and earning a GED so he could enter the draft, he would be foolish, wrongheaded, insatiable, impatient and probably receiving advice from Scott Boras. Unless, of course, that 16-year-old baseball player was born in Venezuela or the Dominican Republic, in which case he could do so and it would be considered standard operating procedure.
While it occasionally appears that these rules are capricious and contradictory, they are not. As the teams would tell you, all the rules make perfect sense. Many are based on the simple principle that childhood is sacred and some things are just too much to ask of a teen. After all, we can all agree that 15 is just way too young an age for anyone to undergo the pressures and rigors of professional sports. Unless, of course, that 15-year-old is a girl competing as a figure skater or gymnast.
Jim Caple is a senior writer for ESPN.com.