Commentary
America's Tour de France contenders
Updated:
July 7, 2009, 1:11 PM ET
By
Jim Caple
| Page 2
The Tour de France starts Saturday, the Fourth of July, which is only fitting, given that Americans have worn the yellow jersey in Paris as many times in the past two decades (10) as every other country combined.
[+] Enlarge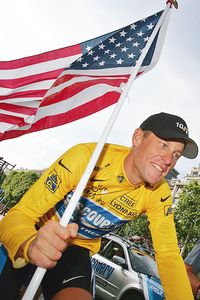 AP Photo/Peter DejongLance Armstrong will be back in the Tour de France this year. But he's not the only American with a shot at winning.
That's counting Floyd Landis, whose jersey was stripped after a positive doping test in 2006. But even if you don't count him, U.S. riders have won the Tour more times in the past 20 years (nine) than riders from any other country.
Lance Armstrong, of course, accounts for seven of those victories. And as you might have heard, he's back to try for No. 8 this year. Teammate Alberto Contador, the 2007 winner and probably the best stage rider in the world, is the heavy Tour favorite, but Armstrong has made a career out of overcoming impossible odds, so count him out at your own risk.
Armstrong is a household name, but most people in this country would be hard-pressed to name another American cyclist other than Pee-wee Herman. Which is a shame. There are seven Americans in this year's Tour, including a couple with a legitimate chance to win.
Here's a little test for non-cycling fans. Of the following, which are the American cyclists and which are Europeans? Christian Vande Velde, Levi Leipheimer, Tyler Farrar, George Hincapie, Danny Pate and David Zabriskie.
That's a trick question, by the way. They all are American. That's the thing about many top American cyclists. Not only are their names usually restricted to the agate page at the back of the sports section -- with the obvious exception of Armstrong (who may have the most quintessentially American name in sports) -- but the names also often make them sound like they're from other countries. (Let's not forget old Greg Lemond.)
But all the Americans are worth getting to know, because several could win stages (and possibly the Tour itself). And, well, there isn't anything more to tell you about Lance. While the others may not have a story quite as inspiring as Armstrong's comeback from cancer, Farrar's tale may get you to reach for a tissue.
Christian Vande Velde, Garmin-Slipstream
A reliable domestique for a decade, Vande Velde finally broke out last year to finish fourth in the Tour, and he could have finished even higher had it not been for a crash on a descent. Vande Velde would be considered a more serious contender in this year's Tour had he not crashed in the Giro d'Italia and suffered a broken rib, broken vertebrae and a broken pelvis. (Even so, he got back on his bike and tried to continue.) His father, John, is a former Olympian who was in the film "Breaking Away." Sure, his dad played one of those Team Cinzano creeps who knock Dave into the ditch, but still, it's hard to top that sort of cycling pedigree.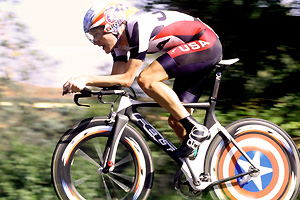 Courtesy of David ZabriskieDavid Zabriskie shows some personality with the Captain America look.
David Zabriskie, Garmin-Slipstream
Zabriskie is the national time-trial champ and one of five Americans ever to wear the yellow jersey (Armstrong, LeMond, Landis and Hincapie are the others). He also is a wonderfully entertaining rider. Case in point -- he's a comic-book fan (Batman, Wolverine, Moon Knight) who tricked out the rear wheel of his time-trial bike to look like Captain America's shield. He says that if he could have a superpower he would choose the ability to fly, "though at this point in time I think a cool power would be converting all cars to not pollute." During last year's Olympics, he described the Great Wall of China as a "waste of time," saying, "If I had been in charge back then, I wouldn't have built something like that. … I would have put the research into something else." He also lost more than $100,000 worth of cars, bikes, and mementos from the Olympics and the Tour de France in February when thieves burglarized his home during the Tour of California. And for a brief time last year, he had one of the more over-the-top mustaches in sports.
George Hincapie, Columbia-Highroad
The five-time Olympian is riding in his 14th Tour, the most ever by an American. A longtime lieutenant for Armstrong, Hincapie has ridden in support of the TdF winner eight times in addition to winning an individual stage in 2005 and wearing the yellow in 2006. More important, he fulfilled the dream of every Tour rider by marrying a podium girl.
Levi Leipheimer, Astana
Leipheimer finished third in the 2007 Tour but wasn't allowed to ride last year because TdF officials barred the Astana team from competing because of past doping violations that did not involve him or other riders on the current team. Instead, he spent the Tour staying with a friend in Utah and training at nearly 9,000 feet and agonizing over what might have been. "I couldn't stop myself from watching the Tour," he said. He went on to win the bronze medal in the Olympic time trial and win the Tour of California for the third time. He'll be riding for Astana with Armstrong and Contador, which presents the sort of team-leader issue that the Patriots would have faced if they had decided to keep Matt Cassell as Tom Brady's backup and also signed Brett Favre. And if the Patriots were also owned by a bunch of Kazak businessmen who occasionally forget to pay their players (as is the case with Astana, but that's another story).
Danny Pate, Garmin-Slipstream
According to a story in the Colorado Springs Gazette, two teenagers heckled Pate while he was on a training ride in the city last year, yelling, "Hey, you going to be in the Tour de France?" Which just goes to show that even the pros hear the same, tired lines that recreational cyclists do. But at least Pate, if he had been so inclined, could have replied, "Why, actually, I just rode in the Tour de France. And I finished third in Stage 15, a 163-kilometer ride that included a Hors Categorie climb to more than 8,000 feet in elevation and a mountaintop finish. Thank you for asking. Now tell me, how did you two lads do in Wii Bowling this afternoon?"
Tyler Farrar, Garmin-Slipstream
The Washington state native is riding in the Tour for the first time and becomes the 35th American in the TdF. He's a sprint specialist and has a chance to become the 11th American to win a stage in the Tour, though he'll have to beat Mark Cavendish, the best sprinter in the world. If Farrar does, his father, Ed, will have to cheer from home. An orthopedic surgeon, Ed turned his son onto biking. But he was hit by a car while on a ride last year and was left paralyzed from the waist down. As Tyler told the Seattle Times, he spent much of the winter caring for his father before returning to racing.
And if that backstory doesn't get you clapping and cheering for Farrar as he sprints toward the finish, there really is no hope for you.
Jim Caple is a senior writer for ESPN.com