Commentary
Vick is just another working stiff
Updated:
July 29, 2009, 1:12 PM ET
By
Jim Caple
| Page 2
Is quarterbacking an NFL team a dream job? Yes, in that it is a job many fans dream about, it pays gobs of money and it may allow you to sleep with supermodels such as Gisele Bundchen. And no, in that it also means you will get hit hard and often by very large, very strong and occasionally angry men; your every performance will be evaluated, analyzed, criticized and given a precise rating for everyone in the country to see; and you will most likely grow old and arthritic years before your time.
[+] Enlarge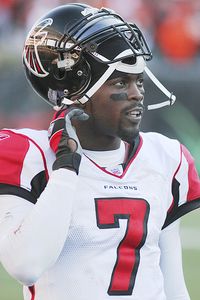 AP Photo/Tom UhlmanMichael Vick just wants to go back to work. Shouldn't he be able to?
So let's be clear about something when we discuss the Michael Vick suspension. Despite what many people say, it is not a privilege to play in the NFL, the NBA, the major leagues, the NHL or any other professional sports league. It is simply a job, a career that is not benevolently granted to athletes but one they earn by honing their talents through years of practice. It comes with benefits and negatives, the same as any other profession. Well, not necessarily the same benefits and negatives -- when was the last time 50,000 people cheered you for completing a TPS report or chanted "You suck!" for ignoring the "service required" light on the office copier? -- but it has aspects that are both good (cheerleaders and endorsements) and bad (frequent concussions and knee operations).
But just because pro athletes have careers we covet doesn't mean those careers come with further obligations than ours. Society's approval is not part of the job description any more than it is for a banker.
Yes, of course athletes should be good citizens, the same as everyone else. Yes, they should use their fame and prestige as a positive influence in the community: visiting hospitals, donating chunks of their enormous salaries to charity, avoiding shooting themselves or anyone else at a strip club. And yes, a commissioner hired to keep a league popular and lucrative should naturally be concerned about the behavior of its players.
But athletes are not required to do anything special just because their chosen career is one that gets regular play in the media and makes us feel joy, sorrow, anger and inspiration beyond all reasonable justification. It simply is unfair to declare that if a person wants to go into a particular field -- a career that in no way has any effect on our health, education, safety or livelihood -- he is also under additional moral obligations just because we think it would be cool to have the same job and convenient to use him as a role model.
Thus, now that Vick has served his sentence, he should be free to pursue his trade again.
That doesn't mean he's entitled to a job offer. Just as a company may choose not to take a risk on a recently jailed doctor, lawyer, columnist, plumber, etc., NFL teams are not required to sign a 29-year-old quarterback who missed the past two seasons while in prison. But they also should not be prohibited from signing Vick.
Given how hard Roger Goodell has cracked down on other players for other crimes, it's surprising he did not give a longer suspension to Vick. He made the right call, though, by allowing him to sign and practice with a team now. Preventing him from playing until the sixth week of the season is essentially moot given that no team would expect him to play before then after missing two full seasons. (Not even the Lions.) But really, no person's review or approval should be necessary, other than whether a team thinks it is in its best interest to put him in uniform.
It isn't a matter of whether Vick broke the law or did something reprehensible. He did, and he paid the price for that act with a prison term and the loss of millions of dollars. But now that he has been released, he should face no further burdens than any other parolee just because we refer to his job description as playing a game.
We're wrong when we call professional football a game. Two-hand touch in the backyard is a game. Quarterback in the NFL is a job. And Vick should be allowed to pursue that job with the same freedom and restrictions that anyone in any other career would have after paying his or her debt to society.
Jim Caple is a senior writer for ESPN.com.
VICK CONDITIONALLY REINSTATED

Former Falcons QB Michael Vick has been conditionally reinstated by NFL commissioner Roger Goodell.


NEWS
ANALYSIS/FEATURES/BLOG POSTS
SPORTSNATION
VIDEO