Commentary
The baseball bucket list
Originally Published:
July 30, 2009
By
Jim Caple
| Page 2
"The Bucket List" is pretty much an unwatchable movie (I ask you, do Jack Nicholson and Morgan Freeman play any characters anymore that are not simply caricatures of themselves?). It has, however, produced a blizzard of similar lists, each instructing people what they must do before they kick the bucket.
And why should I be any different? Here are 50 things all baseball fans should do while they still have the chance, with the top 10 in bold (and thanks to many friends for their suggestions):
• Spend a week at spring training.
• Learn to keep score.

• Learn about Tommy John surgery by throwing out your arm at the stadium speed pitch station.
• Watch "Field of Dreams," "Bull Durham," "A League of Their Own," "The Bad News Bears" (the original) and "The Natural."
• Use a wood bat.
• Enjoy a beer in the bleachers at Wrigley Field on a sunny summer day.
• Listen to Vin Scully call an entire Dodgers game.
• Read "Ball Four," "The Boys of Summer," "Nine Innings," "The Glory of Their Times" and any (preferably all) of Roger Angell's collections.
• Go to Japan's Koshien high school tournament (i.e., where Dice K threw his famous no-hitter).
• Hit a home run.
• Coach a Little League team.
• Ump a Little League game.
• Boo the Yankees in person.
• Play Strat-O-Matic, APBA, Dynasty League or a similar computer-simulation game.
• Attend a fantasy camp and have more fun than you can imagine feeling old and young at the same time.
• Tour the Hall of Fame in Cooperstown.
• Oil your glove and stuff it under your mattress for the winter, then play catch the first day of spring with your parent/child.
• Get to a game early enough to watch batting practice.
• Go to the College World Series.
• Play pepper.
• Go to a batting cage and see what it's like to hit a 90 mph fastball. Or, more likely, fail to hit a 90 mph fastball.
• Attend a townball game in Minnesota (the smaller the town the better).
• Visit the "Field of Dreams" site in Dyersville, Iowa and the old Durham Athletic Park (where "Bull Durham" takes place).
• Take your kids to see The Chicken or The Phanatic.
• Run around the bases after a big league game.
• See Derek Jeter, Albert Pujols and Ichiro play in person and chant their names with a stadium packed with fans.
• Buy a fitted cap to replace the cheap stadium giveaway you got with the plastic adjustable strap in the back and the Piggly Wiggly logo on the side.
• Sing "Sweet Caroline" at Fenway Park.
• Recite "Casey at the Bat" and "Tinker to Evers to Chance."
• Read the box scores religiously.
• Join SABR.
• Get your favorite player's autograph.
• Learn to throw a curveball.
• Take a week-long road trip through the minors, the lower the league the better, and make sure to include a team owned by Mike Veeck.
• Cheer the Rally Monkey.
• Eat at Boog's barbecue pit at Camden Yards, enjoy a Primanti Brothers sandwich at Pittsburgh's ballpark, the fish tacos in San Diego, a Dodger Dog at Dodger Stadium and garlic fries while circling the concourse in Seattle.
• Attend a game in the Caribbean.
• Buy a bleacher ticket and sneak into a box seat.
• Passionately argue in a bar over who belongs in the Hall of Fame.
• Collect baseball cards. Get your favorite player's rookie card and store it in a plastic sleeve. Treat all others the way God intended: by clothes-pinning them to the spokes of your bicycle in a pathetic attempt to make an engine noise.
• Rub the Babe's nose in Monument Park.
• Camp out in front of the stadium for tickets to see your favorite team in the postseason.
• Try to throw a knuckleball.
• Catch a foul ball. And then hand it to the nearest kid.
• Disobey your parents by staying up late to listen to a game with your transistor radio/iPhone tucked under your pillow.
• Go to the All-Star Game.
• Kayak in McCovey Cove (yeah, Barry Bonds is gone, but San Francisco Bay is still there)
• Eat a hot-fudge sundae in a mini batting helmet.
And finally …
• See your team play in the World Series. (Sorry, this might not be applicable to Cubs, Mariners, Rangers and Nationals fans.)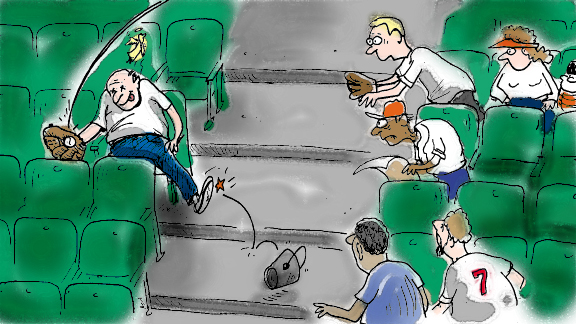 BOX-SCORE LINE OF THE WEEK
Tim Lincecum had another gem (9 IP, H, 2 R, 0 ER, 3 BB, 15 K), while Washington's Josh Willingham hit two grand slams in one game (5 AB, 2 R, 3 H, 8 RBIs). But they had no chance this week because Mark Buehrle pitched the 18th perfect game in big league history, thanks in no small part to an extraordinary catch by Dewayne Wise. Buehrle followed up his perfect game by retiring the first 17 batters in his next start, setting a major league record for most consecutive batters retired before giving up five runs and five hits. So that second line didn't end up quite as impressive as this winning one:
9 IP, 0 H, 0 R, 0 ER, 0 BB, 6 K
Buehrle also appeared on David Letterman to read the "The Top Ten Things Going Through Mark Buehrle's Mind During His Perfect Game," including:
"No. 9: If this doesn't get Kate Hudson to notice me, nothing will."
"No. 7: My brother-in-law bowled a perfect game."
And "No. 4: I'm leaving after the seventh inning to beat the traffic."
TELL YOUR STATISTICS TO SHUT UP
• Do you remember when Cleveland held a 3-1 lead over Boston in the ALCS? It was less than two years ago. Since then, however, Cleveland has traded reigning Cy Young winners in consecutive years, which isn't generally easy to do. Does trading a reigning Cy Young winner pay off? It's too early to render a verdict on the Cliff Lee and CC Sabathia deals but five previous teams traded a total of four reigning Cy Young winners. After the 1998 season, the Blue Jays traded Roger Clemens for Homer Bush, Graeme Lloyd and David Wells. Bush had one decent year for Toronto while Wells won 37 games in two seasons for the Blue Jays before they traded him to the White Sox. Clemens, meanwhile, did all right with the Yankees, winning another Cy Young with them and helping them to four World Series. The winter before that, the Expos traded Pedro Martinez to the Red Sox for Carl Pavano and Tony Armas. Pavano went 24-35 before they sent him to the Marlins in a multi-player deal that brought them Cliff Floyd while Armas was 48-60 for the Expos/Nationals before moving on as a free agent. Pedro, meanwhile, won two Cy Youngs in Boston and was one of the best pitchers in team history. In 1995, the Royals traded David Cone to Toronto for David Sinnes, Tony Medrano and Chris Stynes. Sinnes and Medrano never reached the majors while Stynes played 58 games for Kansas City before being dealt with Joe Nunnally to the Reds for Hector Carrasco and Scott Service. Cone won nine games for Toronto in 1995 before the Blue Jays traded him to the Yankees that same season for Jason Jarvis, Mike Gordon and Marty Janzen. Only Janzen reached the majors. Cone, of course, was a key part of New York's World Series run. And in 1989, the Twins gave Frank Viola a contract extension in April only to trade him that July for five pitchers, including two who were instrumental in their 1991 World Series championship: Kevin Tapani and Rick Aguilera. Viola won five games for the Mets after the deal and 20 games the next year, but couldn't get them into the postseason before he left as a free agent.
• Lee was traded and the national rumor mill remains on Roy Halladay, but the hottest pitcher still available may be Seattle's Jarrod Washburn (8-6, 2.64), who has allowed one or no runs in his past five starts (including a one-hit shutout) and in 11 starts overall. He has allowed two earned runs or less in 15 of his 20 starts this year. He's in the last season of a four-year deal. What's it like having your possible employment change and relocation rumored nationwide, with the possibility of being moved to New York, Los Angeles, Milwaukee or elsewhere? Halladay says it's been miserable but Washburn says it hasn't been too bad. "My oldest son has gotten to that age where he listens to the radio and watches sports and is really aware of things that are going on and he says, 'Dad, I hear you're going to the Rays!'" Washburn said. "A best friend of his moved here from Florida and he's like, '(My friend) is from Florida. We could move to Florida -- that would be cool!' He hears some things but it doesn't seem to bother the kids. The younger ones don't know what's going on. And my wife is real good about it. She says, 'If you get traded, it will only be for two months and we'll see what happens after that.' The first of September, she will head back to Wisconsin because the kids will be starting school anyway. Last year it bothered her a little bit because she knew a trade would have been for a year and change and she didn't know where we would end up. New York was real close at one point and that scared her. But she's good about it. The family is good. My dad still gets a little excited, though. He called me this morning and said, 'Did you get traded to the Brewers?' I said, 'Dad, don't you think I would call and tell you if I got traded to the Brewers?' 'Oh, someone told me you got traded to the Brewers.' I said, 'Didn't you learn anything from last year when I was (supposedly) traded to the Yankees and the Twins and here I am still in Seattle?'' Twins fans take note: Washburn lives in La Crosse, Wisconsin during the offseason, which is much closer to the Twin Cities than Milwaukee.
• So Hank Aaron says it's time to see Pete Rose in the Hall of Fame, touching off speculation that commissioner Bud Selig might issue Rose a pardon of some sort from his lifetime ban. I've long been opposed to Rose entering the Hall, but after two decades (Bart Giamatti banned him 20 years ago next month), I've softened that view and now think he should at least be placed on a ballot, either for the writers or the veterans, and let them decide whether baseball's all-time hits leader belongs in Cooperstown. And yes, I also think Joe Jackson should be put to a vote as well; a lifetime ban is one thing but an afterlife ban seems a tad extreme. (Not that I'm convinced Jackson was innocent, but if Charles Comiskey is in the Hall, Jackson at least deserves a vote on inclusion.) What will most likely to happen is Selig will come close to granting Rose the pardon, but before he does, Charlie Hustle will sink his chances by wallowing in some more mud.
• Take this for what it's worth. But according to the scoreboard graphic used for his at-bats, Ichiro's favorite TV show is "Prison Break," his favorite movie is "Steel Magnolias," his favorite comedy is "The Full Monty" and his favorite ice cream is "cookies and cream."
Jim Caple is a senior writer for ESPN.com.