Commentary
Welcome to Steinbrenner High School
Originally Published:
August 26, 2009
By
Jim Caple
| Page 2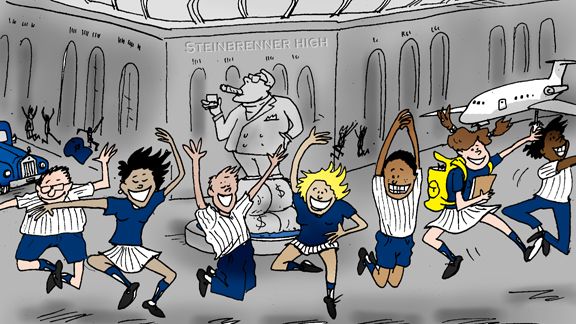 Kurt Snibbe
News item: A high school named for George Steinbrenner opened this week in Lutz, Fla., near the famous Yankees owner's home. Steinbrenner High School's curriculum includes a sports management course entitled "Business of Sports" (BOSS).
HIGH SCHOOL MUSICAL 4: STEINBRENNER HIGH
Scene 1
[A late autumn day at Steinbrenner High School. Challenger the Eagle swoops past a 30-foot-high statue of George Steinbrenner in front of the building, which looks remarkably like Yankee Stadium. The camera follows students as they hand their $110/day tuition tickets to ushers before passing through the turnstiles. The students are dressed in the official school uniform: white pinstriped English prep school suits with shorts, matching knee-high stirrup socks, and little navy blue caps with a white interlocking "SH" logo. The teachers' uniforms, meanwhile, are gray slacks and white turtlenecks under blue sport coats.

[As the camera pans through the school, we see full-length paintings of Steinbrenner, long lines of students outside the bathrooms, championship banners, bronze busts of Steinbrenner, chocolate fountains and monuments of former straight-A students in Honor Society Park. A brutish hall monitor gives a kid a wedgie for picking his nose during the Pledge of Allegiance.]
PA ANNOUNCEMENT: Students, remember to cast your vote for Mr. and Mrs. October at the big homecoming dance.
[We see the principal's office, where a history teacher is being fired because his students had low scores on the first midterm.
[The camera finally settles on basketball star TROY BOLTON, back for his sixth year of high school and looking nearly as old as Jeff Conaway in "Grease", and his girlfriend, GABRIELLA MONTEZ. They stop at their lockers, which, unlike standard metal lockers in other high schools, are made of mahogany, have several sets of uniforms and jockstraps hanging inside, and have stools in front of them.]
GABRIELLA: Why the big grin?
TROY: I just had my Business of Sports class, where they awarded me the highest honor you can get at this school.
GABRIELLA: Most Likely to Succeed?
TROY: No, Most Likely to Fire All My Classmates.
Scene 2
[The luxurious new 4,800-seat Yankeeography Theater inside Steinbrenner High. While the Radio City Rockettes practice on stage, drama teacher MS. DARBUS addresses the students auditioning for the school musical.]
MS. DARBUS: This year's musical is a revival of "Damn Yankees." Only, instead of portraying the world's greatest team as a villain, we're updating it to show how the Yankees save baseball with their championship teams. It's called "Those Darn Yankees!" Who would like to audition for the lead role, George Steinbrenner? Only tall, blonde and handsome young men with an incredible voice need apply.
[Several students raise their hands, including TROY.]
MS. DARBUS: And who would like to audition for the part of the villain? It's a fun role. He appears on stage amid a burst of smoke to lead people into temptation. He's a hideous caped creature with red scaly skin, horns, a goatee, cloven hoofs, a long-pitched tail and a trident. He is the embodiment of pure evil. Do you know who I'm talking about?
GABRIELLA: The devil?
MS. DARBUS: No, Scott Boras.
Scene 3
[Home economics class at Steinbrenner High. TROY, GABRIELLA and the rest of the students are reheating stale hot dogs on a rotisserie, stirring Cheez Whiz onto plates of nachos and pouring flat beer into plastic cups.]
HOME EC TEACHER: Remember, don't fill the cups with so much beer, and be sure to spill some over the nachos.
GABRIELLA: Isn't it weird that the only things they teach us to cook are ballpark concessions?
TROY: Yeah, but not as weird as Brian McNamee teaching us chemistry. I'm not sure if I'm learning a lot in his class, but I am getting stronger. And I'm dreading Mr. Zimmer's biology class tomorrow.
GABRIELLA: Why?
TROY: We're supposed to dissect a fat, pussy toad.
HOME EC TEACHER: Remember class, the key when preparing a meal is charging the absolute highest price your guests will pay. How to tell? When their eyes bug out and they look like they need the Heimlich maneuver, that's your sign to charge them another $1.
GABRIELLA: Aren't you so excited about being in the new musical together? I just know you'll be great as Mr. Steinbrenner.
TROY: And you'll be great as Derek Jeter's girlfriends.
GABRIELLA: Yeah, I get to play all seven. It's a much better role than that poor freshman playing Luis Polonia's girlfriend.
[The bell rings.]
HOME EC TEACHER: All right, that's it for today, class. Tomorrow, we learn to serve ice cream sundaes in a miniature batting helmet for $10.
Scene 4
[The Yankeeography Theater. The kids rehearse the scene in which STEINBRENNER -- as played by TROY -- convinces the Pirates' general manager to trade 25-year-old likely Triple Crown winner Joe Hardy for a 32-year-old alcoholic minor leaguer who needs Tommy John surgery. STEINBRENNER/TROY sings to the tune, "Whatever Lola Wants."]
STEINBRENNER/TROY:
[+] Enlarge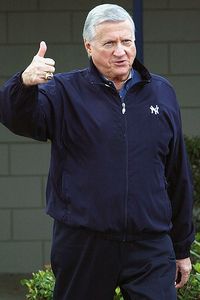 AP Photo/Chris O'MearaA high school named in his honor must be a thrill for The Boss.
Whoever Georgie wants
Georgie wins
And li'l GM, Georgie wants Joe
I'm extending your October famines
Making you swim upstream like salmons
The deal is already done, says Gammons
Give in …
Whoever Georgie wants
Georgie claims
And little GM, Georgie wants Joe
This is how I play the game
Joe will finish in the Hall of Fame
While you get a bush leaguer to be named
Give in …
Whoever Georgie wants
Georgie gets
And you poor SOB, ol' Georgie wants Joe
It makes up for revenue-sharing debts
On us Pete Rose places his bets
Count your blessings, you could be the Mets
Give in …
Scene 5
[Basketball practice at the YES Network Gymnasium. The school fight song -- the Darth Vader theme from "Star Wars" -- plays on the speakers. MS. DARBUS and COACH JACK BOLTON lecture TROY, inside one of the arena's 52 luxury suites.]
MS. DARBUS: What do you mean, you can't be at dress rehearsal? You're not putting a stupid basketball game over the musical!
COACH BOLTON: You best not be putting a stupid musical over our conference opening game against Lucchino High! God, how I hate that school!
TROY: No, Coach. No, Ms. Darbus. It's not the basketball game or the dress rehearsal -- it's school. Both the rehearsal and the game are on the same night as my Business of Sports class "Owner For a Day" retreat at Mr. Steinbrenner's mansion. Attendance is mandatory, and it's worth half our grade for the semester. We get to fire the athletic director, two coaches and a vice principal, plus sign a social studies teacher to a four-year, $720,000 contract.
MS. DARBUS: Well, that's no excuse, young man. You made a commitment to me and the rest of the cast. You'll have to decide which is more important, the stage or that silly class.
COACH BOLTON: You also made a commitment to the basketball team. Do you want to be a soulless executive in a suit, a limp-wristed actor in tights, or a real man in gym shorts and a tank top? Because if you miss that game, you're off the team.
[MS. DARBUS and COACH BOLTON stomp off, leaving behind a stricken TROY. He looks up at the mural of Steinbrenner covering the gym wall and suddenly gets an inspiration. A grin slowly spreads across his face.]
TROY: Oh, that's good, Mr. Steinbrenner. Very good.
Scene 6
[Music class. The kids are practicing "The Star-Spangled Banner," "God Bless America" and "New York, New York."]
TROY: I wish we could sing something else for once. I mean, they're nice songs, but every single day?
GABRIELLA: I know. [pause] So what are you going to do about dress rehearsal, the conference opener and your retreat all being the same night?
TROY: Oh, don't worry about that. I've got it all worked out.
MUSIC TEACHER: All right, class. I know you're all a little tired of singing the national anthem, "God Bless America" and "New York, New York." So I've got a little treat for you. If you'll turn to page 152 in your songbooks…
[The class does so eagerly, then groans when they see the song.]
MUSIC TEACHER: OK, all together!
CLASS [singing]: Where did you come from, where did you go? Where did you come from, Cotton-Eyed Joe?
Scene 7
[Opening night for "Those Darn Yankees." Yankeeography Theater is full, except for the first 20 rows of seats, which sell for $2,500 a pop and are completely empty. GABRIELLA and TROY wait backstage for the curtain to go up.]
GABRIELLA: Break a leg, Troy. I'm so glad you chose the musical over the basketball team and your class.
TROY: Oh, didn't I tell you? I'm getting an A in the class, and I'll be starting for the team next week against John Henry High.
GABRIELLA: How did you manage that?
TROY: Easy. At our "Be an Owner For a Day" retreat, I fired both Ms. Darbus and Coach Bolton.
[The curtain rises and TROY takes the stage to lead the cast in the first number, sung to the tune, "You Gotta Have Heart."]
CAST:
You gotta have cash
Piles 'n' piles 'n' piles of cash,
Oh, it's great to have a rookie sensation
But when he reaches arbitration,
Then you better have lots of cash …
[Fade out]
BOX-SCORE LINE OF THE WEEK
Josh Beckett gave up five home runs in one game Sunday (8 IP, 9 H, 8 R, 8 ER, 0 BB, 5 K) and now has allowed 10 homers in his past 16 1/3 innings after allowing none in his previous 47 innings. Jamie Moyer pitched six scoreless innings in relief (6 IP, 2 H, 0 R, 0 ER, 0 BB, 5 K), as many or more innings as he pitched in 18 of his 22 starts this season. Knuckleballer Charlie Haeger held the Cubs scoreless for seven innings to win his first game in three years (7 IP, 3 H, 0 R, 0 ER, 4 BB, 7 K). Philadelphia's Eric Bruntlett ended Sunday's game against the Mets with an unassisted triple play, prompting this take on "Baseball's Sad Lexicon" (better known as Tinker to Evers to Chance) by Howard Megdal on the Amazin' Avenue blog:
This is the saddest of possible word
Bruntlett to Bruntlett to Bruntlett
Killer of rally in season absurd
Bruntlett to Bruntlett to Bruntlett
Vicious line drive that seemed destined to drop
Giving the Mets chance to come out on top
This year's indignities simply won't stop
Bruntlett to Bruntlett to Bruntlett
[+] Enlarge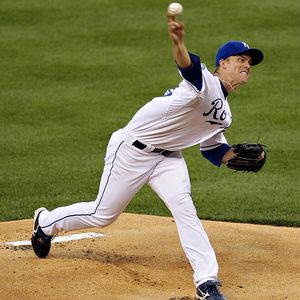 AP Photo/Charlie RiedelImagine what Greinke's record would be if he pitched for a contender.
This week's award, however, goes to Kansas City's Zack Greinke. The Royals pitcher was one of the best stories of the early season when he started out 8-1 with an 0.84 ERA. He's still pitching well enough to be first in the league in ERA (2.43), third in innings pitched (181 1/3) and second in strikeouts (197), but thanks to the terrible Royals and their awful run support, he's won only two starts in the past two months and is just 12-8. (Kansas City has been shut out in four of his starts, including two 1-0 shutouts).
But the Royals finally scored enough runs Tuesday to make sure his team-record performance didn't go to waste. Greinke struck out 15 batters and beat Cleveland 6-2. The six runs were as many as Kansas City scored for him in all of July. His line:
8 IP, 5 H, 2 R, 2 ER, 1 BB, 15 K
So how does that leave the race for the American League Cy Young Award? It's pretty tight, with Greinke, Felix Hernandez (12-5, 2.73, 178 IP, 173 K), Roy Halladay (13-7, 3.03, 184 IP, 159 K), Justin Verlander (14-7, 3.38, 181 IP, 211 K), Beckett (14-5, 3.65, 170 1/3 IP, 154 K) and C.C. Sabathia (15-7, 3.59, 185 1/3 IP, 148 K), plus long shot Edwin Jackson (10-5, 2.86, 163 2/3 IP, 128 K) and long, long shot Jon Lester (10-7, 3.60, 167 2/3 IP, 187 K). Some will make a case for Mariano Rivera, but you should know how I feel about closers by now. If you don't, check out the next note.
TELL YOUR STATISTICS TO SHUT UP
Dodgers manager Joe Torre used "closer" Jonathan Broxton in the eighth inning Saturday to face the more dangerous part of the Cubs' lineup and saved George Sherrill for the bottom of the order in the ninth. Does that signal a welcome return to managing for the situation rather than for the stat? We'll have to see, but stats back up the move -- who you have on the mound with a lead in the ninth is far less important than having the lead in the ninth, period.
Jim Rice was a great player (he always got my Hall of Fame vote), but he fell into the role of bitter old man last week when he told Little Leaguers that today's ballplayers aren't suitable role models. That rant prompted ESPN.com editor David Schoenfield to dig up this similar complaint about those darn kids in the first of a series we'll call "Name That Curmudgeon!"

Who said this? "Baseball today isn't the game I used to know. In the first place, there are the players. They're a different breed. Everything has to be done their way. Who are we kidding? It isn't a sport anymore -- if it ever was. It's an industry. They've got a union … and they're carting their money away in bushel baskets. You can't tell them what to do. They have to be consulted; they want to know why. Not how, but why. The battle cry of today's player is I don't have to. … Expansion and the rise of other professional sports have put him in the driver's seat. You can't fine him because it's a waste of time, and you can't bench him because you've got nobody to put in his place." (Find the answer below.)
Everything you need to know about Little League was revealed in this quote from Mercer Island (Wash.) coach Brock Mansfield after his team lost its second game at the Little League World Series this year: "They took this hard initially, but they're kids and in 30 minutes they'll be in the pool. Us coaches, it could take a year, 18 months -- that's a guess."
A follow-up to last week's column on players getting hit in the Unhappiest Place on Earth: Two weeks after going on the disabled list with a severely bruised testicle, Adrian Beltre took batting practice with the Mariners on Monday. Describing the pain in the testicle when he was first hit in the Inglourious Basterds, Beltre told reporters, "It felt like it exploded." Ouch.
If you're wondering whether Hideki Matsui would be a good fit in Seattle as the DH next year, he would. (While the Mariners play in a pitcher's park, the ball does fly out to right fairly well). Except for one thing. He and Ichiro aren't exactly friends, and the problem may go all the way back to a possible breach of etiquette in high school. The two players had a game against each other in high school. In Japan teams frequently take communal baths after games, and because Matsui's team was the guest, his team went in first. But the first bath was supposed to be reserved for seniors, and when Ichiro, a senior, saw Matsui, a junior, in before him, he was upset. Matsui once said that a dozen years after the incident, when both had reached the majors, the two were guests on a TV show, and Ichiro demanded to know why he took the first bath.
Answer to "Name That Curmudgeon": Leo Durocher in this 1975 Sports Illustrated story. By the way, the money The Lip complained about the players "carting away in bushel baskets" was $60,000 a year.

Jim Caple is a senior writer for ESPN.com.