Commentary
When is it OK to storm the field?
Updated:
September 21, 2009, 12:31 PM ET
By
Jim Caple
| Page 2
As quarterback Jake Locker led the Washington Huskies downfield toward what would be a game-deciding score against USC on Saturday, my brother said, "If we win, we're storming the field.''
I laughed because it was such a preposterous statement. Not that the Huskies would win. Despite an 0-12 season last year, by that point in the game I was convinced that we would upset the No. 3 Trojans. What was outlandish was the notion that my brother and I would storm the field. Ours is a reserved family. We do not storm fields. We don't even storm the bathroom if we have raging diarrhea.
And yet, one field goal later, my brother and I were on the field with hundreds of other delirious fans, celebrating one of the greatest victories in school history. I saw fans and former players in quarter-century-old Orange Bowl, Sun Bowl, Rose Bowl and Freedom Bowl jerseys, jerseys so old the fans wearing them may have actually paid off their student loans. One fan flopped to the turf and did snow angels on the 50-yard line. Locker wept, coach Steve Sarkisian searched in vain for his wife, and my brother wore the largest grin I've ever seen.
[+] Enlarge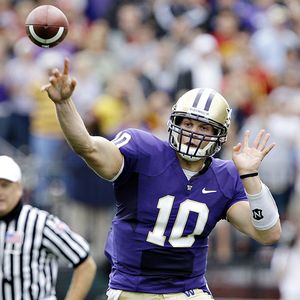 AP Photo/Elaine ThompsonJake Locker helped engineer Washington's biggest win in recent memory, lifting the Huskies into the Top 25 for the first time since 2003.
This is partially why college football is so much better than the NFL. One, no single victory means that much in the NFL. Two, if fans tried storming the field in the NFL, the league would either have them crushed by a 325-pound lineman or bill them $1,000 for gridiron seating (or perhaps both).
But college fans typically have far more of an attachment to their school than pro fans have to a group of professionals who change teams so frequently. We have an actual stake in the school through the years we attended, the classes we took and the tuition we paid. We're justified in saying "we'' when the team wins or loses (though in the latter case, "we'' usually say "they''). It's a bit like owning stock in the Green Bay Packers, only the alumni club keeps hitting us up for donations.
And because the stadium is part of our campus, we have as much right to occupy it as we would the administration building during a student protest.
Storming the field, however, must be carefully restricted to those exceptionally rare, almost magical moments that -- just like a visit to use the school library -- come along once every other decade. Overdo it, and storming the field becomes meaningless. Worse, do it for substandard victories and you wind up looking pathetic.
Here is when storming the field is not only appropriate but warranted:
1. You just beat a No. 1-ranked school.
2. You just clinched a conference championship and a BCS bowl berth.
3. After sitting in the rain and listening to the USC band play "Tribute to Troy'' for three solid hours until you want to commit tubacide, you just beat the hated, third-ranked Trojans, and suddenly that miserable 0-12 season is buried, and the entire Ty Willingham era is erased, and the program has turned completely around, and you feel as happy and young as you did when you were a sophomore in college and you beat USC in 1981 when it also was ranked No. 3 on another rainy afternoon that will always glow with the absolute best memory from your five-plus years in school and your only regret was later not going down to the Rose Bowl with your friends because you couldn't afford the trip but that's all right because this year the team is going again and dammit you're going to book a flight to Pasadena right now!
Well, not right now. First, you have to go help them tear down the goalposts …
Jim Caple is a senior writer for ESPN.com.