Commentary
Reasons to watch the noncontenders
Originally Published:
September 23, 2009
By
Jim Caple
| Page 2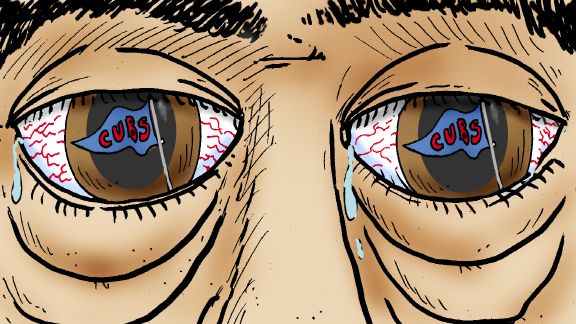 Kurt Snibbe/ESPN.com
With the days in the regular season dwindling to a precious few, the division and wild-card races have been virtually decided. Only the AL Central is reasonably tight, while both wild cards are all but locked up. But fans of the many noncontending teams still have plenty to follow and appreciate before the final day.
CUBS (78-72, second in NL Central, 10 GB): Another year without a World Series, but as AC064101 draws to a close, the Long Sufferers will focus on how many other Cubs should be suspended for "conduct detrimental to the team." How about Alfonso Soriano, with a .303 on-base percentage, a .726 OPS, just 64 runs, a $16 million salary and $90 million left on his contract (with a full no-trade clause)? Or Kevin Gregg, with a 4.72 ERA and seven blown saves? Or Carlos Marmol, with 62 walks in 70 innings? Or more to the point, how about the man most responsible for this mess, general manager Jim Hendry, who somehow thought giving Milton Bradley a $30 million contract could possibly work out and was surprised that Bradley wasn't happy with his seventh team in nine seasons?
PIRATES (56-93, sixth in NL Central, 31½ GB) Pittsburgh fans, still hung over from celebrating a record 17th consecutive losing season, now anxiously wait to see whether Pirates management can fulfill its seasonlong goal of trading the entire Opening Day starting lineup before the year's final out. It won't be easy. Nyjer Morgan, Freddy Sanchez, Nate McLouth, Adam LaRoche and Jack Wilson are gone, but Ryan Doumit, Andy LaRoche, Brandon Moss and Paul Maholm remain. Never underestimate president Frank Coonelly and general manager Neal Huntington, though. They are determined to tear down what has been a terrible team so that they can begin rebuilding it, so that they'll be able to tear it down again halfway through that rebuilding process.

METS (65-87, fourth in NL East, 24 GB): New York fans will celebrate these last few days, secure in the knowledge that this year, their beloved team will not suffer another soul-crushing collapse and blow what should have been a comfortable first-place lead in the season's final weeks.
WHITE SOX (73-79, third in AL Central, 8 GB): Another division title is out of reach, but manager Ozzie Guillen is nearing an important milestone: his one-millionth use of the word "@#%$" when describing Cubs fans or one of his own players.
RANGERS (82-68, second in AL West, 7½ GB): A surprisingly successful baseball season may be winding down, but that doesn't mean the end of exciting games for Texas fans. Under a new partnership plan with Cowboys owner Jerry Jones, fans can buy obstructed-view seats at Rangers Ballpark for Cowboys games for just $100 apiece (personal obstructed-view seat license fee not included).
REDS (70-81, fourth in NL Central, 18½ GB): Cincinnati will have a losing record for the ninth consecutive season, but Reds fans have reason to rejoice: The hold time for outraged callers on local sports talk radio shows eager to blame Edinson Volquez's injury on Dusty Baker is now estimated at just 10 days, 16 hours and 23 minutes.
BLUE JAYS (68-83, fourth in AL East, 27½ GB): Shhhhh. Toronto fans are still nervously wondering when the Jays will complete that deal to send Roy Halladay to the Phillies.
ATHLETICS (72-79, fourth in AL West, 18 GB): Their team may be in last place, but Athletics fans can look forward to another cherished fall pastime in Oakland: watching ground balls take bad bounces in the divots left after Raiders games.
MARINERS (79-72, third in AL West, 11 GB): Seattle has had a dramatic turnaround, going from 101 losses to a probable winning record. So Mariners fans have plenty left to follow. There is Felix Hernandez's Cy Young candidacy, Ichiro's long-shot pursuit of another batting title, and Ken Griffey Jr.'s possible final days as a player. Despite all that, the day Seattle fans should really look forward to is Oct. 3, when Erik Bedard spends his 200th day on the Mariners' disabled list.
ROYALS (63-88, fourth in AL Central, 17½ GB): Zack Greinke could win the Cy Young Award as the league's best pitcher, but the true drama here is whether shortstop Yuniesky Betancourt could win the "Marvelous Marv" Throneberry Award as the game's worst player. And if so, whether general manager Dayton Moore will give him a two-year or three-year contract extension.
CLEVELAND (61-89, fifth in AL Central, 19 GB): Cleveland fans, meanwhile, hope no one on their team wins the Cy Young because that means he'd be traded away next year. On the other hand, as bad as the starting rotation has been, perhaps Cleveland fans should want their pitchers to be traded.
ASTROS (70-81, fourth in NL Central, 18½ GB): There may be only 11 days left in the season, but that means Houston could still change managers 11 times, and maybe more if someone doesn't look good taking out the lineup card.
[+] Enlarge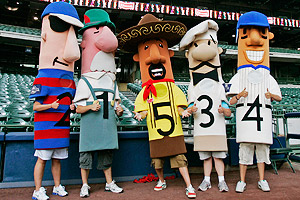 AP Photo/Morry GashThe Brewers' sausage race is simultaneously one
of the best and wurst spectacles in baseball.
BREWERS (74-77, third in NL Central, 14½ GB): So what if the team may finish under .500? Milwaukee fans still packed the ballpark most nights -- the Brewers are ninth in attendance -- and there still is the drama over whether the Bratwurst and the Italian Sausage can somehow catch the Hot Dog in the sausage race standings.
RAYS (77-74, third in AL East, 18½ GB): After reaching the World Series last year, Tampa Bay finishes up a disappointing season and miserable September. But does that mean there is nothing left for fans? Not at all. There is still Fan Appreciation Night, when management will honor the passionate fans of Tampa Bay who responded to last year's World Series and this year's winning season by bumping the Rays all the way ahead of the Nationals and Royals in attendance.
ORIOLES (60-91, fifth in AL East, 35½ GB): Sure, 35½ games and a 12th consecutive losing season looks bad, especially for a team that once was the pride of the AL East. But Baltimore fans can take solace in the fact that if they were still playing in the same division as the Tigers, they would be only 20½ games out of first place.
NATIONALS (51-99, fifth in NL East, 37 GB): With another last-place season assured -- that's four in five seasons since MLB moved the team to D.C. -- Washington's magic number is at seven: That many Nationals losses and/or Pirates victories will give Washington the worst record in baseball and the right to overpay next year's likely No. 1 draft pick, Bryce Harper.
DIAMONDBACKS (66-86, fifth in NL West, 25½ GB): After finishing in first place two years ago and second place last year, Arizona could finish in last place. But it's not all bad news for Snakes fans. They can count off another year of deferred salary for Bernard Gilkey, who last played for the team in 2000 (when he hit .110). In perhaps the most astounding contract ever, the Diamondbacks must still pay him as much as $1 million a year for eight more seasons.
PADRES (69-83, fourth in NL West, 22½ GB): You know it's been a rough season when San Diego State had the city's best starting pitcher. But Padres fans should savor the final week and a half. Because after this season ends, they face nothing but depressing trade rumors about first baseman Adrian Gonzalez.
MARLINS (81-71, third in NL East, 8 GB): True, officially they still have a chance at the wild card, but with three teams ahead of them, fans are better off spending the final homestand more productively: searching for a place to hide out in Land Shark Stadium until Super Bowl XLIV.
BOX SCORE LINE OF THE WEEK
Cleveland's Jeremy Sowers allowed nine hits in one inning (1 IP, 9 H, 6 R, 6 ER, 1 BB, 1 K), Atlanta's Boone Logan hit the only batter he faced (0 IP, 0 H, 0 R, 0 ER, 0 BB, 0 K), Jake Peavy finally started (and won) a game for the White Sox (5 IP, 3 H, 3 R, 3 ER, 2 BB, 5 K), and Seattle rookie catcher Adam Moore made his big league debut one of the longest in big league history when he wound up catching all 14 innings of the Mariners-White Sox game (the most amazing thing about that 14-inning affair is that it lasted less than four hours).
Nonetheless, this week's award goes to the Yankees' Joba Chamberlain for this ugly line Sunday:
3 IP, 6 H, 7 R, 7 ER, 3 BB, 2 K
Is Chamberlain the most overhyped player in recent memory? He is a No. 4 starter with an 8-6 record and a 4.73 ERA. Among others, he's older than Felix Hernandez (16-5, 2.55), Tommy Hanson (10-4, 2.85), Rick Porcello (13-9, 4.22) and Clayton Kershaw (8-8, 2.85). So why do we always have to read and listen to so many stories about the Joba Rules? Hey, I wish the kid the best of luck with his career. But until he actually accomplishes something, can we focus on more deserving pitchers?
TELL YOUR STATISTICS TO SHUT UP
I realize this attitude will likely get me kicked out of the Baseball Writers Association of America, but I'm not all outraged that so many pennant and wild-card races are already decided. Disappointed? Yes. But outraged? No. These things occasionally happen in sports. There doesn't have to be some vast "Da Vinci Code" conspiracy behind it all. Baseball's economic system isn't necessarily broken and in need of immediate repair. If the poor pennant races are evidence that only the rich teams can compete, then how come the Rays reached the World Series last year? If they are proof that small markets don't stand a chance, then why are the Cardinals in first place? If you think that only the same old teams reach the postseason every year, then how come we've had 14 different teams in the past nine World Series and eight different champions? …
Meanwhile, fans disappointed by a lack of drama these final days should simply pick up a copy of "The Machine," Joe Posnanski's splendid new book, and relive the 1975 Reds season. Posnanski, one of the best columnists in the nation, wrote the marvelous "The Soul of Baseball" about Buck O'Neil, and his newest offering is every bit as entertaining, bringing '70s baseball to rich life. I bought the book Sunday and was halfway through by Monday. But that's because Posnanski is such a pleasure to read; he makes good writing seem easy. Let the rest of the book-buying world grab "The Lost Symbol" by Dan Brown. "The Machine" is the most rewarding book you'll find in bookstores this fall. …
So coolstandings.com gave the Rockies a 2 percent chance of reaching the postseason back in June, and now it appears Colorado will make it in. Two years ago, it gave the Rockies a 1 percent chance of reaching the postseason, and as we know, they went on to the World Series. Which spurs my annual question: If those Coolstandings odds really were accurate, then why do teams so often overcome astronomical odds to reach the postseason? It's like a 100-year flood plain that gets flooded every five years. …
The Yankees dressed their rookies in Batman-related costumes for the annual hazing, which seemed rather tame. Other than Ramiro Pena, who drew the leather Catwoman costume, it wasn't nearly as humiliating an ensemble as other teams have forced on rookies (Hooters costumes, dresses, French maid outfits, bikinis, etc.). In fact, I believe the green Riddler costume Mike Dunn wore came from Omar Vizquel's locker. Hey, if you want to really embarrass a young player, don't wait until the team flight -- make him wear his uniform pants leg up high enough to show his stirrup socks during the game. …
It appears likely that Bobby Abreu will drive in 100 runs for the sixth consecutive season. He's averaged more than 100 runs a year since 1999. His on-base percentage is nearly .400. And the Angels signed him for $5 million a couple of days before spring training. "When they took on Abreu, that lifted them to a different dimension," Mariners manager Don Wakamatsu said. …
Milton Bradley doesn't warrant much sympathy, but overturning his suspension for ripping the team to a reporter seems like an open-and-shut case for the union. If everyone got suspended for saying bad things about the Cubs, the only person left in Wrigley would be Ronnie Woo-Woo.
Jim Caple is a senior writer for ESPN.com.