Commentary
Enjoy Ken Griffey Jr. while you still can
Originally Published:
September 30, 2009
By
Jim Caple
| Page 2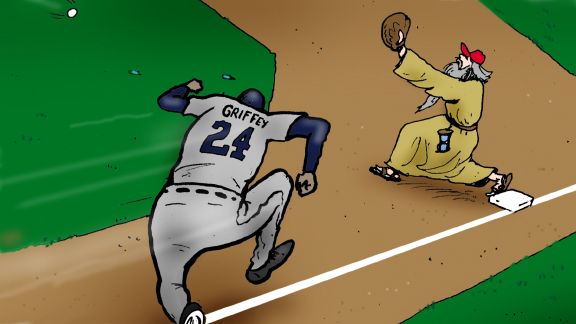 Kurt Snibbe / ESPN.com
On a cool, rainy Tuesday evening in Seattle that signaled the end of summer and the start of fleece and Gore-Tex season, Ken Griffey Jr. stepped into the batter's box and took his stance, the dark No. 24 on his back somehow standing out as bright as neon. He waggled his bat, shook his rear, swung at the first pitch from Oakland's Trevor Cahill and drove it into the left-field seats.
Two months shy of his 40th birthday, Junior still has a stroke so sweet, four out of five dentists recommend you not even look at it.
The problem is, that swing isn't quite as quick or consistent as it once was. Griffey is batting .214 with 17 home runs and 53 RBIs this season.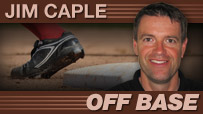 This is the final week of the regular season, and the question is whether it is also the final week of Griffey's brilliant career. If it is, he isn't giving many hints. He repeatedly has refused to divulge his feelings about the subject. Before Tuesday's game, he talked enthusiastically about his first fly-fishing experience (he was confused whether to cast left-handed or right-handed) and ex-teammate Omar Vizquel's desire to become a matador (Junior said he's only interested in bulls that are dead, cooked and on his plate), but just said "no'' when I asked whether he had an update on his career plans. Griffey stayed in the team dining room after the game, probably to avoid further questions about the retirement issue.
"He's pretty tight-lipped about it," Mariners manager Don Wakamatsu said. "We actually went fishing [Monday], and he never even brought it up. That's Junior's decision, and that's [general manager Jack Zduriencik's] decision, and all I can speak on is my experience with him, and it's been an honor to have a player of that caliber and get to know him." Asked whether he wants Junior back, Wakamatsu said, "That's a tough question. Obviously I have as much respect for the man as anyone in the game. I'll leave that decision up to Jack and Junior and his agent."
Griffey has been good for the Mariners this season. The effect a player has in the clubhouse is usually vastly overstated, but not in Griffey's case this year, as he has been exceptional. He's lightened the attitude so much -- he gave bottles of wine to each teammate this week -- that I'm surprised he doesn't shake hands with a joy buzzer and slip whoopee cushions under Wakamatsu's seat on the bench. He even makes Ichiro laugh out loud in public.
[+] Enlarge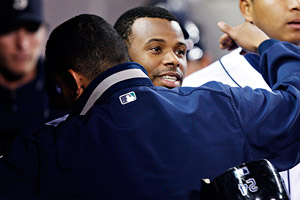 AP Photo/Elaine ThompsonKen Griffey Jr. is congratulated by Felix Hernandez after Griffey hit his 628th career home run. Will it also be his last?
Then again, there is that .214 average.
The career decision Griffey faces is the one all great players must make, and it isn't easy. You play a game most of your life, receive millions of dollars to play it and hear cheers from tens of thousands of fans every night. This is not something you get anywhere else in life, outside of playing for U2. At least retiring basketball players know they can play pickup games fairly often. Baseball players realize that when they retire, it means they likely will never again play the game that has filled such an enormous part of their lives.
On the other hand, they'll get to spend more time with their wives and families.
But on the other hand, they'll have to spend more time with their wives.
So when should a ballplayer retire? Here are some warning signs:
Your at-bat music is "Auld Lang Syne"
You don't have grass stains on your uniform, you have moss on your north side.
You played in the postseason against the Pirates or the Royals.
On the rare occasions you have a curtain call, you don't tip your cap to the crowd, you shout, "Will you kids shut uppeople are trying to sleep here!"
You entertain thoughts of being a matador, even though you couldn't fit even one leg inside the waistband of their tight little pants.
Your batting average is lower than your weight and your bad cholesterol.
The team still asks you to pitch every day, but during batting practice.
The GM says he wants you back next year, but your role will be limited to pinch hitting and dancing on the dugout roof while wearing a giant moose head.
You're in the starting lineup for the old-timers' game.
Bengie Molina can beat you to first base.
You have to change jerseys because the team already has retired your number.
You call Jamie Moyer "young man."
And here are signs you should not retire:
Your wife says she can't wait to have you work on some home improvement projects.
Your wife asks whether you still can go on all the road trips anyway.
A team offers you a million dollars to keep playing. Even the Pirates.
You still can hit a 95-plus mph fastball into the upper deck and make everyone stand up and dance and feel just a little bit younger again.
Will Junior retire? C'mon. No one retires anymore. I suspect Griffey will place the Mariners in an awkward position by saying he wants to come back, despite his limited production and aching knee and the team's desperate need for a designated hitter who can drive in more runs. (Only Pittsburgh has scored fewer than Seattle this season.)
But just in case, tune in this weekend to make certain you don't miss the final at-bat of one of the greatest players in the game's history.
BOX SCORE LINE OF THE WEEK
Normally this spot is reserved for the amazing lines produced by major leaguers or the occasional minor leaguer or national team member. But this week's award goes to someone you've never heard of.
Gerard Issvoran is a doctor in the Monterey Bay area of California who has played amateur baseball for 35 years. For all those years, he says, "I had always chased one dream. Never in mustang, bronco, pony, colt, jayvee [or] varsity did I ever hit a home run." Not in a game. Not in batting practice. "I always thought I could, but as the years went on, the chip on my shoulder grew into a cement block hanging over my head. I never told anyone about it because it was a personal thing."
Then, two weeks ago, a funny thing happened.
"There was this fastball on the outside part of the plate that I mysteriously decided to swing at, and contact was made," he wrote friends in an e-mail. "And then the ball started traveling with this interesting backspin that made the center fielder and right fielder start to run toward each other. I kept expecting it to hit the cyclone fence in right-center. I next saw the backs of the jerseys of the two outfielders who suddenly stopped. There was no sound. Just the fog continuing to roll in this overcast morning off of the Monterey Bay. The ball disappeared and a big smile spread across my face as I momentarily lifted my helmet off of my head as I approached second base. After 35 years, an estimated 200 games, 1,800 innings, 5,437 strikes and 5,396 balls. I got one, just one ball to go over the fence, about 370 feet away. Just once, no one could stop me from trotting the last 180 feet unimpeded, at my own pace."
His line: 3 AB, 2 R, 2 H, 5 RBI, 1 HR (1)
When Griffey connects with that sweet stroke of his, he makes hitting a home run seem so easy. But it isn't, of course. Which makes it so gratifying to see someone else accomplish a goal we all dream about.
"It's just a strange phenomenon in what motivates us in life to keep striving for some things that are realistic and others that are not," Issvoran wrote me. "Truly, the end result is sweet, but even sweeter is that journey along the way. At an age when players are well beyond their prime, something odd and wonderfully amazing happened. I've always described my life's journey as delayed gratification. I'm glad this wasn't delayed any longer. Now if I can just get my hand above that 10-foot rim as I drive toward the basket …"
TELL YOUR STATISTICS TO SHUT UP
Wakamatsu deserves the manager of the year award after his incredible season. The Mariners lost 101 games last year (worst in the American League), yet need just one more victory to assure a winning 2009 season despite being outscored by 60 runs. To put that in perspective, the Diamondbacks have been outscored by 62 runs and are in last place, 21 games under .500. Only Pittsburgh has scored fewer runs than the Mariners, and the Pirates could lose 100 games. …
If the Twins and Tigers tie for first place, Minnesota would host the one-game playoff. The problem is the Vikings play the Packers in a "Monday Night Football" game at the Metrodome on Monday. That means the Twins and Tigers would have to play a Monday morning game with a curfew to allow the crew sufficient time to convert the field to football or wait until Tuesday for the playoff. (The division series likely would start Wednesday, depending on what the Yankees decide.) The playoff game probably would be Tuesday, but here's another option. Play the game at the Twins' new stadium, which already has grass and lights. Safety officials might not be real quick to sign off on the plan, but just give them a couple of luxury suites, and it's all good. …
The most amazing prediction of the season was Sunday when Mariners broadcaster Mike Blowers announced during the pregame show that rookie Matt Tuiasosopo would not only have a big game, he also would hit his first career home run. In fact, Blowers predicted, Tuiasosopo would hit the home run in his second at-bat on a 3-1 pitch, and the ball would land in the upper deck. To find out just how scary accurate he was, listen to both audio links here.
Jim Caple is a senior writer for ESPN.com.