Commentary
MLB must change postseason schedule
Originally Published:
October 14, 2009
By
Jim Caple
| Page 2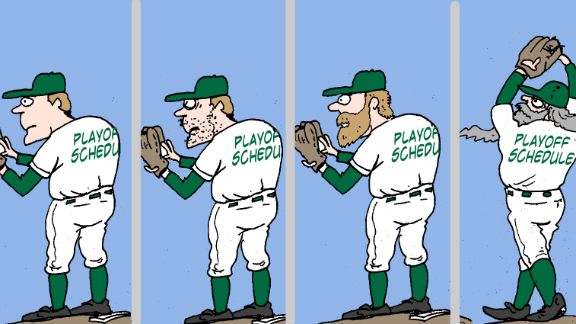 Kurt Snibbe
Wake me when the baseball postseason resumes.
Thanks to two American League Division Series sweeps and the silly scheduling of needless off days, the Yankees and Angels each will go into the AL Championship Series having played just three games in 11 days. If one of them sweeps the entire postseason, it will have played seven games and had 16 days off before the World Series begins (barring rainouts). Even if the ALCS goes seven games, the winner will have had 10 games and 13 days off before the World Series. To put that in context, the Angels played the entire regular season with just 19 off days. They've already had more days off this postseason than they had after the All-Star break (five).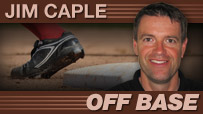 Why can teams play 20 days in a row in four or more cities in multiple time zones during the regular season, but need so many days off in the postseason that there is an off day between Games 4 and 5 of the ALCS when there is no travel necessary? The 2001 World Series was postponed into November from its original schedule because of 9/11, but the current schedule extends even longer. In fact, I think the current schedule stretches the postseason into December …
Oct. 15
NLCS: Game 1 in Los Angeles
ALCS: Workout day in New York
Oct. 16
NLCS: Game 2 rain delay in Los Angeles
ALCS: Game 1, up to the seventh-inning stretch at Yankee Stadium
Oct. 17
NLCS: Game 2 rainout
ALCS: "God Bless America'" and rest of seventh-inning stretch at Yankee Stadium
Oct. 18
NLCS: Game 2 completion
ALCS: Rest day
Oct. 19
NLCS: Travel day to Philadelphia
ALCS: Game 1 completion
Oct. 20
NLCS: Travel day to Philadelphia shopping mall to buy scarves, stocking caps, mittens and long underwear
ALCS: Game 2
Oct. 21
NLCS: Game 3
ALCS: Travel day to Anaheim via train
Oct. 22
NLCS: Game 4 up until scheduled midgame break after fifth inning
ALCS: Travel day to Anaheim via train
Oct. 23
NLCS: Rest day
ALCS: Travel day to Anaheim via train
Oct. 24
NLCS: Game 4, innings 6-9
ALCS: Game 3 up until requisite umpiring gaffe and extended argument
Oct. 25
NLCS: Travel day to Los Angeles
ALCS: Game 3 completion
Oct. 26
NLCS: Travel day back to Philadelphia after realizing that's where Game 5 is scheduled
ALCS: Travel day so Yankees can go to Disneyland to celebrate in advance of winning another pennant
Oct. 27
No games scheduled to avoid competing against "Dancing With the Stars"
Oct. 28
No games scheduled to avoid conflict with the "leaking'" of more names from the list of players who failed the 2003 performance-enhancing drug tests
Oct. 29
NLCS: Game 5
ALCS: Game 5
Oct. 30
NLCS: Travel day to Los Angeles
ALCS: Day off to figure out how to rectify playing Game 5 before Game 4
Oct. 31
Halloween! No games scheduled
Nov. 1
NLCS: Travel day to get from team hotel to Dodger Stadium in rush-hour traffic
ALCS: Game 4
Nov. 2-8
NLCS: Game 6 rainouts
ALCS: Travel days to New York via steamer ship
Nov. 9
NLCS: Game 6
ALCS: Game 6 up until A-Rod holds news conference to announce he will break up with Kate Hudson and become a free agent
Nov. 10
NLCS: Game 7
ALCS: Game 6 completion
Nov. 11
ALCS: Game 7
The two pennant winners will spend the next week of November playing their way back into midseason shape at the Arizona Fall League. The World Series will begin Nov. 18 with a pregame concert and player introductions, followed by a rest day Nov. 19, and Game 1 on Nov. 20. The teams will then sit through rainouts and snowouts before the World Series is finally canceled on Dec. 6 because both teams will have lost half their players to free agency or trades at the winter meetings.
Seriously though -- I understand Major League Baseball's desire to start the World Series midweek so it will have as few weekend games as possible, when it believes TV ratings are lower. That's fine. The more viewers, the better. But doing so via the current schedule leaves multiple days when there is no game whatsoever, and a lack of natural rhythm when the teams do play. This leads to poor series, and drives away whatever viewers MLB hopes to gain.
As it is, CC Sabathia will start Game 1 of the ALCS on eight days' rest. If the Yankees go to the World Series, the Yankees' Game 4 starter may have gone an entire month between starts.
And this is good for baseball how?
The simple solution to the extended postseason is to simply emulate the regular season and eliminate as many off days as possible. If every team can play practically every day from April until September, there is no reason the very best teams can't do it in October as well.
BOX SCORE LINE OF THE WEEK
Matt Holliday had a horrible error (E-Holliday, 1), but he doesn't deserve all the blame for the Cardinals' 5-4 loss in Game 2 of the division series against the Dodgers. After all, had he not homered, St. Louis would not have had a ninth-inning lead to blow. St. Louis still could have won had Ryan Franklin been at least marginally effective instead of just plain awful (1/3 IP, 2 H, 2 R, 0 ER, 2 BB, 0 K).
This week's award, however, goes to the Angels' Bobby Abreu for his patient performance in Game 1 against the Red Sox, when he walked in each of his four plate appearances for this gem:
0 AB, 1 R, 0 H, 0 RBI
TELL YOUR STATISTICS TO SHUT UP
[+] Enlarge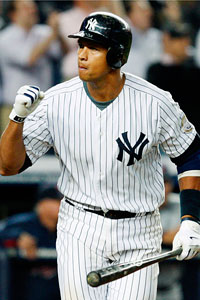 AP Photo/Kathy WillensA-Rod's off to an awesome start this postseason, that's for sure.
• As Allen Barra pointed out this week, after 42 career postseason games, A-Rod has better numbers (158 AB, 9 HR, 25 RBI, .291 BA) than Reggie Jackson had after his first 42 postseason games (151 AB, 7 HR, 19 RBI, .265 BA). Jackson picked up his Mr. October nickname after his 43rd postseason game -- his three-homer Game 6 of the 1977 World Series. And before you counter that Rodriguez has just plain stunk in many postseason series -- well, yes, he has. But so did Jackson. He hit below the Mendoza Line in six postseason series, and below his self-proclaimed 160 IQ four times. Even in his celebrated 1977 postseason, he was benched before Game 5 of the ALCS after going 1-for-16 in the first four games. Likewise, Derek Jeter has hit .211 or lower in seven postseason series. A-Rod, meanwhile, has hit .300 or better in five of his nine postseason series since becoming a full-time player (he had one at-bat in each of his first two postseason series in 1995). A-Rod is remembered for his 2004 postseason failings -- remember this image ? -- but that same October he hit .421 with a 1.213 OPS in New York's division series victory over the Twins. And in the ALCS he was hitting .411 with three home runs, five RBIs and eight runs scored before things went to hell for New York in the late innings of Game 4. He had just one hit after that, but he was hardly the only Yankee who struggled in that collapse, so you can't blame it all on him. The point is, many great players have had both good and bad series in the postseason just as they have in the regular season.
• With the many umpiring gaffes in the division series, there have been renewed calls for extended replay. Rather than slow the games down further, here's a simple idea: How about using only the best umpires so that they make the correct calls in the first place?
• The final baseball game at the Metrodome was a good argument for why domes aren't all bad. After the Twins-Yankees game, I went to a nearby bar and watched the Rockies and Phillies play in 28-degree weather (according to weather.com that night), and when the game was over, I walked out into a snow flurry. Cross your fingers for a Freeway Series.
Jim Caple is a senior writer for ESPN.com.