Commentary
Kate Hudson, A-Rod are World Serious
Originally Published:
October 28, 2009
By
Jim Caple
| Page 2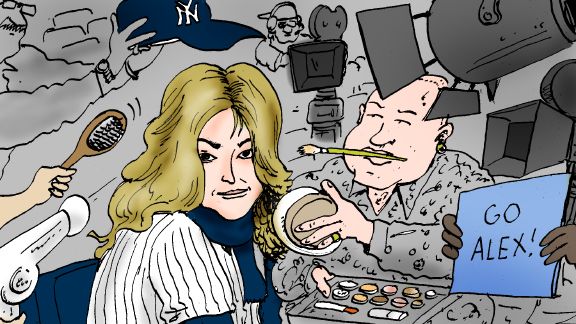 Kurt Snibbe/ESPN.com
What if Kate Hudson helped us dissect the World Series between the New York Yankees, the team of boyfriend Alex Rodriguez, and the Philadelphia Phillies? She's not, but we can dream.
Dear fellow Yankees Wives And Girlfriends,
This is the first World Series for some of us and it's been a long time for the rest of you (ha! ha! -- just kidding!), so I thought I would take the initiative and offer some baseball viewing tips. After all, my dear stepdad (Kurt Russell, like, duh) played minor league ball, and was even an all-star in the Texas League before getting hurt and concentrating on becoming an awesome actor. He taught me a lot about the game, and I can offer some valuable insights.
First off, there will be lots of cameras focused on the Yankees' WAGs during this series, so let's be sure we're all on the same page here. Just as there is a pecking order to the players, with Alex at the top in terms of salary and career home runs, MVP awards, OPS and WARP, and with third-string catcher Francisco Cervelli sitting quietly on the bench just happy to get a playoff share, there is a hierarchy to the WAGs. And I'm at the top of the food chain. No disrespect to any of the veteran spouses, but I'm the straw that stirs the drink.
In fact, think of me as your Reggie Jackson. Sure, Reggie was brand-new to the Yankees in 1977, but he instantly became Mr. October, the player everyone knew, the guy they named the candy bar after. And let's be honest -- even though I've just joined the "team,'' I'm the one driving TMZ and Page Six, not Laura Posada or Clara Rivera or Derek's latest, Minka Kelly.
(And hey, Minka, don't you just love the new stadium? I mean, this way you don't have to sit in the same seat Mariah Carey, Jordana Brewster, Jessica Alba, Jessica Biel, Lara Dutta and the 1997-2004 Miss Americas/Universes kept warm.)
PAGE 2 ON THE WORLD SERIES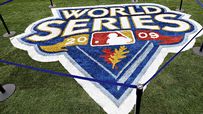 • Schoenfield: Yanks' titles ranked: 1-27
• Gallo: World Series photo captions
• Schoenfield: 27 World Series facts
• Lane: World Series celebrity report
• Schoenfield: Leave A-Rod alone!!!
• Caple: Kate Hudson's WS thoughts
• Lukas: The story behind the bling
• Werley: Yankees-Phillies family conflict
• Lane: Bride of the Yankees
Jim Caple's World Series video reports:
• Sabathia most pinstriped ever?


• Long-suffering Yankees fans


• Frightening welcome to Philly


• Who will be Mr. November?


• Hangin' with the Chinese media


• World Series trivia challenge

Girls, we're all teammates and I love you desperately, but just keep in mind that I'm America's Sweetheart. I'm the WAG Fox will repeatedly go to for tense, emotional close-ups during Alex's at-bats, and I'm the WAG Fox will repeatedly go to for euphoric-reaction close-ups after Alex delivers again in the clutch (five home runs, 10 runs, 12 RBIs and an absolutely insane 1.516 OPS during the postseason so far).
I mean, Minka is pretty (in a girl-next-door sort of way) and she's really nice and she has a good little career going. But she's not a movie star. She's in a TV show that averages an even lower rating than "Dateline.'' She's just a TV actress, like Betty White. I'm a movie star. I was nominated for an Academy Award for "Almost Famous.'' (Which reminds me -- was Madonna ever nominated for an Oscar for "Shanghai Surprise'' or "Body of Evidence''? I don't think so.) I won a Golden Globe. I've grossed almost $1 billion worldwide, including $177 million for "How to Lose a Guy in 10 Days.'' My minimum salary is $7 million for a role, which means I could make more money in a year than Derek (but not Alex, unless I was willing to accept every single script I'm sent, like Vince Vaughn or Owen Wilson.) My mother is Goldie Hawn. My stepdad, like I said, is Kurt Russell. I'm Hollywood royalty, which is better than being real royalty, because you get to live in Malibu.
So be prepared to look your best, because the Fox cameras might pick you up in the background if you're sitting near me. And there will be plenty of opportunities because we'll be celebrating Yankees heroics a lot. I know the "experts'' are saying this should go seven games, but I wouldn't be surprised if we won in five games. Just breaking down the two teams, how could you think otherwise?
At the front of the game, the Phillies have Cliff Lee and Cole Hamels. Sure, Hamels was unhittable last October, but he has a 6.75 ERA this postseason and his wife is a mere C-list reality show celeb. We have CC, who led the majors with 19 wins in the regular season, and is 3-0 with a Bob Gibson-like 1.19 ERA and 0.88 WHIP in the playoffs. Plus, he's pitching on seven days' rest and should remain strong throughout the World Series due to a reduced regular-season workload (just 3,586 pitches this year). At the end of the ballgame, we have the great Mariano, who has an absolutely unconscious career 0.77 ERA in the postseason. They have Brad Lidge, who was 0-8 with a 7.21 ERA, 11 blown saves and a 1.807 WHIP this season.
And of course, throughout the game we have Alex, who is batting .325 with a 1.092 OPS since he and I started getting serious.
Plus, with the most beautiful, most talented and most supportive WAGs in all of sports cheering them on, how can our men possibly lose? On second thought, I'm calling for a Yankees sweep!
(BTW, Minka -- you're 29. Isn't that a little old to play a high school girl? Are you, like, trying to break Stockard Channing's record from "Grease"? But if you've already graduated on the show, please excuse me -- I've never watched it.)
Jim Caple is a senior writer for ESPN.com. You can follow him on Twitter at @jimcaple.