Commentary
The untold tales of the winter meetings
Originally Published:
December 9, 2009
By
Jim Caple
| Page 2
The hot stove league temperature is never higher than during the annual winter meetings. So much baseball news and so many rumors are flying around in Indianapolis this week, you may have missed these items:
Los Angeles Dodgers
The Dodgers are rumored to be working on a complicated trade in which the part of outfielder Andre Ethier under contract to Frank McCourt would go to Cleveland for outfielder Shin-Soo Choo, while the part of Ethier under contract to Jamie McCourt would go to Baltimore for pitcher Jeremy Guthrie. In other McCourt divorce news, Jamie insists that Manny Ramirez's production belongs to her, and his $23 million contract belongs to Frank.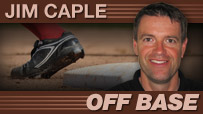 New York Yankees
The Yankees are rumored to be close to signing the National League to a five-year deal. … SABR presented Derek Jeter with its Mr. Clutch Award, honoring the shortstop for having the highest average with women in scoring position for the 14th consecutive season. … Alex Rodriguez will undergo arthroscopic surgery on his hindquarters. He is expected to be back in plenty of time for the Kentucky Derby. … General manager Brian Cashman is attempting to work out a trade for the AL Central.
Pittsburgh Pirates
Pirates president Frank Coonelly and GM Neal Huntington traded their three-bedroom suite at the Indianapolis Marriott to a traveling vacuum salesman for his room at the Motel 6 in Bargersville, Ind., then pocketed the difference in cost.
Toronto Blue Jays
Toronto is still anxiously waiting to hear the Phillies' counter-offer for Roy Halladay. "Ed Wade said he would get right back to us in late July,'" new Jays GM Alex Anthopoulos said. "But if he doesn't call back soon, we may have to look elsewhere."
Boston Red Sox
The Red Sox have reserved the main conference room for Dec. 8, 2010, so they can announce the signing of Joe Mauer at next year's winter meetings.
Kansas City Royals
GM Dayton Moore angrily denied a blog report that a deal is imminent to trade Cy Young winner Zack Greinke for a couple mid-level prospects who will not help the Royals at all. "I don't know who his sources are, but they are dead wrong,'" Moore said. "I mean, we don't plan to do that until at least next winter -- July at the earliest."
San Francisco Giants
Tim Lincecum's agent, Rick Thurman, said the two-time Cy Young winner plans to file for arbitration and will demand the Giants give him much better run support.
[+] Enlarge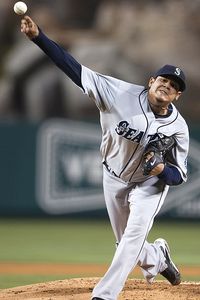 AP Photo/Chris CarlsonAll hail King Felix!
Seattle Mariners
Team sources say that the Mariners' contract offer to Felix Hernandez included making him Seattle's official "King." In addition to a tax-free $80 million salary, he'd receive a crown and a throne, a 110-room palace with servants and free cable, and the power to behead the Moose, declare war on Triple-A Tacoma, and annul marriages that result from a "Will you marry me?" scoreboard proposal. Also, under the terms of the contract, Ichiro Suzuki would be next in line of succession.
Minnesota Twins
Twins sources say that GM Bill Smith is working hard on an inadequate contract offer for Joe Mauer.
Atlanta Braves
The Braves are expected to offer veteran pitcher John Smoltz a minor league contract with the intention of leading him on for a couple of months, then abruptly releasing him just when he expects to be called up.
Tampa Bay Rays
In an attempt to boost attendance, the Rays are bringing back Ladies Night next season, offering half-price admission for any of Tiger Woods' mistresses.
New York Mets
The Mets have no money to spend on the free-agent market after GM Omar Minaya ran up a $101,500 hotel bill by removing every item from the mini-bar, ordering all the in-room movies, sending out his laundry and placing long-distance phone calls from his room.
TELL YOUR STATISTICS TO SHUT UP
•
The Baseball Writers Association of America moves so slowly, Bengie Molina would beat it in a footrace. But it did make progress at the winter meetings on Tuesday. Rather than just sitting around and complaining about player access and press box conditions, the BBWAA changed the voting procedures for the Cy Young Award. It always seemed odd that the BBWAA had 10 spots for players on its MVP ballot yet only three spots for pitchers on its Cy Young ballot. Fortunately, that is no longer the case. From now on, the Cy Young ballot will have spaces for five pitchers, rather than three. That's a good move. In another interesting development, the BBWAA is admitting Sean Forman -- the creator of baseballreference.com. This is a major step forward for an organization which was still viciously arguing two years ago about whether to admit any writers at all who work at Web sites. (I think some members were waiting to see whether this Internet thing would catch on.).
• Once again, Marvin Miller fell short of the necessary votes to be inducted into the Baseball Hall of Fame as an executive/baseball pioneer. Only seven of the 12 voters cast a ballot for Miller. (Important note: the executive/pioneer vote is separate from the annual BBWAA player vote. Only three writers have a vote on this -- the rest are baseball executives, plus Hall of Famers Robin Roberts and Tom Seaver.) That is a disgrace, and reason enough for the Hall to stop honoring non-players in this way. Some stubborn old-timers regard Miller as a villain because they hate the idea of losing their favorite players to free agency, or that players receive millions of dollars in salaries. Sorry, but Miller was good for baseball. He ended a great inequity by helping the players whom fans pay to see get their fair share of the money. Yes, the amounts of money are obscenely high -- but otherwise it would simply go to billionaire owners, who obscenely force you to subsidize their business by threatening to move their team unless you build them lavish facilities. And the idea that players move around more now because of free agency ignores the fact that players moved around all the time back in the old days via trades. Contrary to popular belief, the number of legends who play with one team for their entire career hasn't changed much over the decades. There were few such cases before free agency, and there are few now. But forget about Miller. Former Yankees owner Jacob Ruppert received only seven votes as well. Now, I have no illusions about Ruppert. He had ties to Tammany Hall, helped maintain the color barrier, and was so stingy with his players that he never paid Lou Gehrig more than $40,000 and gave Babe Ruth a paycut after Ruth hit .373 with 46 home runs, 149 runs scored and 163 RBIs in 1932. But at least Ruppert won, turning the Yankees into American sports' most successful franchise -- unlike Boston's Tom Yawkey, who never won a World Series and whose record on race was deplorable. Yet Yawkey is in the Hall, and Ruppert isn't. How can anyone consider the executive/baseball pioneer designation a credible honor with that sort of discrepancy?
• In an interview with Baseball Digest, outgoing International Baseball Federation president Dr. Harvey Schiller recommended that the sport give up trying to get back into the Olympics. "My recommendation is no," Schiller told the magazine. "If the Olympic movement wanted baseball, it would have brought the sport back for 2016. The cost associated with pushing for reinstatement again pulls monies away from developing the game, and in a challenged economy that is not a smart thing to do. We should continue to grow our international events and find new business partners, and if the Olympic movement would like us back we will be open to that. However, pursuing the Olympics again, I believe, is a waste." Schiller tried hard to get baseball back in, and if he couldn't do it with his mix of connections in the IOC, Major League Baseball and network television, it's unlikely anyone else can.
• Best wishes to Peter Gammons in his next endeavor after 20 years at ESPN. He will be missed. And congratulations to Bill Madden, whom the BBWAA honored as its J.G. Taylor Spink Award winner. Madden's name will be listed with previous Spink winners at the Baseball Hall of Fame.
Jim Caple is a senior writer for ESPN.com. You can follow him on Twitter @jimcaple.