Commentary
Baseball cards still provide a thrill
Originally Published:
February 3, 2010
By
Jim Caple
| Page 2
My friend Scooter recently bought a new pack of 2010 baseball cards, but he hasn't opened it yet. He's planning to give the pack to his wife for her birthday. Yeah, I know what you're thinking. He's giving his wife a pack of baseball cards for her birthday? What the heck is he thinking? And you're right. It's a foolish idea. He should really save them for Valentine's Day.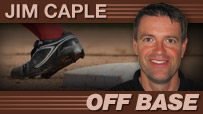 Scooter always gives his wife a pack of cards on her birthday, and yet somehow they've been married for 42 years. In fact, he gives a lot of people baseball cards -- his wife, his sons, his grandchild, his friends, and for all I know, his priest. And why shouldn't he spread a little happiness in this way? Few items so small provide such a joyful sense of anticipation as a pack of baseball cards.
You hold the pack in your hand as if it were a lottery ticket. What players might be inside? You rip open the foil and are greeted by a familiar face. It is not a star -- the first card is never, ever a star -- but it is a reliable veteran, or a middle reliever, or maybe a September call-up who looked promising. You shuffle through the cards as hopeful as when you're dealt a hand in poker. Let's see, you got Eddie Guardado, and Nick Punto, and Ryan Garko, and -- good grief, another Willie Bloomquist? -- and James Parr, and then, boom! There's an Ichiro! When you turn over the card to glance at Ichiro's stats -- nine consecutive .300-average and 200-hit seasons -- summer and your childhood both seem a little bit closer.
Thus, with gray February skies threatening rain and spring training still two weeks away, I needed this fix. So earlier this week I rode my bike to the local card shop and felt just like a kid again -- except I didn't have a baseball card clothes-pinned to my spokes. Also, my knee ached with the rheumatism.
DJ's Sportscards in Renton, Wash., is a splendid little shop, owned by DJ Joss, who started his business in 1988 when he was 16 years old and the baseball card industry was exploding and going to make us all rich. "I didn't know what I was doing but you really didn't have to in those days," he said. "You just put out a box of cards and you were busy." His shop is located in a little strip mall between a dry cleaners and an Asian restaurant. A wooden chainsaw statue of Ken Griffey Jr. carved by Joss's great-grandfather stands vigil outside, while inside collectors search through everything from old Griffey cards (always popular) to a set of politician cards (not a big seller).
Joss has been around long enough to sell cards to Tim Lincecum when the Cy Young winner was a kid growing up just down the road, and also to bring Lincecum in for a card-signing after he reached the majors. Joss has been through it all over the years, watching the card industry soar and then crash. Not only has his store survived when so many others have died, but it has been able to provide a living for him, his wife and their 10 children (a sign on the door announces the birth of the latest addition to the Joss roster). Yes, 10 children! Some are adopted, but that still means Joss has had sex more often than most baseball card collectors.
I bought a pack of the new Topps 2010 set while at DJ's, and eagerly ripped open the foil wrapper to reveal the treasure inside. There was Colorado pitcher Jorge De La Rosa, and Giants catching prospect Buster Posey's rookie card, and Washington slugger Adam Dunn, and -- yes, Tim Lincecum! -- and a 1976 Mike Schmidt retro card, and a Zack Greinke promotional card, and a Steve Carlton "peak performance'' card, and a Matt Kemp, and an Ian Stewart, and a Chris Iannetta.
[+] Enlarge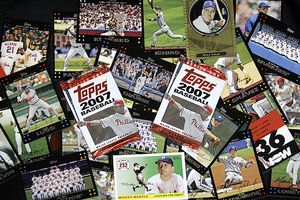 AP Photo/Chitose SuzukiWhen's the last time you went through your baseball card collection?
It was quite a haul for my first pack of the season: a Gold Glove center fielder, an All-Star first baseman, a 14-game winner, a top prospect, and a two-time Cy Young winner who used to buy cards in this very shop. If this is a harbinger for the upcoming season, I'm ready to buy tickets for a Giants-Mariners World Series, with Lincecum facing Griffey in the bottom of the ninth in Game 7.
Griffey's famous 1989 rookie card helped launch Upper Deck, and I had hoped to buy a pack of the new Upper Deck series as well, only to learn that this week's scheduled release is on hold due to a rights dispute with Major League Baseball. Last year, MLB granted Topps exclusive rights to manufacture cards with its logos beginning this season, but Upper Deck maintains a separate contract with the Players Association that gives it the right to sell cards as well. An Upper Deck representative declined to comment on the situation, but there could be some sort of announcement later this week.
"I'm so confused by the whole situation, I don't know how it's going to turn out," Joss said. "I've got 2010 Upper Deck Baseball ordered, but I don't know whether it will be able to be shipped to me or not. … I just got an e-mail from my distributor this morning saying they've been asked not to release that product. It exists. It's sitting in the warehouse right now and they can't release it."
I hope they work something out. I started collecting cards when Topps was the sole producer, and I still love their cards. While the hobby was less daunting and less expensive when there was only one company -- and one set -- to buy, Upper Deck also prints beautiful cards, and it would be a shame to lose them. As Joss said, competition is good for the business. "I have customers who've collected Upper Deck for years, and if you say there's no more Upper Deck it makes it easier for people to say, OK, I'll be done or I'll buy less."
No matter what happens, the industry will survive. Baseball cards have been around for more than a century, and they will continue to be around so long as they make us feel young and excited about the future. This rookie is going to be a star! This veteran is going to lose those 40 pounds, stay sober, and catch up to the fastball again and lead my team to the World Series! While I was at DJ's, a man came in to buy a 1952 Topps Dom DiMaggio, and also showed off two baseball cards from the 1880s, when cards came with tobacco (and modern day parents worry about Joe Camel?).
Just before I left, a young man came in to inquire about selling his collection. He said he'd lost interest in baseball in the late '90s and didn't even know which players were good anymore or which cards were valuable. Joss told him to bring his collection in and he would make an offer. I wanted to tell the guy, "Don't do it! You'll regret it! You'll be trading away rich memories of your youth for a few bucks that will be gone before pitchers and catchers report -- and you won't even have your mother to blame! And then you'll have to listen to your wife complain when you come to your senses and buy them back for a lot more money in a decade or so!"
Not wanting to interrupt Joss' business, though, I held my tongue and pedaled home in a light rain, thinking of spring and baseball.
By the way, I bought a second pack of Topps cards, but I haven't opened it yet. You see, it's our 14th anniversary this week and I need to get my wife something special.
DONNY, YOU'RE OUT OF YOUR ELEMENT
• Pittsburgh Pirates president Frank Coonelly announced at the club's fanfest over the weekend that while Pittsburgh Penguins owner/legend Mario Lemieux had met with Pirates owner Bob Nutting about a possible purchase of the Pirates several months ago, the team is most definitely not for sale. Gee, thanks, Frank. Why didn't you just announce the team is raising ticket and beer prices while you were at it? Fanfests are supposed to generate excitement, not make fans want to tear out their hair. Pirates fans have endured 17 consecutive losing seasons, and the Pirates' 2010 payroll may be even lower than the team's payroll in 1992, the last year the Pirates made the playoffs (and the 2010 team won't be nearly as talented as the 1992 team). Sigh. Fans can at least be happy that the Pirates didn't trade prospect Pedro Alvarez to the Braves for Eric Hinske while Alvarez was signing autographs.
• The Negro Leagues Baseball Museum in Kansas City is in financial difficulty, which is a shame because the place is a national treasure. I remember visiting it on my sports tour of the Lewis and Clark Trail in 2004, and, among the many wonderful exhibits, what stood out most was a Wichita newspaper clipping from 1925 that announced a local black team would play a game against Wichita Ku Klux Klan No. 6. As I wrote back then, the startling thing is not that a Klan team would play a black team, or that it was perfectly acceptable for the KKK to have a public baseball team. No, what was most revealing was that there were at least six Klans in the area. Otherwise lost history such as that is what makes the Negro Leagues museum so educational, enlightening and important.
[+] Enlarge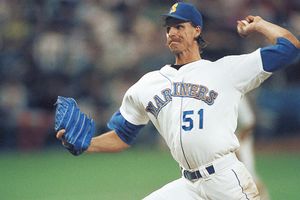 AP Photo/Duncan LivingstonThe Big Unit will be throwing out the first pitch in Seattle in April, and some Mariners fans aren't happy about it.
• The Mariners announced last week that recently retired Randy Johnson will throw out the ceremonial first pitch at the team's home opener on April 12. This had some fans sputtering, because they feel Johnson quit on the team in 1998 after the Mariners didn't give him a requested contract extension. Did Johnson tank that season? The issue is not as simple as his critics say it is. Yes, he was 9-10 with a 4.33 ERA for the Mariners before they traded him that July, and 10-1 with a 1.28 ERA after they traded him to the Astros. But that doesn't begin to tell the full story.
Check out his day-by-days from that season in Seattle, which include a one-hit shutout, 14 double-figure strikeout games, and at least nine games in which he threw more than 130 pitches. Also bear in mind the significant differences between pitching in the hitter-friendly Kingdome for a losing team and pitching in the pitcher-friendly Astrodome for a division champ. Also, read this analysis at USSMariner.com. Johnson pitched some great games for Seattle in 1998 and he pitched some awful games -- he was wildly inconsistent. Is that tanking? I don't think so.
I remember covering the Twins in 1989, when Frank Viola was a mess due to his own contract situation. He wasn't tanking, but he let things get to him so much that he was unreliable, and wound up being traded -- and that was after he was given a huge contract. Players occasionally do let contract issues mess with their concentration, which affects their performance, but it isn't on purpose. Whatever went on with Johnson in 1998, I always balance it against what he did in 1995. Had it not been for him, the Mariners would not have made the postseason that year, and may have wound up leaving Seattle. That epic week in 1995 -- his playoff complete-game victory against the Angels on short rest, his victory against the Yankees on short rest in Game 3 of the Division Series, and then pitching in relief to win Game 5 against the Yankees -- more than makes up for whatever reason was behind his erratic performance in 1998 for a team that was 10 games under .500 and 10 games out when it traded him.
• Condolences to the family and fans of Jane Jarvis, the organist at Milwaukee's County Stadium from 1954 to 1962 and Shea Stadium from 1964 to 1979, who passed away earlier this week at age 94. But on the subject … no disrespect, but why do some baseball teams still insist on playing organ music? I mean, it made sense in the days before electronic capabilities, but how many people would rather hear "Oh Bla Di, Oh Bla Da" on the organ rather than Coldplay's "Viva la Vida"?
• Congratulations to ESPN broadcaster Jon Miller on being named the Baseball Hall of Fame's Frick Award winner. Miller truly is one of the best there is, and the award is well-deserved.
• Have faith, folks. Pitchers and catchers report in 15 days.
Jim Caple is a senior writer for ESPN.com. You can follow him on Twitter at jimcaple.