Commentary
Baseball writers should pick the Oscars
Originally Published:
March 5, 2010
By
Jim Caple
| Page 2
If they voted for the Academy Awards the way baseball writers vote for the Hall of Fame, no movie would have won Best Picture since "Schindler's List."
[+] Enlarge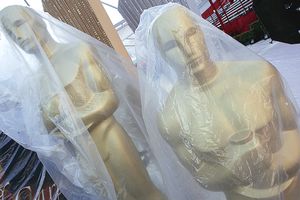 AP Photo/Amy SancettaYep, we're getting very close to the unveiling of the 82nd annual Academy Awards.
The old system for choosing Best Picture had its advantages -- even when "A Beautiful Mind" won. But the Academy has changed things up this year. First, the number of nominees for Best Picture doubled to 10, which is a bit like doubling the number of wild-card teams in the playoffs. It doesn't mean there are better movies/teams or more league parity -- it just increases ticket and DVD revenues. Second, voters rank the nominees on their ballots from 1-10. Third, the winning movie is chosen through a system more complicated than the BCS or the "Matrix" trilogy.
Steven Zeitchik of the Los Angeles Times explains it more fully here. But basically, the voting system works like this: If a movie receives a majority of the first-place votes, it wins Best Picture. If no movie receives a majority, the film that had the fewest first-place votes is eliminated and all its second-place votes are given to the remaining movies. If that doesn't produce a winner, the ninth-place movie is dumped and its second-place votes are distributed. This process continues until one movie has a majority of the votes and wins Best Picture.
And you thought figure skating's system was complicated?
A better and simpler system would be the same one the Baseball Writers Association of America uses to pick the league MVP awards. In our system, writers rank each player from 1-10, and our votes are weighted. Pick a player No. 1 and he gets 14 points. Pick another player No. 2 and he gets nine points, pick him No. 3 and he gets eight points, and so on. Whoever receives the most points wins. We keep it simple at the BBWAA -- otherwise we wouldn't understand how it works.
The only downside to letting us vote for Best Picture might be the grief Keith Law could receive for voting for "Anvil! The Story of Anvil" over "The Hurt Locker."
Plus, unlike Academy voters, baseball writers don't hide behind anonymity. We publicly back up our picks, no matter how misguided they are. Which brings me to how this sportswriter would fill out his Oscar ballot:
10. "Avatar": (aka "Dances With Aliens") This is a movie unrepentantly on performance enhancers. It takes a tired plot with warning-track power and attempts to turn it into a 50-homer, 120-RBI blockbuster through special effects and 3-D glasses. But most everything in here looks as bloated and unnatural as the muscles on a certain ex-San Francisco Giants left fielder. Like home runs in the late 1990s and early 2000s, the grander and more elaborate special effects become, the less real any of them seem. Rather than three-dimensional FX and one-dimensional characters, I'll take the equivalent of a tense, old-school 2-1 pitchers' duel. You don't need explosions and fireballs to build suspense (think how the climax to "Notorious" kept you on the edge of your seat) -- a finale can be just as satisfying with a two-out single to left that scores the winning run from second (though Pirates fans may disagree).
9. "A Serious Man": I love the Coen brothers, who've consistently delivered Hollywood's most intelligent movies, beguiling characters (The Dude!) and clever dialogue for the past quarter-century. But giving this a Best Picture nomination is like voting for Vladimir Guerrero as the 2009 AL MVP based on all the MVP-caliber seasons he had in previous years. Like Guerrero in 2009, this Coen brothers spent much of this movie on the disabled list and limped around on bad knees. Plus, there was no payoff at the end -- just a puzzling final scene rather than a big home run off Andy Pettitte.
[+] Enlarge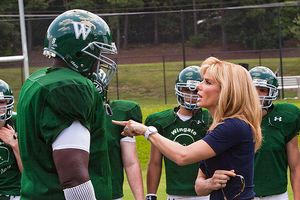 Warner Bros. PicturesMany people were shocked at the huge success of "The Blind Side."
8. "The Blind Side": Based on Michael Lewis' best-selling book about the evolving importance of the left-tackle position in football, this movie garnered Sandra Bullock a Best Actress nomination for her incredibly demanding and multilayered role as a blonde in tight dresses. The best part of the movie is the opening scene, in which Bullock explains the blind-side concept while you watch a videotape of Lawrence Taylor's infamous 1985 hit on Joe Theismann. OK -- I've seen gruesome scenes. The storming of Omaha Beach in "Saving Private Ryan." Dustin Hoffman getting his teeth drilled ("Is it safe?") in "Marathon Man." Pierce Brosnan singing in "Mama Mia." But there is no more horrifying piece of video anywhere than watching Theismann's leg snap. It's a crime he didn't get a Best Supporting Actor nod. For crying out loud, he didn't even use a stunt double.
7. "Precious": Talk about precious. The full title is "Precious: Based on the novel 'Push' by Sapphire," which is even more unwieldy than the Los Angeles Angels of Anaheim.
6. "Inglourious Basterds": The most violent scene in the movie is when Donny "The Bear Jew" takes a baseball bat and bashes in a German officer's skull -- which, by the way, is what Quentin Tarantino considers a restrained bit of violence. What makes the scene work so well is that Donny uses a good old Louisville Slugger instead of one of those maple bats that would have shattered and taken out Brad Pitt with a shard to the eye. Even so, this is not the best use of a bat as a cinematic weapon. My rankings:
• 6) Joaquin Phoenix attacks an alien with his prized baseball bat in "Signs."
• 5) Simon Birch (in the film of the same name) hits a foul ball that strikes and kills Ashley Judd.
• 4) The Baseball Furies, a bat-wielding gang wearing pin-striped baseball uniforms and mime makeup, attack a rival gang in "The Warriors."
• 3) A possessed Jack Nicholson chases after Shelly Duvall with a Carl Yastrzemski model bat in "The Shining."
• 2) Donny in "Inglourious Basterds."
• 1) Robert De Niro, as Al Capone, bludgeons a colleague's head at the banquet table in "The Untouchables."
5. "District 9": A highly creative blend of science fiction, social commentary, drama and comedy, this movie was incredibly entertaining for the first three-quarters of it, then fell horribly apart with a prolonged and insultingly stupid final battle scene that was more like a video game than a motion picture. It was like watching the 2009 Detroit Tigers play a splendid, satisfying season, provide an economically beleaguered region something to rally around, build up a comfortable lead in their division, set everyone up for an entertaining postseason … and then blow a 3½-game lead with four games remaining. Only in this case, you didn't have the Twins to root for as a consolation.
4. "The Hurt Locker": This picture is getting a lot of buzz to win, and I bet it will. I liked it enough when I saw it -- but the thing is, I really don't remember much about it now, other than that it was good. That's how I felt about Fred McGriff when his name went on the Hall of Fame ballot for the first time this winter. I know he was a good player, but I really don't remember much specifically about what he did. Still, I voted for him, if unenthusiastically. So if "The Hurt Locker" wins, I'll be OK with that, too, if only because it means "Avatar" did not get the award.
3. "An Education": Carey Mulligan is exceptional in this movie -- she deserves the Oscar -- but let's focus for a moment on Emma Thompson, who has a small role as a stern, unforgiving schoolmaster. Thompson is a terrific actress who not that long ago was one of cinema's brightest stars. So how come she keeps getting stuck with such dreary roles? The only way her characters could get any dowdier is if she took on Robin Williams' role in a sequel to "Mrs. Doubtfire." She's a bit like Reggie Sanders in that respect.
Sanders was a very dependable baseball player -- with good power and a fair amount of speed, friendly and well-liked by his teammates -- yet he could never find a role with any team where he could stick. He played for seven different teams in seven consecutive seasons during one stretch, helping many to the postseason -- only to be forced to move on and find another role with some other team. I could no more understand his career arc than Thompson's. Worst of all, Sanders finished up his career with the 2007 Kansas City Royals, which I guess means Thompson's next gig could be a Jenny Craig commercial.
[+] Enlarge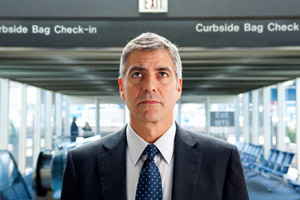 DreamWorks PicturesGeorge Clooney has come a long way since "Facts of Life."
2. "Up in the Air": This great movie hit way too close to home for me and many other sportswriters. Like George Clooney's character in the film, we spend way too much of our lives on the road and in airports, trading precious family moments for frequent-flier miles and hotel points. People ask me if I saw a particular episode of "The Office" or "30 Rock" and I have to say, "No, United and Delta haven't shown it on their in-flight entertainment system yet." Last year I was elevated to Lifetime Platinum status with Marriott -- which meant I had stayed more than 1,000 nights at the chain -- and it felt like I had been elected to the Hall of Fame. Add in the nights I've stayed there since then, and I've spent three entire years of my life in their hotels. Yeah, that's a little pathetic.
But hey, at least I'm traveling the country to write about athletic excellence instead of helping soulless companies lay off employees I've never met. Whenever I see guys like the Clooney character in the airport (or sipping a complimentary drink in the first-class cabin), I always consider myself lucky because my job takes me to ballparks, college campuses and Olympic cities rather than dull, stuffy conferences and sales meetings. Plus, we get free hot dogs and soda in the press box, which totally beats whatever executive lounge the Clooney-types get with their 100K status.
On the downside, we look like sportswriters rather than, well, George Clooney.
1. "Up" This was my favorite movie of the year. The animation is superb, rendering a world that seems far more real than the one in "Avatar." And the opening sequence, where you see the couple's lives eloquently play out, is the most concise, simple and emotionally satisfying piece of storytelling since … well, since the opening of Pixar's "Wall-E." Which brings me to the point. Pixar has made 10 feature-length movies now, and each one has been a critical and box-office hit. From the "Toy Story" movies to "Finding Nemo," "The Incredibles," "Wall-E' and "Up," these guys haven't missed. Every swing is a home run. If Pixar was a baseball player, it would be Albert Pujols.
Unfortunately, I doubt "Up" will win Best Picture. What's worse is, whichever movie wins, we won't know the score, only the outcome. We won't know whether the picture won on the first ballot or the eighth, whether it was a blowout or a one-run game. Why is this? The BBWAA publishes its vote for all the annual awards and the Hall of Fame. We let you know by precisely how many votes a player missed election to the Hall of Fame.
Just another reason to put the BBWAA in charge of the Oscar voting. Though I'm not sure if some of the movies we watch on hotel video systems meet all of the Academy's eligibility requirements.
Jim Caple is a senior writer for ESPN.com. You can follow him on Twitter at jimcaple.