Commentary
The annual Off Base spring notes
Originally Published:
March 10, 2010
By
Jim Caple
| Page 2
After a long winter of being overwhelmed by relentless blogs, rumors and Twitter feeds, it's refreshing to sit back and catch up on all the baseball news by reading the daily spring training notes that explain what's going on in every camp. But first, the annual Off Base spring training notes:

Twins: Injured right-handed pitcher Joe Nathan is considering experimental Elton John surgery, which would still leave him unavailable to pitch this season but would at least make him available to perform the national anthem. … New groundskeeper Larry DiVito said Target Field is ready to go for Minnesota's first outdoor Opening Day in 29 years, thanks to a fleet of four tractors, 12 lawn mowers and two Zamboni machines.
Phillies: U.S. Senator and Hall of Fame pitcher Jim Bunning announced he will attend his former team's home opener to throw out the first unemployed worker into the streets.
Giants: The simulated Tim Lincecum from the "MLB 2K9" video game commercial pitched a simulated game Tuesday morning and looked "simply unreal," according to pitching coach Dave Righetti. … Concerned about third baseman Pablo Sandoval's weight, the Giants are asking opponents to feed Kung Fu Panda nothing but belt-high fastballs.
White Sox: Despite a week of intense scrutiny, an advanced team of English and Spanish professors from the University of Chicago and cryptologists from the National Security Agency say they still are no closer to understanding manager Ozzie Guillen's March 3 tweets. "They're a total mystery," one said. "We haven't been this stumped by a foreign language since Casey Stengel retired."
Nationals: Washington manager Jim Riggleman says the club will take it slow with right-hander Stephen Strasburg, letting him get his toes wet at Class A and then wading in up to his knees at Double-A before finally walking on water. Strasburg, last year's No. 1 draft pick, already has endeared himself to teammates by turning Gatorade into wine during games and raising second baseman Adam Kennedy's swing from the dead.
[+] Enlarge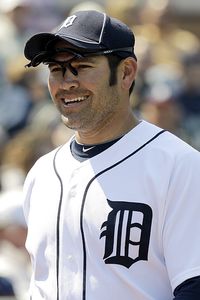 AP Photo/Eric GayJohnny Damon is all smiles when he sees Brad Lidge on the mound.
Tigers: There was a touching ceremony before the recent Phillies-Tigers game when new Tigers outfielder Johnny Damon returned the wallet, watch and wedding ring he stole off Phillies closer Brad Lidge in the ninth inning of Game 4 of last year's World Series.
Cubs: In addition to having a $2 surcharge slapped on their tickets to help fund a new complex for the Cubs to keep the team in Mesa, the 14 other teams training in Arizona will be required to pay the remainder of Alfonso Soriano's salary, plus the team's rental-car bill and manager Lou Piniella's tab at Don & Charlie's. The Cubs also will be allowed to sell tickets to other teams' games even when they aren't playing against them.
Dodgers: The Dodgers leave Wednesday on a 12-hour flight to Taiwan to play two exhibition games in that country this weekend. Because of the international dateline, Dodgers fans in Taiwan already have left those games to beat traffic. … Outfielder Manny Ramirez has endorsed a new drink called "@&%$*#!!!," which he says he uses to boost his energy, aid his recovery time after workouts and "eliminate the menstrual cramps."
Yankees: Manager Joe Girardi's binder is reportedly weighing six-figure endorsement offers from Staples, Office Depot and Dunder Mifflin. … Shortstop Derek Jeter had a surprise visit before a recent game from his new wife, Lois Lane. … The team announced it will begin selling Joe Mauer replica jerseys as soon as it determines what number he'll wear for the Yankees next season.
Red Sox: The Red Sox unveiled the design for their new spring training complex due to open in 2012, which will include an exact replica of Fenway Park complete with grossly overpriced seats that are too narrow, have no leg room and are filled with fans who constantly go on and on about how they've had it rougher than anyone else all these years.
Royals: As expected, the Royals officially named Cy Young winner Zack Greinke their Opening Day starter and Brian Bannister as their Game 146 starter.
Jim Caple is a senior writer for ESPN.com. You can follow him on Twitter at jimcaple.