Commentary
Say it ain't so, Matt Stairs
Originally Published:
March 17, 2010
By
Jim Caple
| Page 2
Alas, we have lost another role model. Yet another athlete who served as the inspiration for untold millions has fallen from his lofty perch. Once again, a hero has disappointed his fans.
Matt Stairs lost 37 pounds over the winter.

Yes, Stairs is in shape, having dropped from 230 pounds to 193 pounds, the least he says he's weighed in almost 20 years. Don't get me wrong. You won't mistake him for Ichiro or Tim Lincecum just yet, but still, Matt Stairs losing 37 pounds? What's next? Jonah Hill competing in a triathlon?
"I have 36-inch [waist] pants and I couldn't button them, so I figured I'd better lose some weight," Stairs explained. "I never thought I'd fit into 33-inch pants again at age 42."
Stairs said he lost the weight in three months using Nutri-System, and it was so easy he was never hungry and didn't cheat once the entire first month. He said even when he did finally take a bite of pizza one day, he just chewed it for the taste and then spit it out. Can you imagine? I mean, what is this world coming to when Matt Stairs is getting anorexic on us?
"The biggest thing is that I knew I had to get in good shape," Stairs said. "And health-wise, too. If I got a job in baseball, I got a job. If I didn't, I knew I was going to be healthy. And another thing was not having the trust of other teams that I could still play defense. I didn't want to be considered just a hitter. I figured if I dropped some weight and got in shape they would see that I was serious about it and that I could play first base and the outfield."
[+] Enlarge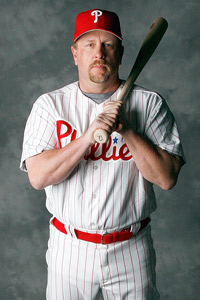 Chris Graythen/Getty ImagesHere's the Matt we used to know and love.
Great. Whatever. But what about the rest of us? What about Mr. and Mrs. North America? What about those of us who ate cartons of Chubby Hubby on our couches while pointing to Stairs and telling our spouses, "See, honey? He's a professional athlete and he's as fat as I am"? What are we to do now that Stairs has lost weight?
Go on a diet ourselves? Please.
Part of the beauty of baseball has always been that there were plenty of players who looked normal. And by normal, I mean you wouldn't have been surprised to see them waddle to the on-deck circle with actual glazed donuts around their bats. Guys like John Kruk, Tony Gwynn, Kent Hrbek, David Wells. And Stairs. That was the worst fallout from the steroids era. Forget cheapened home run records, federal investigations and congressional hearings; the worst part was that all the players started working out religiously and looking as if they should have been on a magazine cover next to a headline about "Killer Abs."
Stairs was a throwback to all this, in that he looked like he was about to throw back a beer. More disappointment on that front, by the way. Stairs says he doesn't drink, either. I really hope no impressionable teens are reading this.
"If you just look at most clubhouses, you see young guys who are just ripped," Stairs said of the way body types have changed during his career. "It's almost mandatory they work out, the way they take care of their bodies, eat properly. A lot of teams have set meals for each road trip. They all take care of their body real well. There aren't many of us -- well, I can't say myself anymore, but not many of what I was last year. The John Kruks. The Bob Hamelins. There's not a lot of them around anymore."
At this rate, they'll be calling David Eckstein a fatty in a couple of years.
"That's the way this game is going. It's going to the nutritional stage, the diets," Eckstein said. "We get all these tests done that we're all in the right categories and the guys who aren't are told more or less what to eat."
[+] Enlarge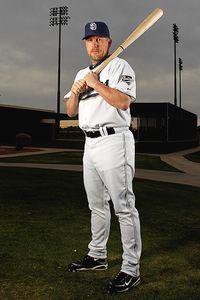 Ezra Shaw/Getty ImagesHere's the Matt who dared remind us to look in the mirror -- if we can find one wide enough.
Stairs said he saw someone wrote that he used to have "a protruding gut," which he took exception to. "I never really considered I had a protruding gut; I said I was barrel-chested," Stairs said. "It is what it is. It will be interesting to see if I'm still considered a softball player. A lot of people will be eating their words."
My guess is a lot of people will simply be eating, period.
"He sets a really good example for the younger players," Padres teammate Jerry Hairston said. "We've got a guy who's played a really long time, done about it all, won a world championship with the Phillies. A guy 42 years old, comes into camp in probably in the best shape of his life. It just goes to show if you take care of yourself and take care of your body, you can play this game a long time."
Well, I suppose that's one way to look at it. Stairs, after all, is still playing and still hitting at age 42. He simply loves baseball and is doing whatever it takes to earn a job with his 12th team. And no matter how many jokes people made about his weight, he was always fit and athletic enough to coach and play hockey in the offseason. You can draw a lot of inspiration from that.
Me, I'm just hoping Pablo Sandoval doesn't copy Stairs' diet.
Jim Caple is a senior writer for ESPN.com. You can follow him on Twitter at jimcaple.