Commentary
MLB giveaway bonanza
Originally Published:
March 31, 2010
By
Jim Caple
| Page 2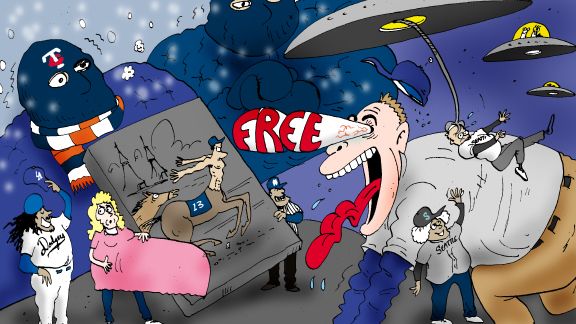 Kurt Snibbe/ESPN.com
The most popular word in the English language is "free." Regardless of income level, everyone loves getting something for free. In fact, when teams hold their giveaway nights this season you may find yourself in line elbowing for a cheap sponsor-logo-covered T-shirt with actual players earning $16 million a year.
For some reason though, these giveaway dates aren't listed on team pocket schedules.
Prince Fielder Refrigerator and Magnet Night, Milwaukee, April 6: Every team gives away cheap magnet season schedules. The Brewers take it to the next level by handing out replicas of Fielder's 89-cubic-foot, walk-in refrigerator to attach them to! Sorry, Freon gas, home delivery and the food in Fielder's fridge not included.
Joe Mauer Mask Night, Minnesota, April 16: After 29 years in the Metrodome, the Twins are moving back outdoors and celebrating by giving the first 20,000 fans a catcher's mask just like Mauer wears! Well, it's not so much a catcher's mask as a wool pullover ski mask with eye cutouts -- like burglars wear -- but it comes in team colors and will come in handy on those cold, cold nights in April. And May. And June. And September ...

Milton Bradley Baseball Cap Liner Night, Seattle, April 30: The first 1,000 paranoid fans will receive aluminum foil to wrap around their caps to block negative comments from the bleachers, secret transmissions from the government and soul-robbing alien signals from space.
Alex Rodriguez Derby Day, New York, May 1: The first 20,000 fans receive a painting on black velvet depicting A-Rod as a centaur at Churchill Downs winning the first leg of the Triple Crown. Suitable for framing and hanging in your bedroom!
Manny Ramirez Future Mothers Day, Los Angeles, May 9: The first 25,000 fans 18 and older receive a three-month supply of fertility drugs, plus a WADA-certified home pregnancy testing kit, as well as a free 60-day ban from Dodger Stadium!
Yuniesky Betancourt Bobblehands Day, Kansas City May 21: The first 20,000 fans receive a bobblehand figure of the Royals shortstop, complete with patented "E-6 action arm" capable of reaching the fifth row behind first base.
Padres Body Armor Day, San Diego, May 31: Every year the Padres salute the military by wearing camouflage jerseys. This year they take it to the next level by giving the first 20,000 fans Kevlar body armor, just like that worn by our soldiers in Iraq and Afghanistan, as well as by Barry Bonds when he was still playing.
Adrian Beltre Athletic Supporter and Protective Cup Night, Boston, June 11: All fans receive a free protective cup, just like the one Beltre doesn't wear.
Chicago Cubs Red Platinum Gold Diamond Weekend Value Days, all parks, June 16-18: The first 2.5 million fans going to any major league, minor league or Little League game in any city in North America this weekend pay an extra $5 surcharge on every ticket to help pay for the cost of the Cubs' renovation to their spring training site in Mesa, Ariz., as well the price of picking up the final three years on Carlos Silva's $45 million contract.
Ozzie Guillen Social Networking Night, Chicago, June 26: Fans receive free admission to the game if they can make any sense whatsoever of the White Sox manager's Twitter feeds that day.
Derek Jeter Replica Pants Day, New York, July 3: Does anyone need yet another cheap jersey? No, and that's why the Yankees are giving the first 15,000 fans a pair of authentic team replica pinstriped pants specially designed to be put on the same way the Yankees captain does: two legs at a time.
Jamie Moyer Turn Back the Clock Night, Philadelphia, July 8: In honor of their respected veteran starting pitcher, the Phillies will wear Moyer's rookie uniform from the 1942 Brooklyn Dodgers.
Tim Lincecum Run Support Night, San Francisco, July 19: Life isn't all fun and games, you know. So to show support and solidarity for the less fortunate, all fans bringing a can of nonperishable food to the ballpark will receive no more than one run of offensive support, which will be promptly taken away by a member of the bullpen after you leave the game.
Albert Pujols Baseball Day, St. Louis, Aug. 1: The first 1,000 fans receive a baseball personally autographed by the great Cardinals slugger. Note: Fans must pick up their baseballs outside the ballpark and across the street from the outfield where Pujols will have hit them during batting practice and the three-game series against the Pirates.
Vladimir Guerrero Souvenir Bat Night, Texas, Aug. 10: Fans ages 15 and under receive a 56-inch-long Guerrero souvenir bat, perfect for hitting pitches two feet outside and in the dirt.
Pirates Hair Shirt Day, Pittsburgh, Aug. 23: In accordance with the club's frugality despite ample revenue-sharing, the first 10,000 fans -- and let's be honest, will there be even that many? -- will receive a Pirates hair shirt. There is no name or number on the back so there is no worry that it will look dated in two weeks when the team trades off another player.
Dustin Pedroia Growth Chart Night, Boston, Sept. 5: The Red Sox send young fans ages 13 and under back to school with a growth chart that allows them to measure their height throughout the year, all the way up to 5 feet, 4 inches!
Joe Maddon 3-D Glasses Night, Tampa Bay, Sept. 13: See the world champion, All Star-studded, $200 million-payroll Yankees the same way the erudite Rays skipper does as he attempts to compete: through a free pair of 3-D glasses that computer-enhances every pulsing pinstriped muscle, 8-foot-tall body and $25 million paycheck.
Ichiro Non-Souvenir Bat Day, Seattle, Sept. 19: In honor of Ichiro's likely reaching the 200-hit mark for the 10th consecutive season, no fans will receive an authentic, game-used Ichiro bat, made of tamo wood, jealously guarded and carefully preserved in a humidor carrying case and protected from the damaging fingerprints or glances of a batboy or teammate. While Ichiro is at the plate, however, ushers will pass out two white cards punched with a pinhole so fans can safely view the bat as if it were a solar eclipse.
Bobby Cox Appreciation Night, Atlanta, Oct. 2: To honor the retiring longtime Atlanta skipper, all fans will be allowed to parade around the field to home plate, where an umpire will then eject them from the game. In a further salute to Cox, fans will be invited back to lose in the postseason.
BOX-SCORE LINE OF THE WEEK
I'll always have a soft spot for Jamie Moyer, aka "Old One Mississippi, Two Mississippi." He not only has won nearly 250 games despite pitches that dip into the 70s; he also is the last remaining player who was born the same year as I was. He's months younger but nonetheless, as long as he's still pitching, I don't feel quite so old. Moyer lost his spot in the rotation late last year when the Phillies signed Pedro Martinez and then his spot in the 'pen due to an injury that eventually sent him to the hospital. But he likely earned a starting spot last week with nearly seven scoreless innings. His line:
6 2/3 IP, 1 H, 0 R, 0 ER, 0 BB, 6 K
DONNIE, YOU'RE OUT OF YOUR ELEMENT
• President Obama will throw out the ceremonial first pitch in Washington, marking the 100-year anniversary of William Howard Taft's throwing out the original presidential first pitch. According to this Washington Times story, Taft, who needed a special seat for his enormous bulk (he was sort of the CC Sabathia of presidents), tossed the ball from the stands to Walter Johnson, who subsequently pitched a one-hitter. He nearly had a no-hitter but what should have been a routine fly out by Frank Baker dropped for a double when the outfielder tripped over the foot of a fan standing behind a rope that was keeping back an overflow crowd of 15,000. Baker had quite the day -- he also hit the Secretary of State in the head with a foul ball. According to Wikipedia, the opening day first pitch took place in D.C. (Griffith or RFK Stadium) when Washington had a team, and in Anaheim Stadium (Nixon), Wrigley Field (Reagan), Arlington Stadium (Ford and George H.W. Bush), Baltimore's Memorial Stadium (Reagan and George HW Bush), SkyDome (George HW Bush), Camden Yards (Clinton), Shea Stadium (Clinton), Pac Bell Park (Clinton), Jacobs Field (Clinton), Miller Park (George W. Bush), Busch Stadium (George W. Bush), Great American Ballpark (George W. Bush) and Nationals Park (George W. Bush).
• The Mariners looked like a good bet during the winter when general manager Jack Zduriencik was picking the pockets of his fellow GMs and acquiring Chone Figgins and Cliff Lee (and locking up Felix Hernandez with a contract extension). But as spring training draws to a close, the Mariners aren't looking quite so glittering despite the good Z-Man's winter. Lee is out with an abdominal strain, and while he should return soon enough, will he be that much better than Jarrod Washburn was for Seattle last year? Even if he is -- and Washburn re-signs and Felix is just as good or better -- the question is whether the Mariners can score enough runs to win a title. They scored 640 runs last year, which not only was last in the league, but only the Padres and Pirates scored fewer (and just barely). The Mariners won 85 games despite being outscored by 52 runs. Figgins will help, but what they really need is a slugger who can help knock him and Ichiro home. The prevailing wisdom when last season ended was that the Mariners couldn't return with a DH platoon of both Ken Griffey Jr. and Mike Sweeney, yet that appears to be exactly what they will do. Who will make up for Russell Branyan's power? Seattle received a lot of praise for winning with pitching and defense, but its infield defense wasn't that good -- Yuniesky Betancourt and Jose Lopez formed one of the worst shortstop/second base combos in the majors until Seattle unloaded Betancourt on the Royals -- and now Adrian Beltre is gone and Lopez is at a new position. The outfield remains outstanding -- Franklin Gutierrez and Ichiro provide more coverage than a commercial promises for 4G cell phone service -- and for the first time in a while fans can count on management to perform superbly. But the Mariners were 35-20 in one-run games last season, a success rate that will be difficult to repeat.
Jim Caple is a senior writer for ESPN.com. You can follow him on Twitter at jimcaple.