Commentary
Hands up! This is an MLB stickup!
Originally Published:
April 14, 2010
By
Jim Caple
| Page 2
Irony of the week: Monday afternoon the Minnesota Twins opened their wonderful new ballpark, a ballpark their owners had whined, bitched, fought and threatened for almost since Camden Yards ignited the frenzy for new stadiums in 1992. Later that day, the Baltimore Orioles drew the smallest crowd in the history of their stadium, 9,129. That's fewer fans than even the Pittsburgh Pirates drew one day last week and less than the San Francisco Giants averaged for their Cactus League games.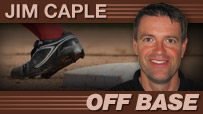 Funny how 12 consecutive losing seasons will dampen fans' enthusiasm for a beautiful retro park.
Whenever a new park opens, my friend Scooter and I joke about which team with a new $500 million ballpark will be the first to threaten to move unless taxpayers build a $1.5 billion replacement. He nominates the Arizona Diamondbacks, comparing a game in their stadium to watching baseball inside a Chuck E. Cheese. If not Arizona, though, it will be some other team. No matter how grand (Yankee Stadium) or beloved (Ebbets Field) a stadium is, a team always demands that taxpayers build them a new one.
So some day, and probably in the not-too-distant future, we will read this story:
BALTIMORE -- Baltimore Orioles owner Peter Angelos put a damper on the opening of the 2012 season by announcing that his team will have to relocate to Indianapolis unless it gets a new taxpayer-funded, state-of-the-art domed stadium to replace what he termed "antiquated" Camden Yards.

"While Camden Yards may have served its limited purpose when it first opened 20 years ago, the world has changed dramatically since then," Angelos said. "Camden Yards was built before the Washington Nationals joined our market, before the Internet changed the media, before YouTube, iPods and cell phones changed our culture and before Alex Rodriguez met Scott Boras. If the Orioles are to compete with the Yankees, we need a new stadium so we can change as well."

Noting that the Orioles have never played in a World Series since moving into Camden Yards, Angelos said his team is hurt by their open-air ballpark because it is too rooted in the past.

"It is a 'retro-park' that appeals mostly to an aging demographic with fuzzy nostalgia for ballparks of the past. But those fans don't attend games anymore -- they watch games on TV in their retirement homes," he said. "To rebuild our fan base, the Orioles must appeal to younger fans who have never heard of Ebbets Field or Boog Powell.

"These fans don't want to be reminded of their grandparents' past, they want to enjoy the modern pleasures of their present. This is a generation used to sitting inside all day staring at TV and computers. They don't want to go outdoors and stare at an old brick building on cold April nights or muggy summer days or drizzly September nights. They want to sit inside in comfort and have great cell phone coverage the entire season."

Asked about pleasant, sunny days in May or June with temperatures in the 70s, Angelos said those are bad as well. "Good Lord, haven't you read about the rise in skin cancer brought on by excessive exposure to the sun's dangerous rays?" He added that cloudy days can be even worse for ultraviolet rays.

Commissioner Bud Selig cited security concerns as another problem with Camden Yards. "You need only watch 'The Sum of All Fears' to see what could happen if someone detonated a nuclear bomb at a Baltimore stadium or, worse, Ben Affleck is given a starring role in a movie," Selig said. "Being an open-air stadium, Camden Yards is far too exposed to a myriad of attacks in this dangerous age of mad terrorists, disgruntled Expos fans and uncertain revenue streams."

To address all these concerns, Angelos and Selig said, the Orioles require a climate controlled, fully secure facility. "Domes are the future," Selig said.

Angelos estimated that with the cost of land, infrastructure and the chocolate fountains and gold-leaf urinals in the luxury suites, a domed stadium will cost as much as $1 billion. To help with the cost, the Orioles owner said he is willing to negotiate with the NFL's Ravens on a possible multi-purpose stadium built in a circular shape. "Some critics call it a cookie-cutter shape," Angelos said. "I call it a classic design that has endured the test of time since the Romans first built the Coliseum."

Angelos also said that because downtown parking fees can be prohibitively expensive (and not shared by the team), the new dome should be built in the suburbs where most fans live.

Selig said that Baltimore isn't alone, that fully domed stadiums are needed for every other major league team too, in order to avoid costly broadcast-interrupting weather delays, as well as a repeat of the 2011 World Series that was delayed three weeks by rain, hail and snow in what came to be known as the December Classic before the Twins beat the Mets under the new best-of-11 format.
CSI: BOX SCORE
This week marks the start of a new, improved Off-Base, with no taxpayer funding whatsoever. The first of the new features is CSI: Box score. Each week, I'll give you a fragment from an old box score, then ask whether you can determine its historical significance from that bit of information. Here's the leadoff box. Difficulty rating: 5.
You can find the answer at the end of this column.
| | | | | | |
| --- | --- | --- | --- | --- | --- |
| CHICAGO | At-Bats | Runs | Hits | RBIs | Average |
| Kennedy, 3b | 4 | 0 | 0 | 0 | .000 |
| Kuhel, 1b | 3 | 0 | 0 | 0 | .000 |
| Kreevich, cf | 3 | 0 | 0 | 0 | .000 |
| Solters, lf | 3 | 0 | 0 | 0 | .000 |
| Appling, ss | 3 | 0 | 0 | 0 | .000 |
| Wright, rf | 3 | 0 | 0 | 0 | .000 |
| McNair, 2b | 3 | 0 | 0 | 0 | .000 |
| Tresh, c | 3 | 0 | 0 | 0 | .000 |
| Smith, p | 3 | 0 | 0 | 0 | .000 |
| TOTALS | 28 | 0 | 0 | 0 | .000 |
BOX SCORE LINE OF THE WEEK
There were several interesting lines in baseball's first week. There was this one: "E-Moore 2 (2)," which the Seattle Mariners' Adam Moore put up by being called twice for catcher's interference. According to Elias Sports Bureau, he was the first catcher to do that since Mark Salas in 1986. Then there was this wild line by the Texas Rangers' Rich Harden, who was nearly unhittable on Wednesday, not that it did him much good: 3 2/3 IP, 1 H, 3 R, 1 ER, 5 BB, 8 K, 1 HBP.
But this week's award goes to Minnesota reliever Jon Rauch for his save in the Twins' 5-2 victory that opened their new park: 1 IP, 0 H, 0 R, 0 ER, 0 BB, 0 K
What's so special about protecting a three-run lead you ask? Nothing. Which is precisely the point that I and others have been trying to make for years when we say closers are vastly overrated. Nothing against Joe Nathan, but despite all the angst when he was lost for the season, I figured the Twins would find someone to replace him because teams so often do. The season is still young but I think Rauch will do just fine as closer, just as Ryan Franklin, a generally mediocre pitcher most of his career, did last year for the St. Louis Cardinals, just as David Aardsma did for the Mariners, just as Nathan did for the Twins, just as Eddie Guardado did before Nathan, and on and on and on.
DONNY, YOU'RE OUT OF YOUR ELEMENT
• I love the Twins new ballpark, which ranks among the very best of the new stadiums. Its success is mostly because of the care and planning that went into it -- there is a real sense of place, a crucial local feel -- and partly because the Twins were forced to make a small area of land work (part of the outfield seats extend back over a street, not that you can really tell). Constraints like that are what give a ballpark its charms. My complaint about new ballparks is simply that the taxpayers should not be stuck with the bulk of the funding. I covered the fight over a new stadium in Minnesota during some of its most bitter years and consider Selig's recent portrayal of the whole affair to be revisionist history at its worst. He said that the Pohlad family never wavered in its desire to keep the Twins in Minnesota but that was hardly the impression given when Carl announced a verbal agreement to sell the team to a businessman who wanted to move it to North Carolina, or when ownership released a series of clumsy, offensive commercials showing what life would be like in Minnesota should the Twins leave -- in one of those spots, the Pohlads showed tumbleweeds blowing through downtown Minneapolis. And if Selig now claims that contraction was greatly exaggerated, does that mean it was all a sham? In the end, Minnesota has a beautiful ballpark -- and for $550 million, it should. (Memo to fans: Get the $6 wild rice soup, avoid the $11 walleye-on-a-stick and bring lots of sunscreen to summer day games. Despite the understandable concern about cold weather issues in Minnesota, a bigger concern might be how hot fans will get during summer day games in a park with very little shade. Either way, Minnesotans will make it work.).
• My great colleague, Jayson Stark, wrote last week about the possibility of divisional realignment and the less likely possibility of splitting up the Boston Red Sox and New York Yankees. Jayson explains well why that won't happen, and here's another argument for leaving that rivalry alone. Rather than focus on the recent dominance of those teams, the more pressing issue has been the sub-par performance of the other teams in the AL East. Consider this: In the 15 seasons since the wild-card format was implemented, the third-place team's record in the East would have placed them in third place or lower in the other divisions nine times. It would have placed them third or lower in one division and second or tied for second in the other division four other years. In only one year did the third-place team in the East have a record sufficient to finish first outright in another division -- and that was the Yankees in 2008 (the Toronto Blue Jays' record in 1998 would have tied for the AL West crown). Obviously, the uneven schedule makes it difficult to equate records across the divisions. Fair point. But given that the Orioles have had 12 consecutive losing seasons and that the pre-2008 Tampa Rays were a perennial 90-plus loss team, it would be an enormous stretch to say they could have qualified for the postseason during those years had they just been able to compete in another division. The Blue Jays might have an argument but they have had more losing seasons than winning seasons under the wild-card format and haven't won more than 88 games either, so it's difficult to feel bad for them. Look, I'm as tired of seeing New York and Boston in the postseason as anyone else but the solution is to stop worrying about whatever edge the Red Sox and Yankees have and to concentrate on fielding a good team. Tampa Bay did that in 2008, and what do you know -- the Rays went to the World Series while the Yankees stayed home in October.
• Speaking of the weather, remember how up in arms folks were a couple years ago about the season starting so early and a corresponding high number of weather postponements? Cross fingers, but we're in mid-April and there haven't been any rain or snowouts yet.
[+] Enlarge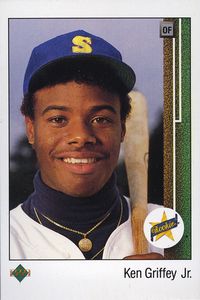 The Upper Deck Company
BASEBALL CARD OF THE WEEK
This is the card that launched Upper Deck, ushered in a new era of baseball cards and was going to make us all rich when we sealed it inside a museum-quality protective sleeve. Sadly, the card is worth about half what it was worth in the early '90s (adjusting for inflation) and worse, and Upper Deck will no longer be allowed to print Major League Baseball cards. Upper Deck had planned to release a couple series this year but due to Topps receiving an exclusive license with MLB, it will not be able to do so. Under a settlement in March, Upper Deck will be allowed to sell its 2010 Series 1 set this year because it had already shipped to stores. The company still sells cards in other sports and is considering whether to sell collegiate baseball cards, but, for now, an era of baseball cards has ended. That famous Griffey smile should be a frown.
CSI: BOX SCORE ANSWER
ANSWER: Raise your hand if you knew this was the White Sox half of the box score from Bob Feller's Opening Day no-hitter, thrown 70 years ago this week. It remains the only game in which every player in the lineup finished with the same batting average with which he started the game. (And don't get all technical on me about how zero isn't divisible.)
Jim Caple is a senior writer for ESPN.com. You can follow him on Twitter at jimcaple.