Commentary
MLB unlocks the secrets of 'Lost'
Originally Published:
May 21, 2010
By
Jim Caple
| Page 2
SPOILER ALERT! Off-Base has obtained the script to the final episode of "Lost," which airs Sunday.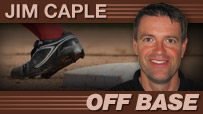 [Having survived the submarine explosion, JACK, KATE, SAWYER and HURLEY sit on the beach. They are physically and emotionally drained. After six seasons and multiple flashbacks, flash-forwards and alternate dimensions, after being shot, caged, institutionalized and turned into suicidal alcoholics -- but, oddly, having lost no weight -- the survivors of Oceanic Flight 815 have finally hit the wall.
[They hear the sound of someone walking along the beach and look up to see LOCKE approaching, the ever-present backpack on his shoulder.]
LOCKE: Good. You're all together. Sorry about trying to blow you up on the submarine, but I trust we can put all that behind us. I've got excellent news. I finally know the secret of the island.
JACK: John, I don't care anymore. I don't care how the island works. I don't care why we're here. I don't care what you, Jacob, the smoke monster, Benjamin Linus or Charles Widmore do to us. I just want this to end, one way or the other, so I can get on with my life and start concentrating on a movie career as the next Harrison Ford.
HURLEY (turning toward JACK): I really feel for you, dude. You have a movie career ahead, but I'm going to wind up signing 8x10 glossies of myself at sci-fi and comic-book conventions for the rest of my life.
LOCKE: You think you've had it? Give me a break. I've been pushed out a window, had my back broken and my kidney stolen, been run over by a car, shot, stabbed and hanged from a ceiling. I've been killed and dumped in a coffin. And I've had to wear a really bad hairpiece in some scenes. Believe me. I'm as sick of this as you. But I finally found someone who can explain everything that happened to us over the past couple years. The only person with the necessary genius to adequately explain the concepts of alternate dimensions, time travel, religion, mythology and philosophy. A man who insists he knows everything.
JACK: You mean Daniel Faraday?
LOCKE: No, Tony La Russa.
[The stunned survivors watch as palm fronds shake at the edge of the beach and LA RUSSA emerges like a 1919 White Sox walking from the cornfield. He takes a pose in front of them, leaning slightly on his fungo bat.]
LA RUSSA: If you have any questions, make it quick. I've got to make another couple pitching changes before the inning is over.
JACK: So whose twisted, evil mind put us through all this and why? Was it Jacob? The smoke monster? Charles Widmore? Ben?
LA RUSSA: No, I'm afraid it was someone far worse than the smoke monster, someone even more manipulative than Ben, someone willing to spend even more money than Charles Widmore to achieve his mad dreams. It was … the Steinbrenner family.
SAWYER: Don't let this man behind a wheel -- Connie Mack must be soused again. The Steinbrenners? Why would they have anything to do with us?
LA RUSSA: They were looking for the same thing all of you are. Redemption. You see, they were absolutely beside themselves after the Yankees lost the final four games of the 2004 ALCS. Ashamed that the great Yankees franchise could become the first team in baseball history to blow a 3-0 lead in a postseason series. Embarrassed that it happened against the Red Sox. And distraught that Boston went on to win their first World Series in 86 years.
HURLEY: So what? If the Yankees were so upset, wouldn't they just do what they always do and sign a couple free agents to $100 million contracts?
LA RUSSA: Oh, they did that, all right. But they thought that wouldn't be enough. They were convinced that the Red Sox beating them and then winning the World Series let loose an evil upon the earth. They believed the cork had been removed from the bottle, allowing Red Sox Nation to take over the planet.
KATE: They might have been right about that. When we were off the island, did you see how obnoxious those guys had gotten? And all those pink Red Sox caps? Uggghhhh.
LA RUSSA: The Steinbrenners became obsessed with redeeming themselves by revising history so that the Yankees did not lose the ALCS. They were convinced that if they could go back into time and keep Dave Roberts from stealing second base in Game 4 of the ALCS, they could prevent the Red Sox from winning that series and becoming an equal to them in the East.
I won't bore you with the details -- you would no more comprehend the physics involved than the reasoning behind my batting the pitcher eighth in the lineup -- but suffice it to say, YES Network engineers came up with a device capable of creating a wormhole and going back in time. Which is where you came in. So that there would be plenty of time to adjust and change what happened in the ALCS, the Steinbrenners set the device for Sept. 22, 2004. Which was the day of your flight from Sydney to Los Angeles. Unfortunately, your flight got caught in the energy wave and crashed and you've been out of synch with our dimension ever since.
SAWYER: Great. We crashed on this island and had all that crap happen to us and now Roy Orbison here tells us it was all just so the Yankees could hold a gigantic Turn Back the Clock Night.
LA RUSSA: I know. It would have been simpler if only they had considered a bobblehead giveaway.
HURLEY: But what do the numbers 4, 8, 15, 16, 23, 42 mean?
LA RUSSA: Don't you ever read "Lost" blogs? Don't be afraid to do some research … or mix in a salad. They're numbers the Yankees retired. No. 4 is Lou Gehrig. No. 8 is Yogi Berra and Bill Dickey. No. 15 is Thurman Munson. No. 16 is Whitey Ford. No. 23 is Don Mattingly. And No. 42 is Jackie Robinson and will also be Mariano Rivera. The Steinbrenners just needed an easily remembered security code for the time machine. Except the Yankees have retired so many numbers that the Steinbrenners still couldn't keep it straight. They forgot the code and weren't able to stop the machine. That's what kept you bouncing back and forth through time and dimensions.
JACK: So what happened? I mean, other than everything that happened to us? Did the Yankees achieve anything apart from ruining our lives?
LA RUSSA: Redemption, Jack. They created parallel universes where everyone has been redeemed and lives in peace and joy and the price of a ballpark beer is just $4. In the alternate universes, Barry Bonds hit his 754th home run and retired, saying it would be wrong to break Aaron's record. Mark McGwire confessed before Congress to everything, including the Lindbergh kidnapping, and was forgiven by the American public. Milton Bradley is beloved in Chicago after getting the Cubs to the World Series. Bill Bavasi never traded Adam Jones, Shin-Soo Choo or Jamie Moyer. The Expos never left Montreal. Scott Boras went to work as a fundraiser for Habitat for Humanity. Roger Clemens donated his third ear to science. And Dippin' Dots have finally replaced ice cream.
And the best part is, you can go live in any one of these parallel worlds by buying an MLB Extra Innings package, though there are certain alternate universes that will be unavailable in your local market. For instance, if you live in Pennsylvania, you can't have the one where the Pirates go to the World Series. Or if you live anywhere else, for that matter. Some things are just too preposterous.
[The survivors stand around, considering all this. It's too much to absorb at once. They will need at least until the final season of "Lost" is released in a boxed set with cast commentary to sort it all out. Finally, JACK speaks.]
JACK: I guess that explains it all. Except for one thing. The smoke monster. What is he? The heart of evil? The darkness of the human soul? The dark, destructive side of our nature?
LA RUSSA: Oh, no. Nothing like that. He just appears when the Tigers' closer blows a lead and Jim Leyland doubles his daily cigarette habit.
[+] Enlarge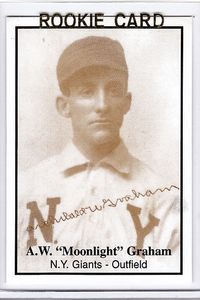 Jim Caple "Moonlight" is still searching for his elusive at-bat.
BASEBALL CARD OF THE WEEK
With the "Field of Dreams" movie site up for sale with a $5.4 million price tag -- "People may buy, Roy. People may definitely buy. But only if the bankers give them a low mortgage rate" -- I decided it was only fitting to spotlight Moonlight Graham's rookie card. Not that this is actually his rookie card (did a man who played in only one game and never batted get a rookie card in 1905?); it was printed a few years ago by the Moonlight Graham Foundation. Graham is one of several players who played but never batted in the majors, and a little conceit I enjoy in "Field of Dreams" is that when he finally does get to bat in the movie, he hits a fly ball that scores a run. I went to see the movie with my softball team when it came out and I'll always remember how a teammate immediately whispered to me: "That's a sacrifice fly. He still doesn't have an official at-bat."
CSI: BOX SCORE
You know the drill. Each week you get a fragment from an old box score and are charged with solving the mystery of what game it was from and why it was significant. I give this week's box a difficulty rating of 5. Answer at the bottom of the column.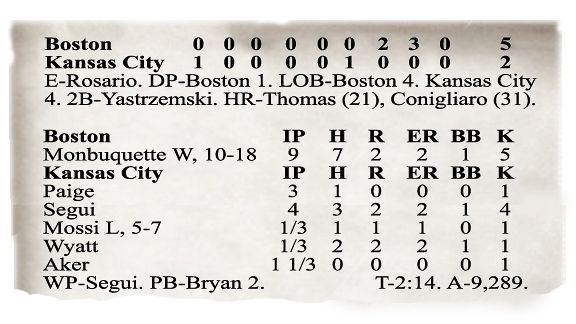 BOX-SCORE LINE OF THE WEEK
Baseball can have more twists and turns than a season of "Lost." After all, who would have imagined Carlos Silva would start the season 5-0? Or that we would see this award-winning line:
Vizquel DH, 4 AB, 1 R, 1 H, 0 RBI
Yes, at the age of 42, in his 22nd season in the majors, Omar Vizquel set down his 11 Gold Gloves and was the designated hitter for the first time in his career. The night raised his average to .143 this season, but it gave him a .250 average as DH. Which is better than his former 1989 Mariners rookie teammate Ken Griffey Jr. is hitting. Speaking of Seattle, here's another incredible Mariners stat of the week. The Mariners had six starters in the lineup who finished Monday's game batting under .200, including four who were batting .182, .183, .184 and .185.
CSI: BOXSCORE ANSWER
You think Jamie Moyer is impressive with his five wins and a complete game shutout at age 47? This box score is from Satchel Paige's final game, pitched at age 59 (give or take a year, probably give). The Kansas City Athletics brought him out of retirement for one game, and he responded with three scoreless innings, allowing just one hit -- a double to Carl Yastrzemski.
Jim Caple is a senior writer for ESPN.com. You can follow him on Twitter at jimcaple.