Commentary
Fogerty still shouting 'Put me in, Coach!'
Originally Published:
May 26, 2010
By
Jim Caple
| Page 2
John Fogerty could have written a song about a different position but "Middle Reliever" would not have resonated nearly as well.
Beat my head, hold the bullpen phone -- another pitching change!
They're born again, three runners on the bags.
A'heading in, and blowin' the lead, it's a left-handed setup man;
And everyone can tell that victory goodbye.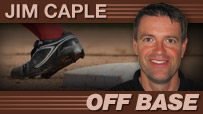 No, other positions would not have worked. Fogerty chose "Centerfield" because to him the position was special. It was the center of the universe, the land where baseball's gods roamed.
"It was this mythical place. Center field was the place where all the greats played," Fogerty said in a phone interview. "I had long decided that the right fielder, which was probably me growing up -- if they had nine kids and No. 1 was the best player, then No. 9 was in right field. But the centerfielder was always the best fielder on the team. He was the power hitter and fast and could handle everything. If you think about all the center fielders who've played the game, they've normally been the best players, too. DiMaggio, Mickey Mantle, Willie Mays."
Fogerty recorded "Centerfield" 25 years ago -- it came out the year before Jamie Moyer reached the majors -- never realizing he was releasing not just a song but an anthem. Go to any ballpark in the country and there's a good chance you'll hear it playing. It is as much a part of the lyrics of baseball as "Take Me Out to the Ballgame," "Cold Beer Here!" and "A-Rod Sucks!" It's the game's unofficial walk-up music, such an integral part of baseball that Fogerty will perform the song live this summer at the Hall of Fame induction ceremonies.
"I think I will be lifted off the ground," Fogerty said of his emotions when he plays on induction day. "No. 1, I'll be very keyed up and nervous and want to do a good job. The bigger the game, the more the adrenaline kicks in. I believe that my poor little brain won't be able to comprehend it all, I've been working to this moment all my life, since I was a little boy. In no way am I saying I'm equal to the players but I have loved them and thought about them as little boys do -- and to sing a song that is about them, there will be a lot of things I'll be feeling."
I don't think I'm going out on too far a limb here by saying his performance will be more rousing than umpire Doug Harvey's acceptance speech.
"I think of all the great players he was talking about in that song, and going through my career, every time I heard that song, I thought that song was made for me," Tigers outfielder Johnny Damon said. "It's one of those songs that just sticks with you. Any kid who grows up playing center field, when they hear that song, they get that chill."
Well, not everyone.
Ken Griffey Jr., the greatest center fielder since "Centerfield" was released, insists that he never even heard the song until his first game in the minors with the Bellingham Mariners in 1987, and that it has no special meaning to him. "It's about a guy who wanted to play and I was already in the game."
That's the whole point, though. When we stand to sing "Take Me Out to the Ballgame," all we're asking is to watch and chomp on peanuts and Cracker Jack. "Centerfield" is a plea to be get into the game, a demand to play, a call to arms, a chance to show what we can do. Put me in, Coach!
"I used to use that phrase all the time," Fogerty said. "I'd be watching the Game of the Week and there would be that time when they would show the dugout -- I feel like Ronald Reagan now -- and it would just be time for Claudell Washington or Orlando Cepeda or someone to go out there and save the day. I'd be watching the game and they showed the skipper and I'd be shouting at the TV, 'Put me in, Coach! Put me in, Coach!'
"That was a phrase I used all the time. All the phrases in the song are phrases I've heard a million times. Touch 'em all. A moment in the sun. Just things I always heard as a fan."
Fogerty says the song was relatively easy to write. "I had gotten the idea that I was going to make a song about center field. The album was called 'Centerfield.' It was a comeback for me. It had been 10 years since I had been anywhere near the music business publicly. So I knew I would call the album 'Centerfield' because it was very special to me. And I thought, you ought to try to make a song about it. I was practicing a song, and I came up with that guitar riff that starts the song. I went into the studio, playing the guitar with a drumbeat and it just came out.
"That's the thing about this wonderful, mystical part of songwriting -- you don't realize it's there, but it is there, and when it's right, it shakes you and shocks you and you know immediately."
The opening riff of "Centerfield" is contagious. You hear it, and you immediately start clapping. You hear it and you think of baseball and summer and green grass and swift, strong athletes racing back to catch impossibly long fly balls. "Centerfield" has a running time of 3:53 but, as Damon says, "That song will go on forever."
CSI: BOX SCORE
You know the drill. Each week you get a fragment from an old box score and must solve the mystery of what game it was from and why it was significant. I give this week's a difficulty rating of 6, along with a clue: It happened 28 years ago this week. Answer at the bottom of the column.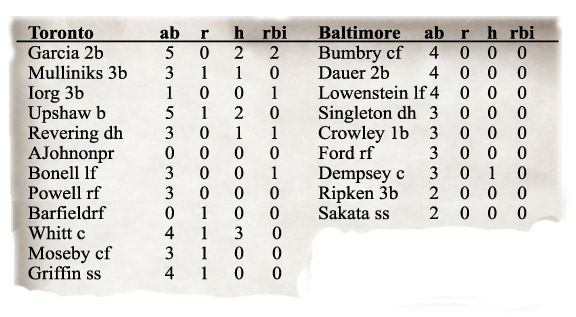 BOX SCORE LINE OF THE WEEK
Toronto's Shawn Camp had an interesting line last week when he recorded an out without an official batter faced (1/3 IP, 0 H, 0 R, 0 ER, 0 BB, 0 K). That's because on Camp's first pitch, Ichiro was thrown out trying to steal to end the inning, and the Blue Jays brought in closer Kevin Gregg to pitch the next inning (and blow the save). But Cincinnati reliever Enerio Del Rosario topped that with one of the most extraordinary major league debuts ever. Del Rosario took the mound in the seventh and struck out Andrew McCutcheon, who reached base on a passed ball. Del Rosario was then replaced by Danny Herrera, leaving him with this week's winning line:
0 IP, 0 H, 0 R, 0 ER, 0 BB, 1 K
What kind of career will Del Rosario have? I don't know, but you have to like his career strikeouts per nine innings ratio.
[+] Enlarge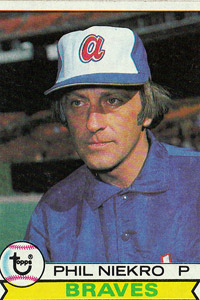 Jim Caple/ESPN.comPhil Niekro always had his Average Joe setting turned up to 11.
BASEBALL CARD OF THE WEEK
I ask you, does this man look like a professional athlete or a guy looking for a weed wacker at the hardware store? I mean, his hair is gray, and what's the deal with that jacket he's wearing? What, Topps couldn't get a photo of a future Hall of Famer wearing an actual jersey? But the most amazing thing about this card (1979 Topps, No. 595) is that Phil Niekro likely was still in his 30s when the photo was taken (he turned 40 that April) and still had nine more seasons and 121 victories left in his arm.
DONNIE, YOU'RE OUT OF YOUR ELEMENT
• If you enjoyed Scott Turow's first novel, "Presumed Innocent" (and how could you not?), you'll very much enjoy his recently released sequel, "Innocent." While the plot initially sounds preposterous -- Rusty Sabich is once again on trial for murder? C'mon -- it somehow all works splendidly and is very nearly as absorbing and entertaining as the unmatchable original. There is one glaring hole in the story, however. In one paragraph, Rusty and his son are at home watching the local baseball team, the Trappers, "boot away a ballgame." Yet the game supposedly takes place on March 19. True, it could have been a spring training game, but why would they have had expressions of "anguish" about a spring training loss? Still, this is a minor quibble. I highly recommend "Innocent." Buy a copy and set aside a night for a long, delicious read.
• It's good to see Milton Bradley back on the field after his break to deal with emotional issues. I wish him the best. Life is certainly never dull with him around. On Tuesday night, he hit a two-run homer to give the Mariners a 2-0 lead in the first inning and singled home the winning run in the eighth. After the single, Detroit made a pitching change and Bradley used the break to rush into the dugout to celebrate with teammates, then returned to first base. After the game, he talked about how happy he was again and told reporters how he had the right attitude. He also had a used target from a shooting range hanging by his locker. Bradley said he had never touched a gun before in his life but that a friend and he were driving around, saw the range and decided to try it out. Evidently, he's a pretty good shot because the paper target's outline was riddled with bullet holes in the head and the chest.
CSI: BOX SCORE ANSWER
Hands up if you figured out this was the box score from the first game of Cal Ripken Jr.'s playing streak. If you missed it, cheer up. Now you can win a lot of barroom bets by challenging people to name Baltimore's shortstop in the game his streak began (Lenn Sakata).
Jim Caple is a senior writer for ESPN.com. You can follow him on Twitter at jimcaple.