Commentary
Watching soccer in enemy territory
Originally Published:
June 17, 2010
By
Jim Caple
| Page 2
I was visiting a good friend in London this past weekend, and he took me to a pub called Gunmakers to watch the U.S.-England World Cup opener. He introduced me to a friend of his from Minnesota, who assured me that not only had Winston Churchill been known to drink at this pub, but more importantly, he had seen Justin Morneau there this past winter.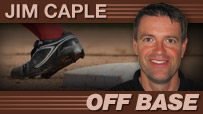 I needed to pinch myself. To think, I was drinking in a pub where one of the greatest men in history had once stood. And Churchill, as well.
To demonstrate our national allegiance, we proudly wore the item that most identifies a person as American: baseball caps. I wore a Tour of California cap (I fear my "First Night Game at Wrigley Field" giveaway cap is too sweat stained to pass airport security), and my friends wore a Dodgers cap and a Twins cap, all of us wearing the caps as proudly as if we were veterans wearing 101st Airborne insignia. Not that the local fans were impressed. After England scored the game's first goal, the British fans serenaded us with a little tune whose repeated lyrics consisted entirely of "Take your f---ing baseball and shove it up your a--."
I'm not sure whether Lennon and McCartney, Elton John or Andrew Lloyd Webber wrote that. Or perhaps it was Churchill: "We shall fight on the beaches, we shall fight on the landing grounds, we shall fight in the fields and in the streets, we shall fight in the hills. We shall never surrender. We will take their f---ing baseball and stick it up their a--."
Whoever the composer, these were serious fighting words. Taxing us without representation before the revolution? Burning down the White House and the U.S. Capitol in the War of 1812? Letting loose the Spice Girls in the 1990s? Those were mere trifles, little more than misunderstandings in the U.S.-England special relationship. But attacking our national pastime? Unforgiveable. In the words of one of America's greatest and most eloquent patriots, Jeffrey Lebowski: This will not stand, you know, this aggression will not stand, man. (Take that, Winston.)
Unfortunately, we were: (1) vastly surrounded, and (2) not highly trained members of the 101st Airborne. Also, we were sober and not prone to do something incredibly stupid. So we laughed while I tried to think of a rejoinder involving BP and the oil spill.
They say revenge is a dish best served cold, but I like to think of it as a dish best served with cold beer. Or in London, at least cool beer. And so we took our revenge late in the first half when English goalkeeper Robert Green let a simple shot bounce off his hands and in for a tying goal in the 40th minute. Never had so few made so many so quiet so suddenly. As the Brits fell silent, we and a surprisingly loud band of other Americans (maybe we weren't so outnumbered after all) chanted, "U-S-A! U-S-A!" We were prevented from fully savoring this moment, however, because none of the Brits understood our Bill Buckner references.
There was little singing the rest of the game as the English fans slowly came to the grim realization that they were not going to beat their American cousins at their national sport. They settled grudgingly for the tie, grateful that at least the embarrassment wasn't worse.
While the rest of the pub was transfixed by the scoreless second half, I literally nodded off on my feet, partly due to having arrived early that afternoon after a red-eye flight that originated the previous afternoon on the West Coast and partly due to the fact that I was watching soccer. I waited in vain for an appropriate opportunity to ask the question that was most pressing to this American on the long-awaited day the U.S. and England met in the World Cup: "Now can you please switch the TV to the Minnesota-Atlanta game?" I mean, really. The World Cup is one thing, but this was a rematch of the 1991 World Series.
Not wishing to come off as an Ugly American to Brits who were already pissed and pissed off after the game, I refrained from answering their earlier tune with the anthem guaranteed to bring goosebumps the size of Lincoln-head pennies to Americans overseas, to stir our emotions and force us to our feet to sing the words we all hold so near and dear to our hearts:
Take me out to the ballgame

Take me out to the crowd

Buy me some peanuts and Cracker Jack

I don't care if I never get back
CSI: BOX SCORE
Here's how this game works. Each week you get a fragment from an old box score and must solve the mystery of what game it was from and why it was significant. Last week's was easy, but this might be the toughest one yet. I give it a difficulty rating of 9.5, with this hint: Box scores aren't always written in stone. Answer at the bottom of the column.

[+] Enlarge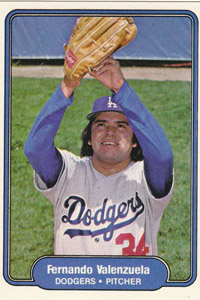 FleerThe numbers that created Fernando-mania put Stephen Strasburg to shame.
BASEBALL CARD OF THE WEEK
I can't help but smile and feel good when I look at this card (1982 Fleer, No. 27). There is the young Fernando Valenzuela, arms raised and looking up, all but breathing through his eyelids like the lava lizards. As Stras-Palooza continues and we make such a fuss over someone who has yet to throw a shutout, it's worth remembering the young pitcher who first sparked a mania. Valenzuela didn't make his major league debut in 1981 -- he pitched 18 innings in 1980 -- but it was his first season as a starter. Few pitchers have ever been so dazzling. In Fernando's first eight major league starts, he threw eight complete games and five shutouts. He threw four shutouts in his first five starts. He was 8-0 with a 0.50 ERA (he was 5-7 with a 3.66 ERA the rest of the way, but still threw three shutouts after Aug. 27 and was 3-1 with a 2.21 ERA in the postseason). He also hit .250 with seven RBIs and won the Silver Slugger Award.
BOX SCORE LINE OF THE WEEK
Mariners fans have endured their hero falling asleep in the clubhouse, Milton Bradley leaving the team to undergo counseling, catchers who can't hit or catch and what looks like a last-place season. But all that paled in comparison to watching Carlos Silva start the season 8-0, the best start by a Cubs pitcher in 43 years and three more wins than he had in two very expensive seasons with the Mariners. So it was welcome when Seattle fans finally saw the following line:
Silva L, 8-1
Yes, he pitched fairly well that day, and yes, he still is 8-1, but Mariners fans will take what satisfaction they can these days in the fact that he at least had an L next to his name.
By the way, a friend reports that during a recent visit to Wrigley, the stores had plenty of Bradley jerseys and T-shirts at major closeout prices but no shirts at all for Silva. Could it be that Cubs management is as surprised (i.e., stunned) by Silva as everyone else?
CSI: BOX SCORE ANSWER
Give yourself some big props if you figured out that this was the box score from the George Brett Pine Tar Game. Or, at least, it was the box score before American League president Lee MacPhail ruled in favor of the Royals' protest, gave Brett back his home run, and ordered Kansas City and New York to play out the game's final four outs. After that, Goose Gossage lost his save, and the box score changed to the one you now find at baseball-reference.com.
Jim Caple is a senior writer for ESPN.com. You can follow him on Twitter at jimcaple.