Commentary
Take me out to the wedding
Originally Published:
June 23, 2010
By
Jim Caple
| Page 2
Mariners bullpen catcher Jason Phillips chose an interesting site for his wedding Sunday. He not only got married at Seattle's Safeco Field, he got married in the bullpen. Fortunately, manager Don Wakamatsu did not pick up the phone in the middle of the ceremony and call for a lefty.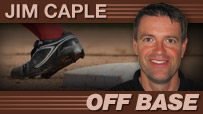 Phillips and his wife, Molly Ray, chose the bullpen because it was where the two met last year. She was a fan attending the game, and he noticed her from his seat in the bullpen. Phillips tossed her a baseball on which he'd written his cell phone number. She texted him back later, and they fell in love. As giveaway promotions go, it beats another cheap bobblehead night. "Exactly," Mariners closer David Aardsma said. "Yeah, she ended up getting a husband."
They held the wedding about 90 minutes or so after Seattle's 1-0 victory, which allowed just enough time to shower and change but not enough time to get nervous. Not that Phillips says that would have been an issue anyway. "I played in the major leagues," Phillips said. "Why would I get nervous about getting married for a second time?"
If only there still were bullpen carts, the Mariners could have attached tin cans to the bumper and watched the newlyweds drive away. As it is, getting married in a bullpen leads to some interesting lines.
"Just this once, honey, could you come to bed without playing 'Enter Sandman'?"
"Why do you always have a left-hander warming up next to me?"
"Sorry, honey, not tonight. It's not a save situation."
The wedding was the first in the bullpen at Safeco but not the first in the ballpark. The Mariners say about 50 weddings have been performed at the stadium since it opened 11 years ago. Evidently, when people refer to ballparks as green cathedrals, some people take that description literally.
Steve Hamada, the Mariners' manager of video operations, was married at home plate, but only after he and his wife couldn't get her first choice, Washington State's Martin Stadium. How about that? She not only was willing to get married at a stadium, but she even suggested her alma mater's football field first. Talk about a keeper. Hamada says that when they walked off the field, his bride threw baseballs to the guests, although I think shooting T-shirts and garter belts into the crowd from an air cannon would have been more fitting.
Although I can somewhat understand choosing a ballpark for a wedding site -- it's a beautiful setting and fun for the guests -- I've been puzzled by men who propose at a ballpark. That always has seemed like asking for trouble. Frankly, I think it's a mistake to ask anyone a question more pressing than guess tonight's attendance.
I've seen a guy arrange for the Mariner Moose to stand next to his girlfriend and hold up a sign that read: "Will you marry me?" Hey, nothing persuades a woman to spend the rest of her life with someone than to have that person hire a guy dressed in a furry mascot costume with antlers to put her on the spot in front of 40,000 strangers. I hope the marriage worked out for them, but I also fear that one day the guy will be sitting at a game, then look up and find Mr. Met standing over him with divorce papers.
At least Mariners fan David Schiller arranged for a candlelight dinner (complete with a guitarist) at home plate when he proposed to his girlfriend, Mia Blake, after a Mariners game eight years ago.
"I was shocked," Blake recalled this week. "I didn't know he was going to propose. It was exciting. I had my face up on the big scoreboard, and he got down on his knee in the dugout, and we were on all the news channels. It was pretty exciting. It was unique, it was creative, home plate was in shape of a heart, it was very romantic."
Blake said yes to the proposal that day, but the thing is, the two never actually got married. Blake says the two are still together but just decided the relationship was better the way it was. She says she doesn't think there is anything wrong with proposing at a ballpark but recommends being fairly certain that the woman will say yes. After all, there is nothing worse than having a woman say no to a proposal in front of a packed stadium.
Ballpark engagements do work, though. My friend, Sarge, proposed in front of the Wrigley Field marquee on Opening Day in 1993. He and his wife, Tricia, are still happily married with three wonderful daughters 17 years later (or at least as happily as a Cubs fan can be). "I wanted to start a future with my favorite girl at my favorite place on Earth," he explained. "Plus, now that the Friendly Confines is OUR special place, how can she ever deny me a trip to Wrigley in the future?"
After all the years the two had been dating, Tricia said, "I was just happy to get engaged that I didn't really care where." She remembers showing off her engagement ring to the restroom attendant inside the ballpark.
So, OK. I guess both engagements and weddings at a ballpark are fine. But I draw the line at honeymoons. Not that Brandon Seifert and his wife, Tiffany, would agree. They spent their honeymoon at the Metrodome. Well, actually, they just went to the Dome the day after their wedding. I mean, it's one thing to have a mascot propose for you, or to get married at a ballpark, but who the heck would go to a baseball game on their honeymoon?
"Our official honeymoon was at Coors Field," Seifert said. "We went to see the Twins play there the next May."
Actually, I'm cool with that. Hey, my parents went to Colorado on their honeymoon as well, and the Rockies weren't even there then. Besides, Tiffany is a huge baseball fan, too. In fact, for their first date, Brandon brought over a couple of movies to watch at her place. She greeted him by saying, "Do you mind if we watch the playoff game instead?"
Sigh. All the good ones are taken.
CSI: BOX SCORE
Here's how this game works. Each week you get a fragment from an old box score and must solve the mystery of what game it was from and why it was significant. I give this one a difficulty rating of 7.5. Note: Not all box scores are major league box scores.

BOX SCORE LINE OF THE WEEK
Detroit's Jay Sborz had an interesting line Tuesday (2/3 IP, 3 H, 5 R, 5 ER, 0 BB, 1 K, 2 HBP), as did Brad Thomas, who pitched in relief of Sborz and somehow allowed seven baserunners in 1 1/3 innings while giving up only one run (1 1/3 IP, 3 H, 1 R 1 ER, 4 BB, 1 K). But this week's award once again goes to the amazing Jamie Moyer, who not only held Cleveland to two hits, but also tied three Hall of Famers in doing so. His line:
8 IP, 2 H, 1 R, 1 ER, 1 BB, 5 K, 1 HR
The victory was Moyer's 266th, tying him with Bob Feller and Eppa Rixey (and leaving him two wins behind Jim Palmer). The home run he allowed also tied him with Jim Bunning for the record for most home runs allowed in a career (505).
Moyer, by the way, has never hit a home run.
BASEBALL CARD OF THE WEEK
[+] Enlarge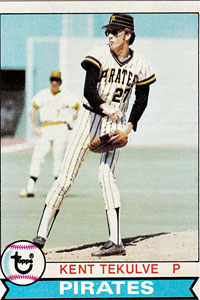 ESPN.comKent's fashion sense was the epitome of the '70s.
How can you not root for a guy who looked like this? The year this card (1979 Topps No. 223) was issued, Kent Tekulve appeared in a league-leading 94 games, pitched 134 innings and went 10-8 with 31 saves. He also had three saves in the World Series that year, including Game 7. But what stood out most about Tekulve was his skinny build (Roger Angell referred to him as "spidery") and those ridiculous, photo-gray glasses. Few images better capture baseball in the '70s than this one. Now just picture him dancing in the clubhouse to "We Are Family."
DONNIE, YOU'RE OUT OF YOUR ELEMENT
• Many expected the Mariners to contend with good pitching and just enough offense. Well, they've had the good pitching but nowhere near enough offense. They have, however, made it work during their current five-game win streak, winning those games despite scoring only 11 runs combined -- and five of those runs were in one game. They've won 2-1, 1-0, 5-1, 1-0 and 2-0, with Cliff Lee and Felix Hernandez set to start the next two games. Everyone knows about Lee, whose ERA is 2.55, but Jason Vargas is right behind him with a 2.66 ERA. Vargas credits Lee for showing him how to work fast and keep batters from getting time to prepare for the next pitch.
• Atlanta starter Kenshin Kawakami has pulled off a difficult feat. He hasn't pitched all that poorly (his ERA is 4.78), but nonetheless he's still winless after 14 starts with the first-place team in the National League East. Part of it is thanks to an early lack of run support (Atlanta averaged fewer than two runs in his first six losses), and part of it has been one of those things (Atlanta has won half of his past eight starts). Either way, he's likely headed to the bullpen when Jair Jurrjens returns from the disabled list.
CSI: BOX SCORE ANSWER
With the College World Series going, I give you a box score from one of the most amazing games in CWS history. In the 1973 semifinal between Minnesota and USC, Dave Winfield took a one-hitter and a 7-0 lead into the ninth inning for the Gophers. But he also was tiring -- 15 strikeouts and nine walks will do that -- and he moved to left field after an estimated 185 pitches. And it was from left field where he watched USC eliminate Minnesota after an eight-run ninth inning. Winfield, who made his debut with the Padres later in the month, never pitched again.
Jim Caple is a senior writer for ESPN.com. You can follow him on Twitter at jimcaple.