Commentary
Strasburg an All-Star? Let's calm down
Originally Published:
June 30, 2010
By
Jim Caple
| Page 2
Should Stephen Strasburg be on the All-Star team? Of course, he should. After all, he's 2-2, which I believe is unprecedented for a rookie pitcher. And while he just missed setting the "record" for most strikeouts in a pitcher's first five starts, he still has a chance to set the "record" for most strikeouts in a pitcher's first six, seven, eight, 12, 15, 47, 84, 165, 312 and 459 starts. So stay tuned!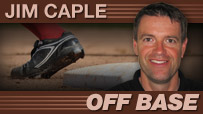 More importantly, columnists and talkshow hosts say he should be on the team. And they say that not because they're just endlessly hyping a young pitcher to fill space and time. They're saying it because they know all fans want to see Strasburg. And maybe they're right. A lot of fans do want to see Strasburg. What's convenient about that is they don't have to wait for him to pitch a possible inning in the All-Star Game. They already can see him pitch in real games right now. It's true. His start Monday was nationally televised and the others are pretty much available online or through MLB's Extra Innings and MLB.TV.
(In other startling broadcast developments, apparently Curt Gowdy and Tony Kubek are no longer hosts of NBC's Game of the Week.)
So forgive me if I'm not riding shotgun on the Strasburg Belongs in the All-Star Game bandwagon. If he's truly as good as the hype, we'll see him in plenty of All-Star Games after this year. Rather than making room for someone who will have been in the majors for barely one month, here are the guys I want to see in the All-Star Game more than Strasburg:
Ken Griffey Jr.: He hit .184 with no home runs, two extra-base hits and seven RBIs before retiring a couple days B.S. (Before Strasburg). So he definitely did not earn a spot on an All-Star team this season. But he did earn a spot over the course of his Hall of Fame career when he was sometimes considered the best player in the game as well as its most popular. The abrupt way Junior retired -- a groundout one night and a "By the way, I won't be in tonight ... or ever" phone call when he was already driving through Montana on his way home to Florida two afternoons later -- was not the way he should have gone out. Don't honor the 2009 No. 1 pick before giving the 1987 No. 1 pick the farewell he deserves: A final plate appearance with a standing ovation from a sellout crowd at the All-Star Game in the same park where he and his father once hit back-to-back home runs. And if he grounds out weakly, big deal. We'll cheer as he jogs to first base and into the sunset.
Jamie Moyer: With nine wins, he might make the squad anyway, though his 4.30 ERA probably doesn't warrant it. Still, this is a guy who has pitched more than 4,000 innings in his career (and won 267 games), yet has thrown just one inning in the All-Star Game (at the age of 40). He made his major league debut two years before Strasburg was born and he has thrown two complete games and a two-hit shutout this season. (Strasburg not only hasn't been able to accomplish either, he hasn't even retired a batter after the eighth inning.) Yes, Strasburg has an explosive fastball but a lot of guys win in the majors by throwing in the upper 90s. But winning when throwing in the 70s? Now, that's worth seeing.
Chipper Jones: He's hitting .252 with five home runs and 32 RBIs, which is considerably better than his numbers a month ago. It's hardly All-Star material but what's more important is that our man Larry has indicated this could be his last season. So if we're going to make room for last year's No. 1 pick before he's accomplished much in the majors, let's make room for 1990's top pick before he, like Griffey, is gone as well.
RA Dickey: A first-round pick in the 1996 draft and starter for the U.S. Olympic team, Dickey did not sign for $15.1 million like Strasburg did. He was about to sign an $810,000 contract with Texas when a Rangers doctor noticed the position of his right arm looked odd in on a photo on the cover of Baseball America. A subsequent exam discovered he was missing a ligament in the arm and the Rangers withdrew their offer. Dickey eventually agreed to a $75,000 deal and has been trying to establish himself as a major league ever since, recently becoming a knuckleball pitcher. He's spent at least part of every season of his career in the minors and in the past five years alone he's pitched in Texas, Oklahoma City, Nashville, Seattle, Tacoma, Minnesota, Rochester, Buffalo and New York. And since the Mets called him up this year, he's 6-1 with a 2.98 ERA. He should be in the All-Star Game to inspire kids (and adults) that life isn't easy and success isn't always quick. But if you never give up and are willing to re-invent yourself after failure and heartache, you can still achieve success even without a 100 mph fastball. You just have to keep trying.
Franklin Gutierrez: Hey, I like offense as much as the next guy but the All-Star Game should be about more than that. It should also honor fielding and Gutierrez is about as good as I've seen in center field (and I covered Griffey, Kirby Puckett, Torii Hunter and Mike Cameron). We already have a Home Run Derby -- let's even things up by recognizing the beauty of the glove. (And as upset as Strasburg looked after that error the other night, I think he would appreciate some quality defense as well.)
Bobby Cox: He's managed Atlanta for 26 seasons, including the past 21, winning 15 division titles, five National League pennants and one World Series in his career. And he's also retiring this year. Maybe he'll get to go out by managing in one last postseason. But we can't count on that. So let's give Cox a worthy sendoff by adding him to the coaching staff so he can run onto the field after the inevitable horrendous umpire's call (I think baseball is contractually obligated to have one in every big game) and get ejected yet again. Could there be any more fitting way for the all-time leader in ejections to leave the game than by stomping off the field, kicking and cursing?
In fact, that's the way I want to see Strasburg end his big league career. Wildly successful with a World Series ring, older than almost all his peers but still winning and still loving the game so much that someone will have to make him leave.
Until then, though, I want to see guys in the All-Star Game who have already accomplished something in their careers, not guys who might.
CSI: BOXSCORE
Here's how this game works. Each week you get a fragment from an old boxscore and must solve the mystery of what game it was from and why it was significant. I give this one a difficulty rating of 5.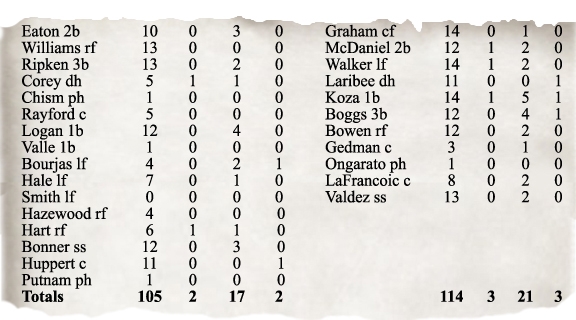 BASEBALL CARD OF THE WEEK
[+] Enlarge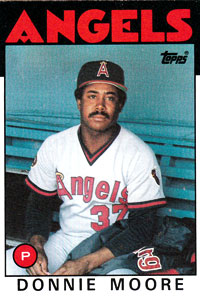 ToppsThe wounds of the 1986 ALCS never healed in Donnie Moore.
This 1986 card (Topps, No. 345) is a sad one. We see Donnie Moore sitting on the bench and looking glum. The expression is probably just one of those things -- he was an All-Star in 1985 and at the peak of his career -- but looking through a box of 1986 cards, this card struck me because we all know what happened to Moore. He saved 21 games for the Angels that season, plus Game 3 of the ALCS. But he memorably blew a 5-4 lead in Game 5 and became the official scapegoat when the Angels lost the series. Bothered by arm problems, he saved only nine more games over the next two years and was released by the Royals after seven games in the minors in 1989. Shortly after that, he shot his wife and committed suicide at age 35. "Ever since he gave up the home run to Dave Henderson he was never himself again," Moore's agent, Dave Pinter, told the Los Angeles Times that day. "He blamed himself for the Angels not going to the World Series. He constantly talked about the Henderson home run." Moore's ex-teammate, Brian Downing, blamed the media for not letting Moore get over the Game 5 loss. "You destroyed a man's life over one pitch."
Sometimes we all forget it's just a game.
BOXSCORE LINE OF THE WEEK
Thanks to his ridiculous tantrum in the dugout, Carlos Zambrano pitched just one inning Friday (1 IP, 4 H 4 R, 4 ER, 0 BB, 1 K) and also retired fewer batters than he did in three of his appearances as a reliever. But this week's award winner is obvious. Arizona's Edwin Jackson threw a stunning no-hitter Friday night against the Rays, walking seven of the first 13 batters he faced, including the first three batters in the third inning. His control improved after that and he wound up with a no-hitter despite walking more batters than he struck out and allowing 10 batters to reach base (four runners made it to third base).
Jackson's staggering line:
9 IP, 0 H, 0 R, 0 ER, 8 BB, 6 K, 1 HBP, 1 WP
Jackson threw 149 pitches. That's not only the most in the major leagues since Livan Hernandez threw 150 in a 2005 game, it's 61 more pitches than Armando Galarraga threw in his imperfect perfect game last month. It's also six more pitches than Jackson threw in two consecutive starts combined April 27 and May 2 (which left his ERA at a nosebleed-inducing 8.07).
DONNY, YOU'RE OUT OF YOUR ELEMENT
• Perhaps what Evan Longoria and BJ Upton were arguing so passionately about Sunday were new marketing strategies for the Rays. Despite having one of the best teams in baseball and being in first place most of the season, Tampa Bay is 24th in attendance with an average crowd of just under 22,000. So much for the Rays getting a boost from the 2008 World Series. I never want teams to leave a city and object to largely public funding for stadiums but at some point, the fans also need to prove they're willing to support the club. It was understandable for Tampa Bay fans to stay home when the team finished in last place year after year but staying away from the park when the team is in first place (as it was until recently) brings the franchise's longterm viability into question. Owner Stuart Sternberg says he wants to explore new stadium options in Tampa as well as St. Petersburg, and Rays former manager and Tampa native Lou Piniella agrees that makes sense. "It's 20 miles to Tampa. You go over the bridge and it's a straight shot," he said. "What they really need in that area is a ballpark like in Houston (with a retractable roof). Put a ballpark like Houston's in that area and they'll get along better. There are so many things to do in Florida."
• With the announcement that Larry King will end his show on CNN this fall, I present a rerun of Larry's very first talk show.
• One of the more headscratching moves of the year was Seattle trading for Russell Branyan after deciding not to re-sign him over the winter. The Mariners clearly needed power in the lineup over the winter but stayed away from Branyan (who led them in home runs despite missing the final five weeks of the season), partially over concern about his back. But now that they are hopelessly out of the race -- it is incredibly frustrating to watch their great starting pitching go to waste -- they chose to trade a couple prospects for a 34-year-old who has only once played as many as 120 games in a season. Odd. Meanwhile, Cliff Lee walked his first batter in 38 innings Tuesday night -- he has more victories (seven) than walks (five) this season -- and pitched his third consecutive complete game amid continued trade rumors. The assumption is the Mariners will trade him but that's not a given. If they get a very good offer, they probably will. But if the offers aren't that promising, they should hold onto Lee. If they do, they would get two first-round draft picks if he leaves as a free agent, which may prove more valuable than another team's prospects. Plus, Lee has been a good influence on Seattle's younger pitchers, so they would benefit from that for another couple months.
• At last glance, Arizona starter Dan Haren was hitting .435 and it wasn't a soft .435, either. He's 20-for-46 with a home run, six doubles and seven RBIs. His 1.065 OPS is higher than any qualifying batter in the majors.
• So Lenny Dykstra admitting that he took PEDs? I'm shocked, shocked! Next you'll be telling me that other players on the 1986 Mets took drugs.
CSI: BOXSCORE ANSWER
You had a better chance of figuring this one out if you were thinking about that marathon match between John Isner and Nicolas Mahut at Wimbledon last week. With that in mind, this boxscore is from the longest game in professional history. On a cold, windy April night in 1981, Triple-A Pawtucket and Rochester played 32 innings before the game was suspended shortly after 4 a.m. When they completed the game two months later, the major league players were on strike so reporters from around America, Europe and Japan focused on a minor league game that featured two future Hall of Famers (Cal Ripken Jr. and Wade Boggs). So what happened? The PawSox scored in the bottom of the 33rd inning and won the game. "We played one inning and it was over. Isn't that crazy?" said Bruce Hurst, who pitched five scoreless innings in relief. "It was really anti-climactic."
Jim Caple is a senior writer for ESPN.com. You can follow him on Twitter at jimcaple.