Commentary
Cooking up some All-Star additions
Originally Published:
July 7, 2010
By
Jim Caple
| Page 2
This year marks the 25th anniversary of the home run derby, a contest that lasts longer than the Tour de France or even a Red Sox/Yankees game but remains so popular it threatens to overshadow the All-Star Game itself. But if the Home Run Derby has been so successful then why hasn't baseball thought of another contest to make the All-Star festivities even better? Some suggestions: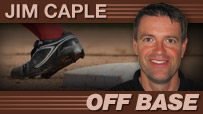 The Cooperstown Challenge. Perhaps the most memorable moment in the All-Star Game in the past 40 years is Pete Rose winning the 1970 All-Star Game by slamming into Ray Fosse at home plate. Fans often cite that as an example of the hustle and competitive fire the game used to provoke. Fine. Let's channel it with an exhibition each year: Put Rose on third base and the three All-Stars with the best arms in the outfield. Then have a coach hit a fungo to one of the three outfielders. If Rose scores on the hit, he gets into the Hall of Fame. If he's out at the plate, he's also still out at the Hall. Who wouldn't want to see a determined Rose barreling to home plate as hard as he can with Cooperstown on the line? I mean, other than Joe Mauer and Yadier Molina?
The Hot Dog Derby. With eating contests all the rage, why not merge the two things that are as American as apple pie: obesity and overpriced concessions? Imagine CC Sabathia and Carlos Silva going mano a mano and dog for dog. And here's a twist to make it more interesting: The players would have to go into the stands and wait in line for concessions and pay for their hot dogs just like everyone else. This may limit the hot dog totals but would be worth it to see millionaire players experience the same ordeal fans do every game. This is such a great idea I only wish someone had thought about it earlier so we could have seen such classic matches as John Kruk versus David Wells and the Bash Brothers versus the Gwynn brothers.
The Pasts Game: The Futures Game has yet to catch on with fans, for one important reason: Almost no one outside of the staff of Baseball America has heard of these guys yet. Instead of having a bunch of unknown prospects competing, let's go with fading old players whose best years are behind them but still are well known and overpaid because of past glories. Cubs fans won't have to worry about being underrepresented ever again!
The non-Kentucky Derby: Everyone loves scoreboard races and in this series of three races, fans can wager on computer simulated thoroughbreds such as Seabiscuit, Citation, War Admiral, Man o' War, Secretariet, Affirmed, Seattle Slew and Mr. Ed as they compete for the triple crown against the Alex Rodriguez centaur.
Larry King's Celebrity Softball Interview: Now that he's leaving his CNN talk show, the noted baseball fan and serial schmoozer will have plenty of time to host an All-Star forum in which he lobs softball questions to Fox TV stars and murder suspects. Typical questions include: "Were you surprised when your new show, which is absolutely terrific, topped the Nielsen ratings last week?" and "Were you surprised when the state indicted you for the murder of the wife you loved so very much?" and "Were you surprised at how good the pancakes are at Denny's?" and "Were you surprised anybody believed that shameless story I made up about me being high school friends with Sandy Koufax and the two of us going to buy Carvel ice cream?"
Dancing with the All-Stars: Purists will hate this but judging by the ratings for "Dancing with the Stars" everyone else will eat it up when the majors' finest dancing grounds crews battle it out with choreographed routines to such recent hits as "Old Time Rock and Roll," "Thriller" and "Hammer Time."
And finally
The Whine, Spit and Throw Derby: Why let the players hog all the glory? Let's watch Lou Piniella, Ron Gardenhire, Bobby Cox and others compete for the honor of angriest manager. Competitors will be judged on the total number and most creative use of profanities, the amount of saliva spattered against the umpire in an argument and the distance they can throw a base into the outfield. This event is guaranteed to go viral on YouTube every year.
[+] Enlarge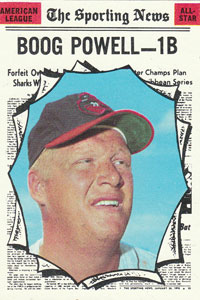 ToppsA vote for Boog is a vote for the fans!
BASEBALL CARD OF THE WEEK
This card (1970 Topps, No. 451) reminds me of one of my favorite movie lines. In the 1997 film about political media manipulation, "Wag the Dog," Dustin Hoffman asks Denis Leary why he doesn't vote. "I voted that one time when Major League Baseball started the fan thing," Leary's character replies. "I voted for Boog Powell for first base -- he didn't get in and it just depressed me. It's futile." The thing is though, baseball gave the vote back to the fans in 1970 -- the year this All-Star card was released -- and they chose Powell as the AL starting first baseman. They voted him the starter in 1971 as well (though he didn't play because he was hurt). Still, it's a funny line.
BOXSCORE LINE OF THE WEEK
Doug Drabek's son, Kyle, threw a no-hitter for Toronto's Double-A New Hampshire farmclub. Minnesota's Denard Span tied the record for triples in a game with three, while Arizona shortstop Tony Abreu made three errors Saturday (how do you think Kirk Gibson felt about that?) which led to this line for starter Rodrigo Lopez (2 1/3 IP, 6 H, 9 R, 2 ER, 1 BB, 2 K). But this week's winner is Roy Halladay, who was either unhittable or very hittable last Wednesday. He struck out 10 batters but also gave up 13 hits. How hard is that? It's been done just 11 times during the expansion era, by 10 pitchers. Hallaway's line:
8 IP, 13 H, 4 R, 4 ER, 0 BB, 10 K
At least Halladay is in good company. The others to strike out at least 10 while giving up 13 or more hits are Curt Schilling, Roger Clemens, Steve Carlton, Mickey Lolich, Nolan Ryan, Bob Gibson (twice), Blue Moon Odom, Juan Marichal, Robin Roberts and Sandy Koufax.
CSI: BOX SCORE
Here's how this game works. Each week you get a fragment from an old box score and must solve the mystery of what game it was from and why it was significant. I give this one a difficulty rating of 7.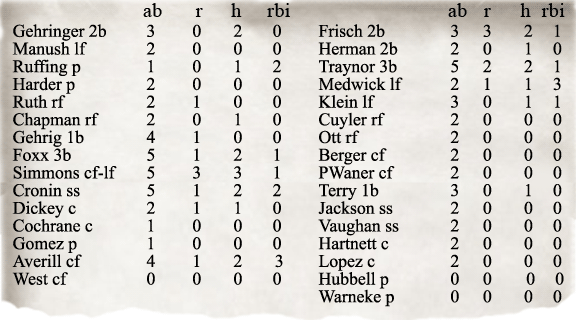 DONNY, YOU'RE OUT OF YOUR ELEMENT
• People who say that Stephen Strasburg should be on the All-Star team because he's one of the best pitchers in the National League and could help them win a game that matters have a point. So do detractors (such as myself) who can point to his past two starts in which he gave up four hard shots and two hits in the first inning one game and walked three, gave up a run and threw 37 pitches the first inning of the other. He's got a great arm and could be a great pitcher, but he's not there yet. Of course, this guarantees he will throw a no-hitter in his next start. And while we're on the subject: At this point, it seems like there is more interest in the naming of the All-Star team -- speculating beforehand on who should be named and complaining who got snubbed afterward -- than the actual game itself. Speaking of which, why did the players vote Troy Tulowitzki to the team? He broke his wrist June 17 and the player vote was another 10 days or so after that.
• Boston's Dustin Pedroia took the field in a cast and on crutches last week, then took grounders on his knees. How did that make sense? What good could possibly come of taking grounders on your knees with a broken foot? Like he's ever going to position himself that way before a pitch? What if a bad hop hits him in the face? What if he inadvertently leans on the broken foot and makes it worse? And how would he turn the pivot on the double play? Frankly, this seems more about polishing his image as a dirt dog than keeping his skills honed. If Pedroia really wanted to benefit himself and the Red Sox, he should do what my friend Sarge suggests. Instead of taking grounders from his knees during infield, he should bat from his knees during games. This would effectively turn him into a modern day Eddie Gaedel. The only drawback is Joe West might complain about how long it takes Pedroia to run the bases on his knees.
• Amazing Mariners statistic of the week: Chone Figgins, batting .236, has scored more runs (36) than Ichiro (34), who is batting .326. If Ichiro continues his first-half pace in the second half, he could wind reaching base safely 273 times and yet score only 66 runs. If so, he would be on base more than 200 times without scoring. Amazing.<.p>
CSI: BOX SCORE ANSWER
If you had the All-Star Game on your mind, you might have had an easier time with this one. This is the box score from the 1934 All-Star Game, when Carl Hubbell struck out five future Hall of Famers in a row: Babe Ruth, Lou Gehrig, Jimmie Foxx, Al Simmons and Joe Cronin. Of course, no one knew that the five would wind up in the Hall of Fame (the first class wasn't inducted until 1936 and the museum didn't open until 1939). Hubbell's five consecutive strikeouts was matched in 1986 by Fernando Valenzuela (who fanned Don Mattingly, Cal Ripken Jr., Jesse Barfield, Lou Whitaker and Teddy Higuera). Pedro Martinez struck out the first four batters of the 1999 All-Star Game (Barry Larkin, Larry Walker and Sammy Sosa in the first and Mark McGwire in the second, but Matt Williams reached first base on an error to break the string.)
Jim Caple is a senior writer for ESPN.com. You can follow him on Twitter at jimcaple.