Commentary
George Steinbrenner honored by Page 2
Originally Published:
July 13, 2010
By
Jim Caple
| Page 2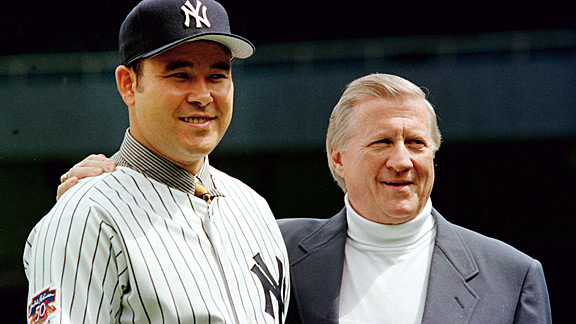 Timothy A. Clary/AFP/Getty ImagesSeeing pitcher Hideki Irabu and George Steinbrenner beaming together in 1997 makes us smile, too.
Among the greatest sports quotes is the one delivered by George Steinbrenner when he took over the New York Yankees in 1973: "I won't be active in the day-to-day operations of the club at all."
Well, he probably didn't plan to pay Carl Pavano $40 million to win nine games for him, either, but life doesn't always go strictly according to plan. However, the beauty of Steinbrenner is that, no matter what happened, it was usually pretty entertaining and always more compelling than the activities of, say, Pittsburgh Pirates owner Robert Nutting.
Here are Page 2's top 10 Steinbrenner memories, a collection of offbeat happenings and things you might not have known about "The Boss":
1. Hair
Steinbrenner was old-school, and he liked his players to look old-school, too. That meant no long hair. No beards (mustaches were OK). The Yankees learned about this on Opening Day the first year he owned the team. Steinbrenner watched his team line up on the field before the game, studied the players thoroughly as if he were Patton inspecting his troops and then wrote down which ones needed haircuts. He once ordered Oscar Gamble to cut his famous 'fro. And in the most famous incident, he benched Don Mattingly, the best player on the team during a very bleak four-year stretch in which the Yankees finished no higher than fifth (ahh, those were the days), until he trimmed his hair. (Steinbrenner was "officially" banned from running the Yankees at the time, but there is little doubt who gave the order.)
(Life-imitating-art moment: In the superb "Simpsons" episode "Homer at the Bat," Mr. Burns kicks Mattingly off the company softball team for not shaving his sideburns, and the first baseman walks off muttering, "Still would rather play for him than Steinbrenner." The weird thing is, Mattingly says the episode was written before the haircut thing with the Yankees. "Everyone thought they wrote it in later, but they didn't," Mattingly said.)
2. Managers
During his prime, Steinbrenner single-handedly raised the national unemployment rate by a percent, firing managers so regularly that he made Donald Trump look like the head of a teachers union. He hired and fired managers 20 times during his first two decades as an owner. He hired Billy Martin five times (and fired him four times), and worst of all, he hired Stump Merrill once. He fired Martin so many times, the two filmed a beer commercial mocking what had already become a national punch line.
Alas for Yankees haters, but fortunately for the nation's unemployment rolls, this period ended when he replaced Buck Showalter with Joe Torre after the 1995 season (prompting the infamous New York Daily News headline "Clueless Joe"). The Yankees have had two managers in the past 15 years. By comparison, the Diamondbacks have had three managers in the past 15 months.
3. TV
Steinbrenner hosted "Saturday Night Live" in 1990, appearing in a sketch in which he dreamed about winning the World Series with a team composed entirely of him, another in which he played a kindly shop owner and one in which he berated the staff writers. His most famous TV moments, however, were his "appearances" on "Seinfeld" when George Costanza worked as the Yankees' assistant traveling secretary. It wasn't really Steinbrenner but an actor, always filmed from behind, with producer Larry David providing his voice. The best of these was the episode in which Steinbrenner, under the mistaken belief that George had died, went to offer his condolences to George's parents. That led to this exchange between George's father and the Yankees' owner:
Mr. Costanza: "What the hell did you trade Jay Buhner for? He had 30 home runs, over 100 RBIs last year! He's got a rocket for an arm ... You don't know what the hell you're doing!"
Steinbrenner: "He was a great prospect, no question about it. But my baseball people loved Ken Phelps' bat. They kept telling me, 'Ken Phelps, Ken Phelps!'"
The real Steinbrenner was set to appear in an episode in the show's seventh season, but his scenes never made it on the air. Fortunately, they are available on YouTube.
4. Name calling
Steinbrenner was the Mark Cuban of his day, accumulating hundreds of thousands of dollars in fines for various insults and complaints about umpires and league officials. And he could be even tougher on his own team. After the Yankees lost the 1981 World Series to the Dodgers, Steinbrenner issued an apology to the fans. He infamously described Dave Winfield as "Mr. May" and called pitcher Hideki Irabu "a fat ... toad."
5. Baseball bans
Steinbrenner had more comebacks than John Travolta. Shortly after Steinbrenner bought the Yankees, commissioner Bowie Kuhn gave him a two-year suspension for illegally donating money to Richard Nixon's campaign fund. Commissioner Fay Vincent gave Steinbrenner a lifetime ban in 1990 after he was caught hiring gambler Howard Spira to dig up dirt on Winfield. The lifetime ban lasted until only 1993, when Steinbrenner returned again, appearing on the cover of Sports Illustrated atop a white horse and dressed as Napoleon.
6. Super patriot
Born on the Fourth of July in 1930, Steinbrenner wore his love for red, white and blue as proudly as Yankees pinstripes. Among other things, he served on the United States Olympic Committee, funded programs for military families and made certain that Yankees games were filled with such patriotic anthems as "God Bless America" and "Cotton Eye Joe."
7. Elevator music
After he mysteriously broke his hand during the 1981 World Series, Steinbrenner claimed he got in a fight with two Dodgers fans in a hotel elevator. "I clocked them," he declared at a news conference. "There are two guys in this town looking for their teeth and two guys who will probably sue me." Yeah, sure.
8. Steinbrenner High
Steinbrenner became famous in New York, but he spent much of his time in Tampa, Fla., where George Steinbrenner High School opened last year.
9. Background
Steinbrenner wasn't always the Yankees' owner. At one point, the future source for tabloid headlines was the sports editor at the school paper at Williams College ("Williams College Should Fire Football Coach! And Basketball Coach! And Baseball Coach! And ...") He was a graduate assistant football coach at Ohio State for Woody Hayes in 1954 when the Buckeyes won the national championship and was an assistant coach for Ara Parseghian at Northwestern (alongside Bo Schembechler).
He got into sports ownership in 1960 when he bought the Cleveland Pipers basketball team, where he employed the first black coach of an integrated team (Johnny McLendon) and honed the skills he would later bring to the Yankees. In Ron Thomas' book, "They Cleared the Lane: The NBA's Black Pioneers," McLendon says Steinbrenner once traded one of his players to the opposing team at halftime. "He was exactly the same then as he is now," McLendon is quoted.
10. The Boss' wallet
Whether you loved him or hated him, you have to admit the man could make -- and spend -- money. His initial investment in the Yankees was $168,000. Forbes magazine estimates the franchise is now worth more than $1 billion. A noted philanthropist, he also gave away millions to charities such as the Boys and Girls Club, Tampa organizations, military groups, Olympic athletes and, of course, free-agent busts ranging from Ed Whitson to Kei Igawa.
Payroll figures aren't readily available for the early Steinbrenner years, but since 1988, he paid his players an estimated $2.4 billion, about $1.7 billion more than Pirates owners paid their players.
Jim Caple is a senior writer for ESPN.com. You can follow him on Twitter at jimcaple.